With the changes to our workstyles and lifestyles thrust upon us by the pandemic, many businesses are reconfiguring and decommissioning their offices. Businesses need to have an office space decommissioning plan to ensure a streamlined and efficient process. Furniture is a valuable asset and with the right planning, can be reconfigured, stored, recycled, donated or disposed efficiently and with the highest return on investment.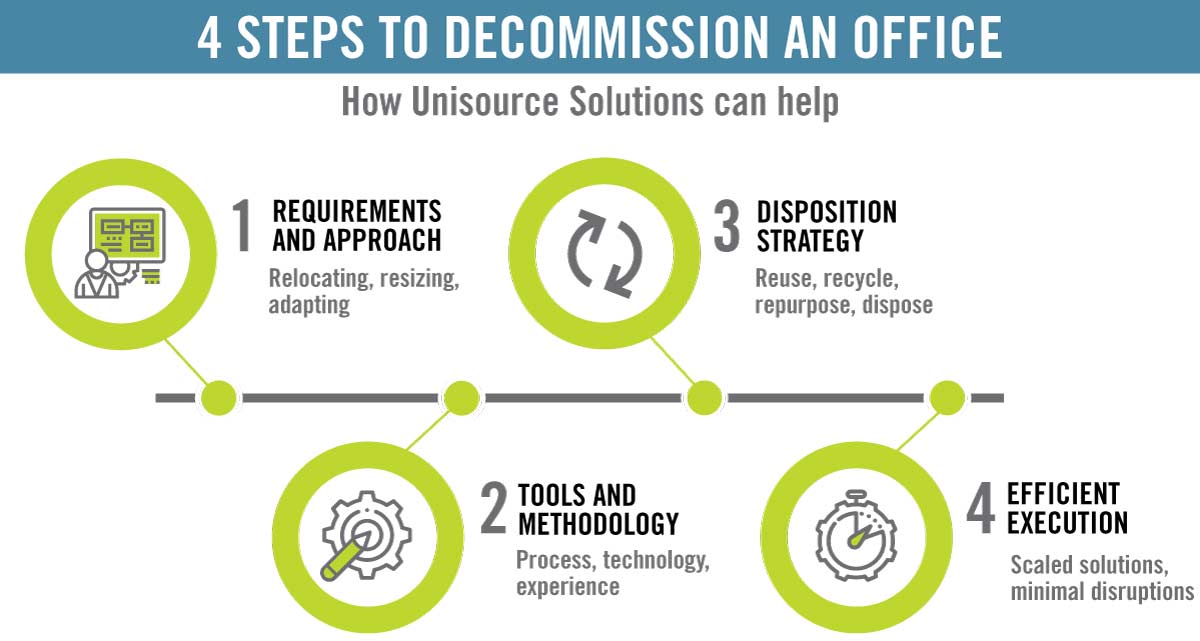 1. Requirements & Approach
Whether you're relocating, resizing, or adapting to new paradigms from the pandemic, decommissioning office space is a significant investment. Approaching it with the right mindset—and with the right partner—can alleviate huge headaches usually associated with such a complex project.
2. Tools & Methodology
Decommissioning space is highly complex and presents unique challenges. This can include dozens or hundreds of workstations and even thousands of pieces of equipment. Working with the right partner can keep you on-time and on budget. Additionally, leveraging a partner with extensive experience and resources will enable you to take advantage of innovative processes, utilize custom technology solutions, and efficiencies to ensure success.
3. Disposition Strategy
Now that you've engaged a skilled partner, work with them to determine the disposition of your equipment. Maximizing your return-on-investment on such a valuable asset as your furniture portfolio is often a missed opportunity. Each asset will fall into one of four options
Reuse or resale of viable assets, keeping them in rotation or in storage.

Recycle and repair assets that can be refurbished

Repurpose items that can be down-cycled, including donating to organizations in need

Dispose as a last resort
4. Efficient Execution



With your plan and strategy in place, now is the time to let your partner handle the complexities of the transition. Rely on their team to provide end-to-end solutions so that you can get your team back to work, with as few disruptions, as possible.
Choose a Trusted Partner
"By combining workplace strategy with logistics, inventory and facilities management, we make the most efficient and affordable use of your furniture investment."

Jim Kastner, CEO/President, Unisource Solutions
Unisource Solutions provides a comprehensive array of furniture facility services and information management technology. Unlike any other company in our industry, our firm self-performs all aspects of a furniture project, providing the most responsive, quality, cost-effective, total solution available in our industry.
Through our secure warehousing that uses fully enabled web applications and state-of-the-art technology, we bring furniture inventories, drawings, space allocation data, work order status, and customized benchmarking reports directly to your desktop.