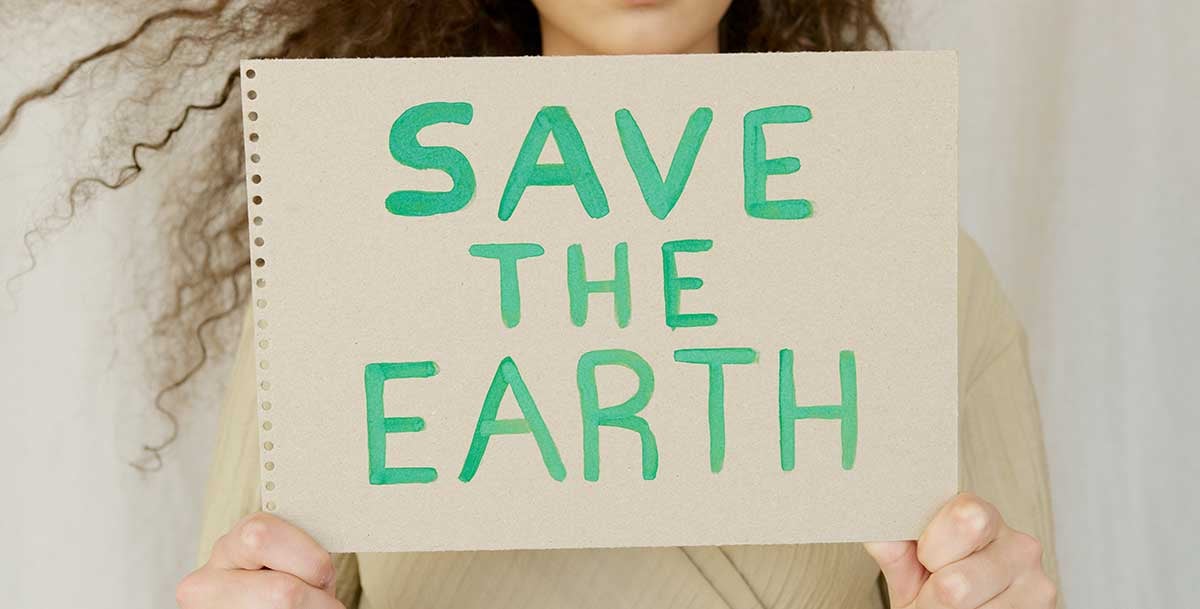 With April comes Earth Day, an annual event dedicated to demonstrating our support for environmental protection of our planet. It is a day observed internationally that re-inspires us to do everything we can to create the change needed to slow global warming. As Greta Thurnberg famously said, "Together and united, we are unstoppable."
At Unisource Solutions, our corporate responsibility to this cause feels greater than ever before. As we stay committed to helping our clients continue to be good corporate citizens, we are proud to have been offering products that comply with LEED, WELL, and other environmental certification requirements for 30+ years. In addition to this, it is important to acknowledge the drastic change to most of our work places and the new emphasis on a hybrid workplace model. We've focused our efforts to not develop more office space, but better space using smarter strategies.
Having an agile workspace not only saves money, but helps you be more sustainable. Reconfigure using the components you already have – and donate or recycle the rest.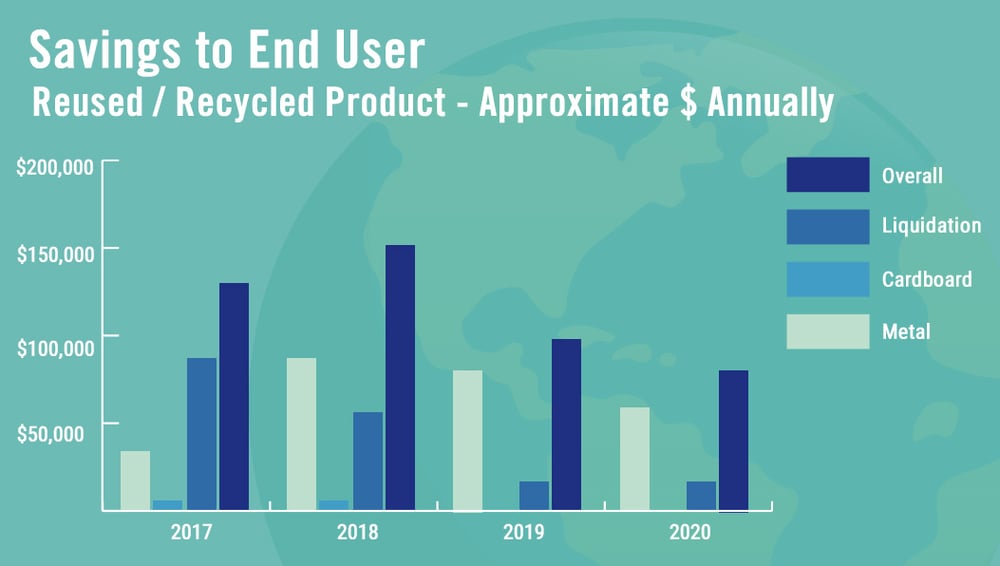 Our sustainable business practices have the double-benefit of saving money for our clients
Reduce, REUSE, RECYCLE
Reusing and recycling valuable corporate resources helps eliminate disposal costs and diverts tons of waste from our landfills. Our centralized 100% recycling program helps us divert metal, paper waste, and pallets from ending up as waste. When products cannot be recycled, we facilitate liquidation sales and large-scale donations, putting these valuable items to further use. These services underscore our commitment to sustainable business practices—all while saving our clients money.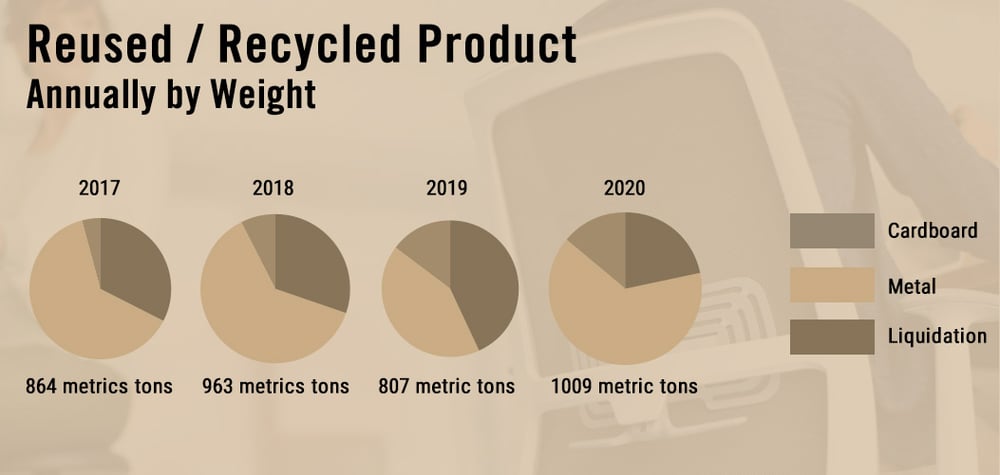 Unisource Solutions facilitates the donation of $500,000 worth of product annually to nonprofits across California.
Partnering for the Planet Through Platform by Unisource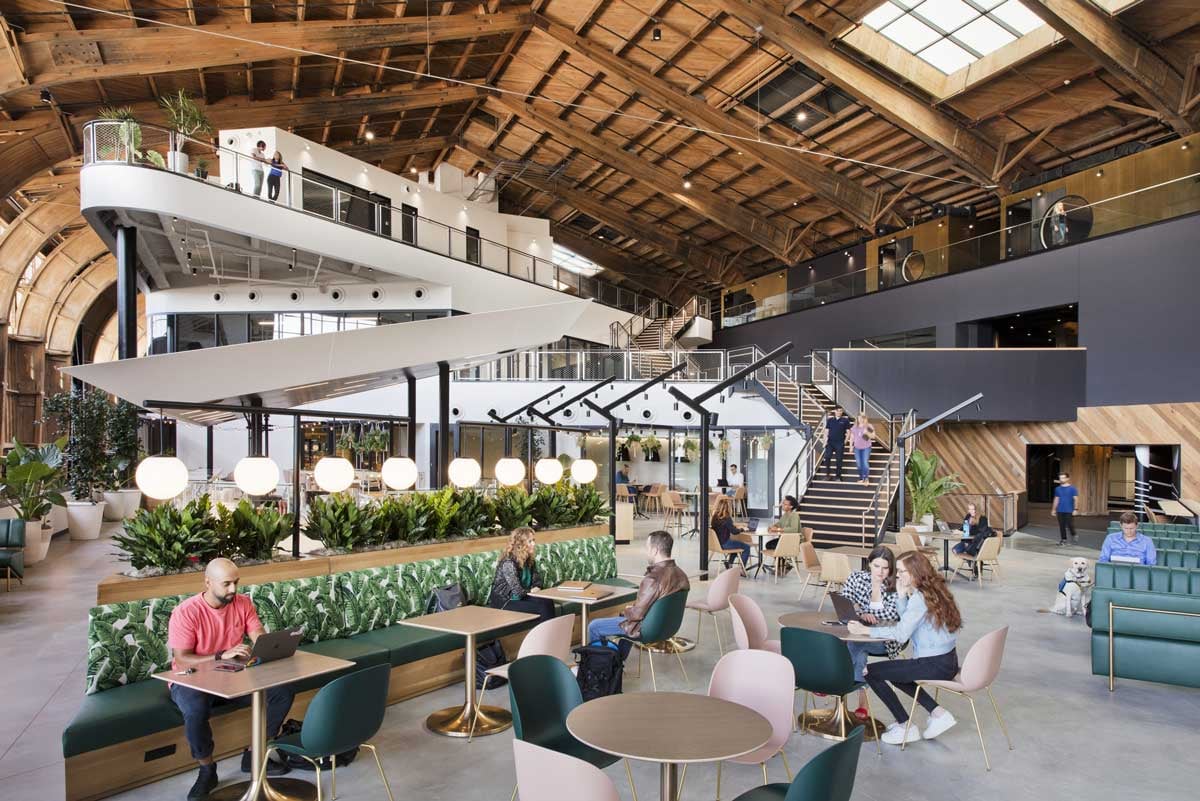 Platform by Unisource Solutions provides custom manufacturing with a small carbon footprint
The companies that we choose to support and partner with are chosen carefully and include only those that comply with environmental certification requirements. At Unisource Solutions, we also strive to lower energy and waste by offering Platform by Unisource Solutions - our custom manufacturing division. Platform partners with local manufacturers such as Valentine Woodworks who are equally committed to sustainability and use 100% pre-consumer recycled wood fiber particle board.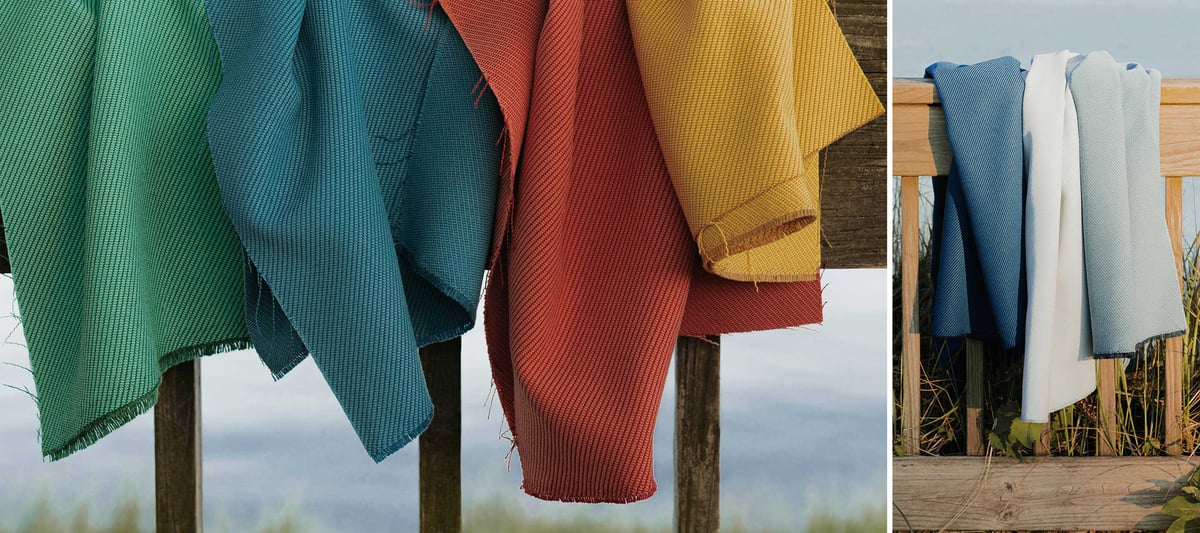 Oceanic by Haworth is a beautiful upcycled-plastic polyester upholstery fabric
Haworth's commitment to sustainability
As one of the largest Haworth dealers in the U.S., we are part of a team that exemplifies a deep commitment to people and planet, embedding a sustainable mindset across both companies. By 2025, Haworth has committed to sourcing 100% of their wood from sustainable sources, using 100% renewable, reusable, recyclable and/or compostable packaging, 100% renewable energy for their manufacturing facilities, and performing with zero waste to landfill from their manufacturing sites!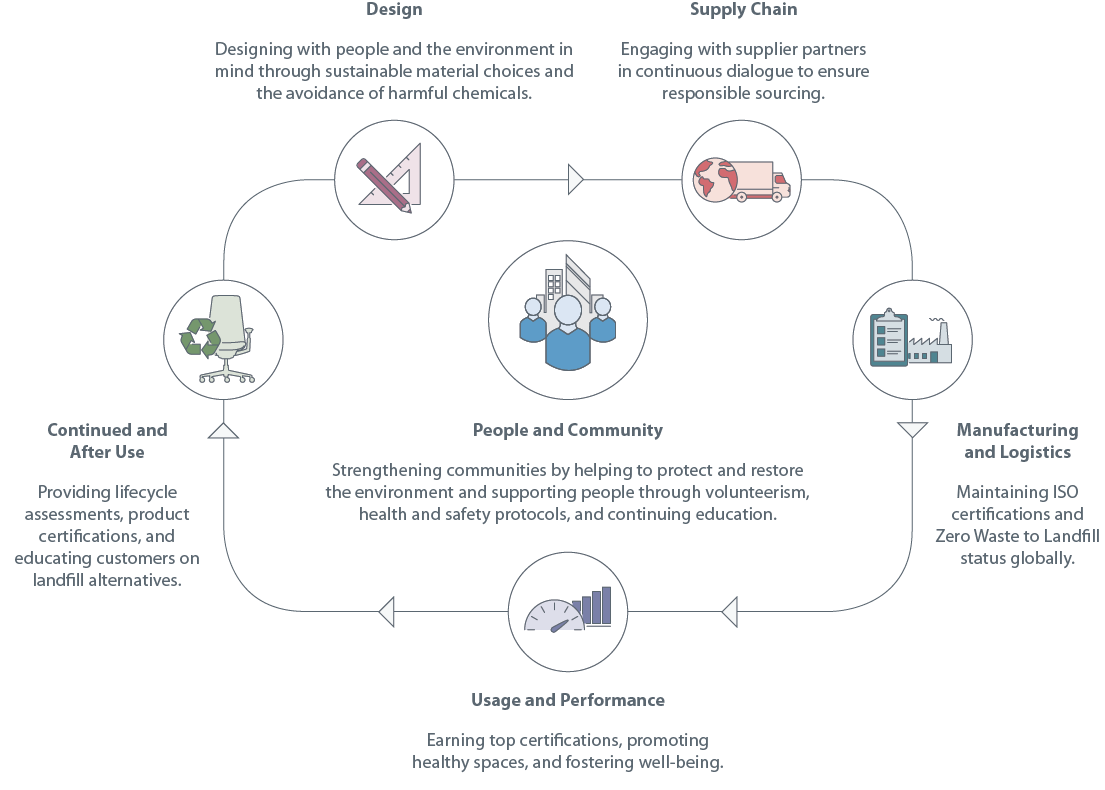 Through our research, development, and the actualization of creative, sustainable solutions, we help protect and restore the environment, support and strengthen global communities, create economic value, and inspire well-being—now and for the future.

Haworth's circular design approach to many of their products forces a sustainable shift towards a circular economy. Last year, Haworth introduced Oceanic, a beautiful upcycled-plastic polyester upholstery fabric that transforms the plastic waste accumulating the ocean into sustainable materials. According to designer and architect Patricia Urquiola, this new fabric "is made of 100% post-consumer recycled plastic, from debris floating discarded in our seas. It adds a great purpose to the furniture we design, and it can represent a big step towards fully sustainable products"
It is easy being green – take it from us. We will show you how to help save the planet; it can even save you money!