In a world where we're constantly on the move, reaching new heights in innovation and growth, it's essential to pause and reflect on the core values that shape us as individuals and organizations. At Unisource Solutions, one such value that has been at the heart of our journey is our unwavering commitment to giving back to the communities that have welcomed and nurtured us. As we observe Giving Tuesday, a day dedicated to the spirit of generosity, we're excited to share our perspective on why giving back to our community is not just a responsibility, but a cornerstone of our identity.
The culture at Unisource Solutions is deeply rooted in empathy and mutual respect, and we believe in supporting our employees in their individual endeavors to make a positive impact. When our team members are passionate about a cause, we see it as an opportunity to extend our corporate responsibility, encouraging them to pursue their philanthropic passions. This not only fosters a sense of purpose and fulfillment among our employees but also strengthens our corporate culture, amplifying the collective impact we can make as a unit. It's a testament to our belief that we grow together, we give together, and together, we can make a difference.
Below are some of the examples of how we connect with and support our community. We are proud of what we do each year and think it's equally important to practice generosity daily.
Shelter's Right Hand 5k Walk
Shelter's Right Hand is a dedicated non-profit organization committed to supporting individuals and families in need. Their primary mission is to provide resources, shelter, and care to those experiencing homelessness or going through difficult times. Through their various programs, they aim to bring about positive change in the community, restoring hope, and helping people to regain stability in their lives. At Unisource Solutions, we are proud to stand with Shelter's Right Hand in their endeavor to uplift and empower those who need it most.
"I'm so glad to be part of a company that values community engagement. Year after year, our team comes together for the Shelter's Right Hand 5K walk, and each time, we make a meaningful contribution to the Women's and Children's Crisis Shelter and bring an even bigger group to participate! Being able to support those in need in our community is a powerful reminder of the positive impact we can have when we unite for a common cause."

– Dreu Ceja, Platform Production Coordinator
---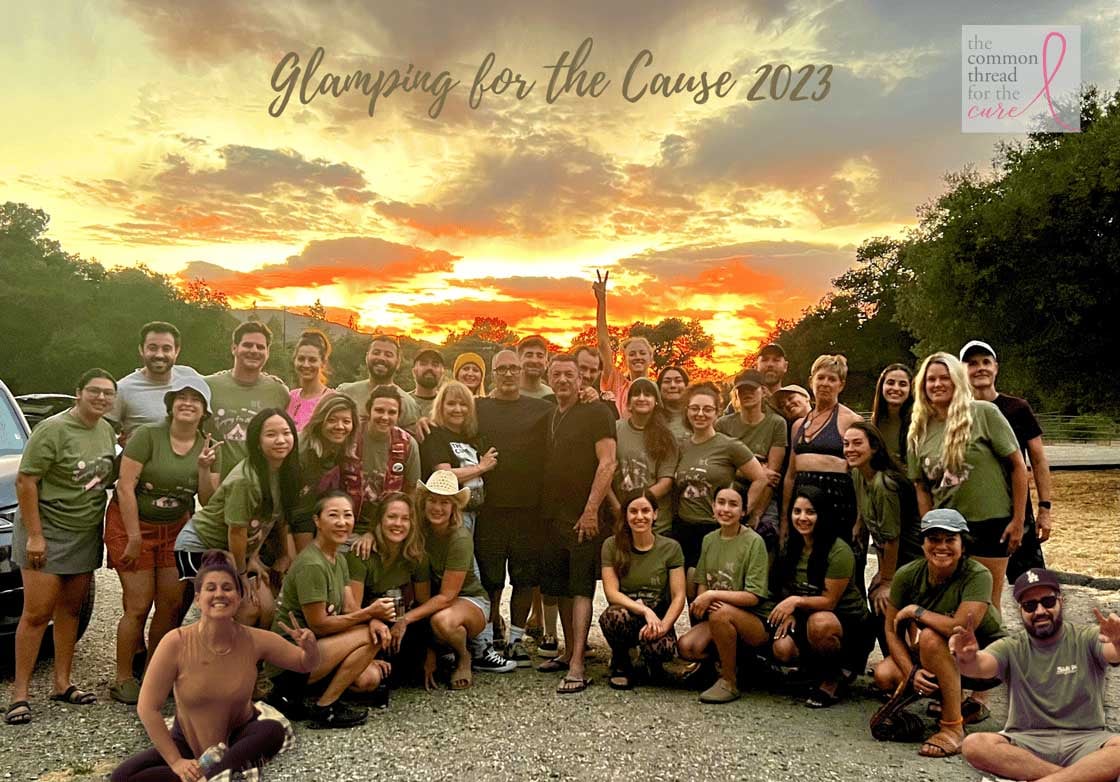 DIY Glamping for the Cause - Benefit for The Common Thread For The Cure
The Common Thread for the Cure is a remarkable organization dedicated to supporting individuals and families affected by breast cancer. Its mission is to provide assistance through a network of support and resources, offering comfort, and instilling hope. As part of our commitment to community service, Unisource Solutions is honored to actively support The Common Thread for the Cure. Our team is passionate about contributing to the cause, and we believe in the healing power of unity and compassion. Through events like "DIY Glamping for the Cause", we aim to raise awareness about breast cancer and generate funds to help those in need.
"I'm incredibly proud to be a part of a company like Unisource Solutions that not only encourages community involvement but actively supports it. Glamping for a Cause was a unique opportunity to bring our industry together and make a tangible impact on the lives of industry members diagnosed with breast cancer. It's inspiring to see how our team's dedication and the support of our colleagues can create positive change in our community."

– Chloe Thornton, New Business Development
---
Gears for Kids
Gears for Kids is a charitable program committed to bringing joy and mobility to underprivileged children by giving them bicycles. Recognizing the transformative power of a simple bike, this initiative aims to instill a sense of freedom and independence in children, while also promoting physical fitness. Manuel Sanchez, our Senior Project Manager, is actively involved in this initiative. At Unisource Solutions, we are proud to support Gears for Kids, fully embracing the spirit of giving and making a difference in the lives of children in our community.
"Being part of the Gears for Kids event is more than just a fun day out. It's about making a real difference in the lives of kids and families in our communities. Over the last few years, I've had the privilege of joining hands with our architecture and design community partners to teach kids how to build and ride a bike. The joy and excitement in their eyes when they ride away with their very own bike is priceless."

– Manuel Sanchez, Senior Project Manager