One of the big challenges for people now working from a home office or workspace is how to create an effective, healthy, and attractive space to work from. Working from home gives you more freedom to create the space that works best for you. Whether working from home is for the short-term or long-term, here is how you can get the most out of your work-from-home workstation.
Choose the right furniture
Make sure you're set up for success with the right furniture choices. Whether it's an ergonomic chair, a sit/stand desk, or flexible storage area, the right furniture will set the foundation for high productivity and greater comfort. Here are some examples of products that will help make your work-from-home experience better.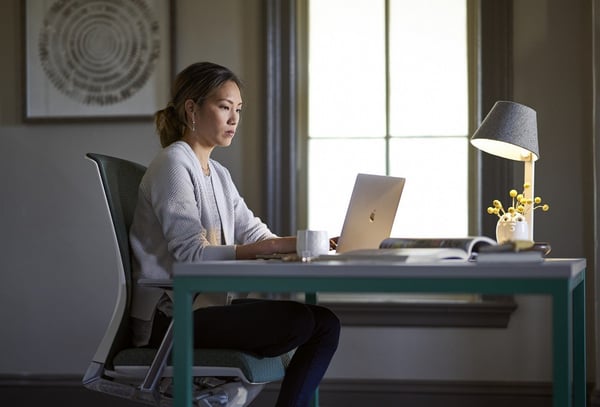 Very Task Chair from Haworth
The Haworth Very Task Chair provides individual comfort and support with universal appeal in a family of seating for the entire workspace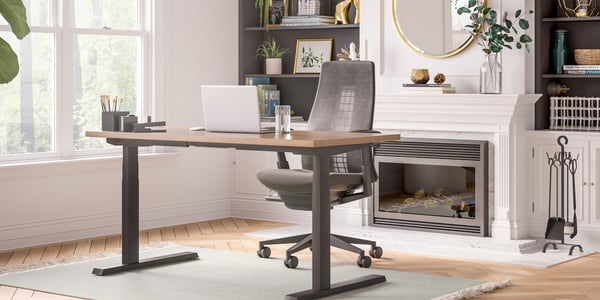 Upside Sit-to-Stand Desk from Haworth
The Haworth Upside Sit-to-Stand Desk is a versatile workhouse for your home office. Sit or stand with a simple, up/down adjustment. If you decide to move your desk from one room to the next, it's easy. Sturdy construction, so you can load it up with your computer, monitors, speakers, and all of the gear you need to work in comfort.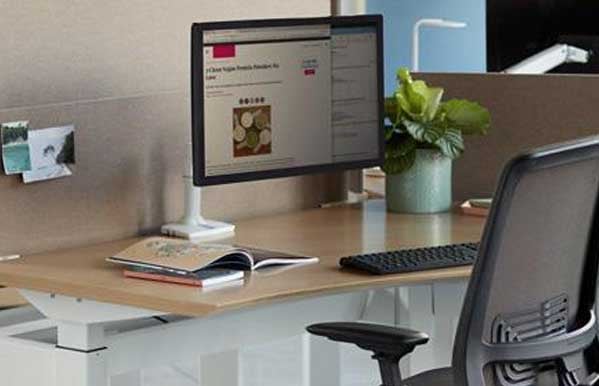 Haworth Ergotron® LX Single Monitor Arm
The Haworth Ergotron LX Single Monitor Arm is fully adjustable and allows you to position your monitor right where you need it to help reduce neck pain and fatigue. Simple to install, this monitor arm can attach to just about any table or desktop.
Straighten up your ergonomics
Ensuring that your ergonomics are right will boost your productivity and make you happier and healthier in the long run. Pay close attention to the position of your back, knees, forearms, and wrists. Adjusting your chair and desk heights, along with proper spacing, can help you achieve the ideal body position, making sure you stay comfortable throughout the day.

According to ergonomic expert Joy Boese, the correct work from home set up includes:
Raise the chair so your knees are slightly lower than your hips and your feet are touching the floor

Slide the seat pan of your chair so you have at least 3 or 4 fingers behind the back of your knees

Your forearm should be open at 90-100 degrees to your upper arm

Your wrists should be in natural posture, not angled up or down.

Set the height of the work surface so you can work without straining or bending




Incorporate natural elements
Biophilic design is the term used for connecting people to nature within built environments. In your home office, it could be as simple as having a window out to your garden, but even just adding live plants can have an overall calming effect.
Natural Finishes
Choosing furniture with natural materials like wood finishes and natural fabrics helps add a bit of nature and a level of comfort.
Natural Light
Fresh air and sunlight can not only increase the thermal comfort of your home office, but it can also boost mood and aid in creativity and productivity. Natural sunlight can relax the eye muscles and effectively reduce fatigue.
Plants
Nature stimulates the parasympathetic system and lowers stress. Studies have shown that being around trees and nature in general lower stress levels.
Many studies have show the benefits of biophilia in the workplace and your home workspace should be no exception.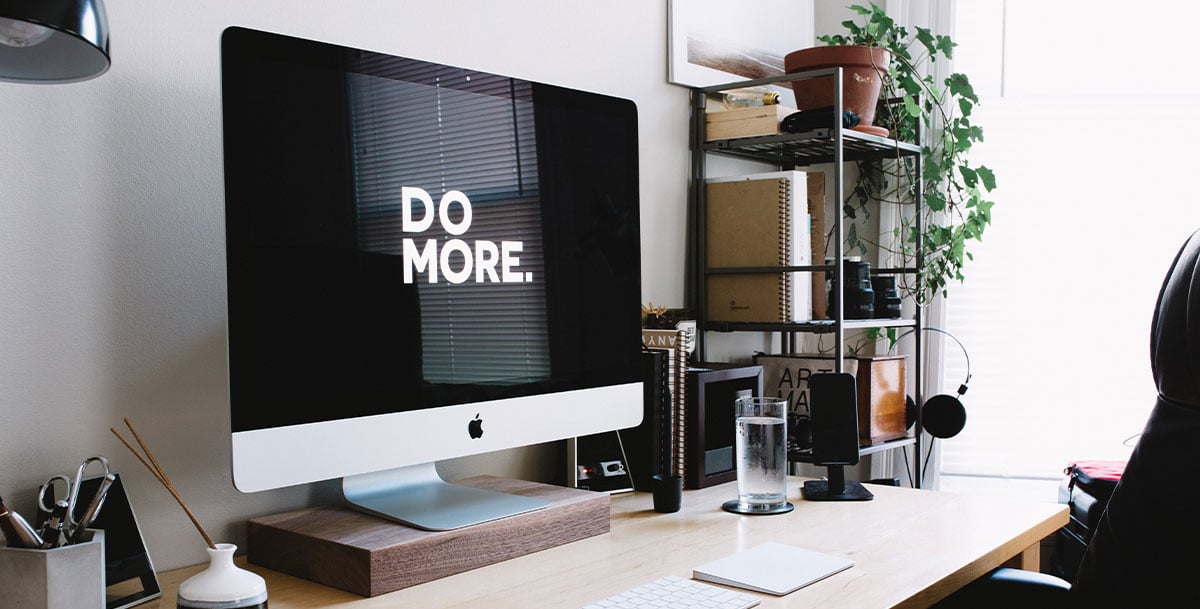 Prioritize productivity
Working from home has its creature comforts, but productivity must remain a priority.
Eliminate distractions
Creating a home office that is free from distractions is nearly impossibly. However, striving to eliminate or control them as much as possible is the first step towards increasing productivity. Try posting your schedule for other family members to see.
Schedule and plan
Plan out your time and stick to a schedule to avoid "time drift". This is where tasks are put off and put off until a normal working day becomes a non-productive eleven-hour marathon. Try time tracking tool for tasks and projects to add important structure to your time allocation.
Keep a dedicated work space
Make sure you have the right furniture and environment conducive to productivity. Dedicate a desk and some peripherals only for work and keep it separate from your personal tasks.
According to one study by Global Workplace Analytics, they estimate that 25-30% of the workforce will be working-from-home multiple days a week by the end of 2021. The home office seems to be here to stay so make sure your work-from-home workspace is designed for your needs.
---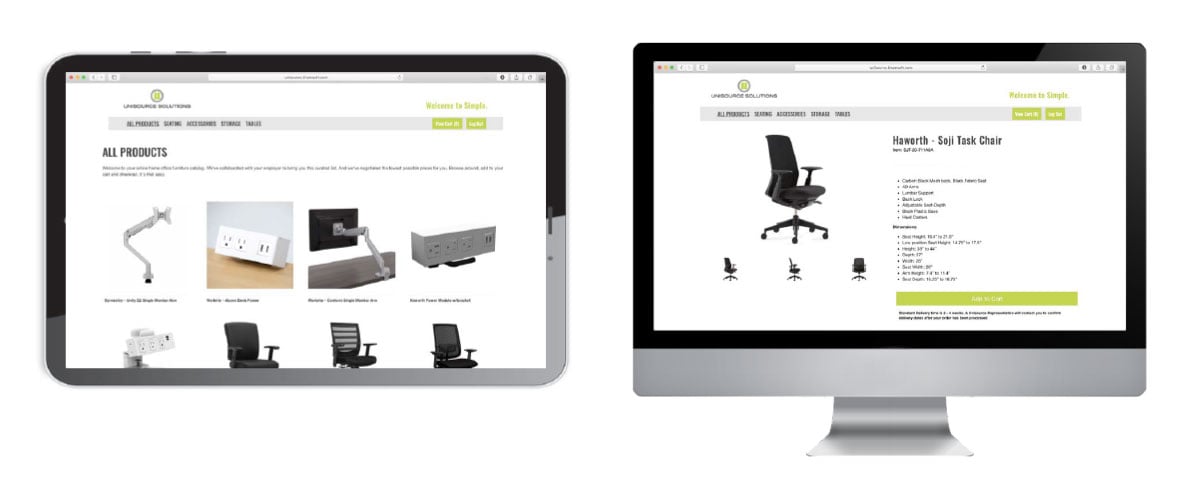 Work-From-Home Program by Unisource Solutions
At Unisource Solutions, our mission it to become the most recognized and trusted provider of inspiring workplaces in the industry. Now we're bringing that mission to your home office. We are now offering a special packages to our clients to provide their employees with all the health and safety benefits of quality ergonomic office furniture and accessories, in their home, at amazing prices.
If you'd like more information on getting your company on this program, contact Kathleen Radabaugh or Dawn Howell.