Unisource Solutions Part of Winning Project Team
The project team for Google, Spruce Goose, was recognized by the IIDA Southern California Chapter with a Calibre Award for Extra Large Work Space. The annual awards, now in its 31st year, celebrates outstanding design, recognizing the exceptional work of project teams.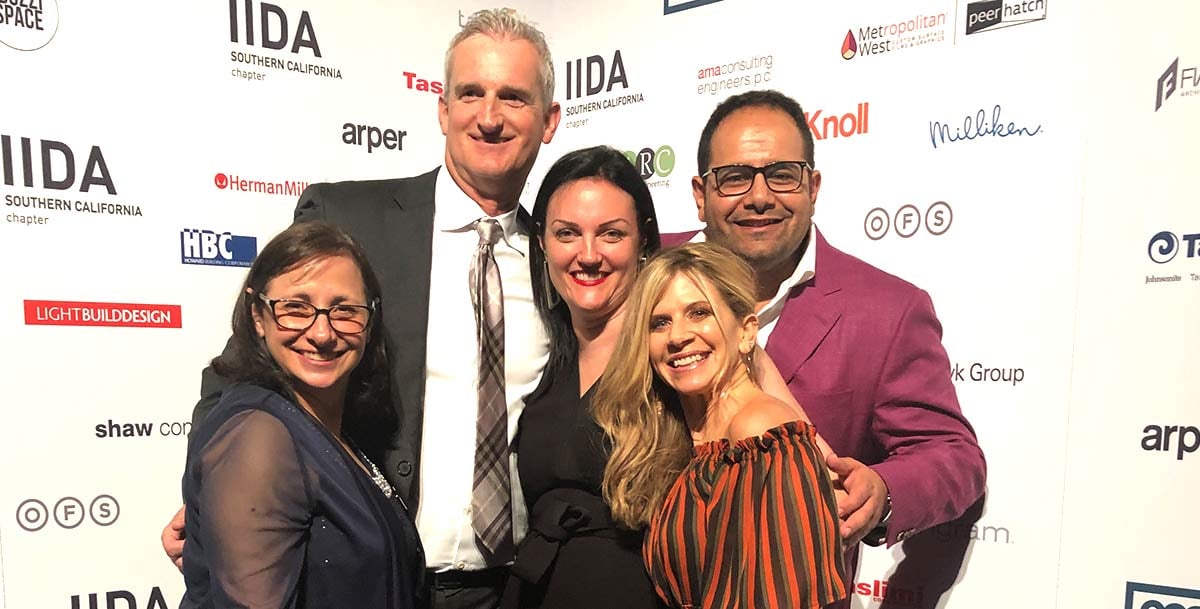 Pictured at the awards are

Stephanie Johns, Rick Bartlett, Kristi Paulson (architect), Janie Robertson, Jamal Nasserdeen
The project team, led by ZGF Architects, was responsible for creating a new kind of office environment, implemented to meet the client's innovative, open-conversation approach to working. The design showcases a "building-within-a building" concept, constructed to maintain the architectural integrity of the original building, the iconic Spruce Goose hangar, while maximizing a sense of openness. Moreover, the program encourages interaction and mobility. Zig-zagged, split-level floors, create movement. Elevated walkways offer multiple seating options. Throughout, special moments are defined, affording impromptu meetings and idea exchanges. The result: an award-winning, forward-thinking concept that bringsa fresh perspective to workplace design.
The project team included: Arup, CBRE, Matt Construction, SPMD, and Unisource Solutions. We were worked with ZGF to execute Google's ancillary furniture program. Taking cues from the minimal material palette, we produced custom furnishings to complement the overall look and design intent.
In addition to Google, two other of our clients were nominated for an award, FX Networks and Entertainment Network: Digital Consumer Group, both for large workspace. We also helped Coty with the installation of their new office, which was nominated for the extra large work category.
The winners were announced earlier this month at a gala event held at the Beverly Hilton Hotel. The awards ceremony is a prestigious industry event honoring collaboration for projects that exhibit a high level of teamwork and stunning design.