What's different about healthcare in 2021? An historic volume of patients. Overworked staff who must collaborate while social distancing. Patients who must navigate novel checkpoint procedures. Newer technologies, such as telehealth. More rigorous cleaning and hygiene standards.
The pandemic has transformed everything about healthcare. Accordingly, design must be transformed as well.
As we look ahead, design leaders must recognize the way that healthcare has recently evolved. Each touchpoint within a healthcare facility should be viewed through a new design lens.
Healthcare design had already been trending to evoke comfort and warmth. The past year has added "safety" to the trending mix. Furniture that is thoughtfully designed to accommodate the current considerations of the pandemic era can improve the experience for both patients and staff.
---
Healthcare Services: Meet our specialists and learn more about healthcare services »
---
Here are 19 healthcare products that can improve the patient experience, the caregiver experience, and transform your space into a calming environment:

1. Haworth Health Atwell Seating and Tables
Informed by industry and user research, The Haworth Health Atwell collection of guest chairs, lounge seating, and tables reduce anxiety through organic wood-framed shapes, seating that supports the human body for comfort, and an array of warm materials. Easy to clean and maintain, Atwell helps you create a healthy environment where people can thrive.
---

2. Haworth Cabana Lounge
Haworth Cabana Lounge is the first sofa system designed to deliver optimal user performance, comfort, and design to create unique destination spaces in office and healthcare environments. Its flexible design suits a variety of needs for social distancing, focus, and rejuvenation.
---

3. Haworth Jive Tables
Whether it's a quick collaboration or a formal meeting, Jive tables support today's needs. Jive fosters a healthy workplace through a wide range of shapes, sizes, and bases—offering comfort for a variety of postures.
---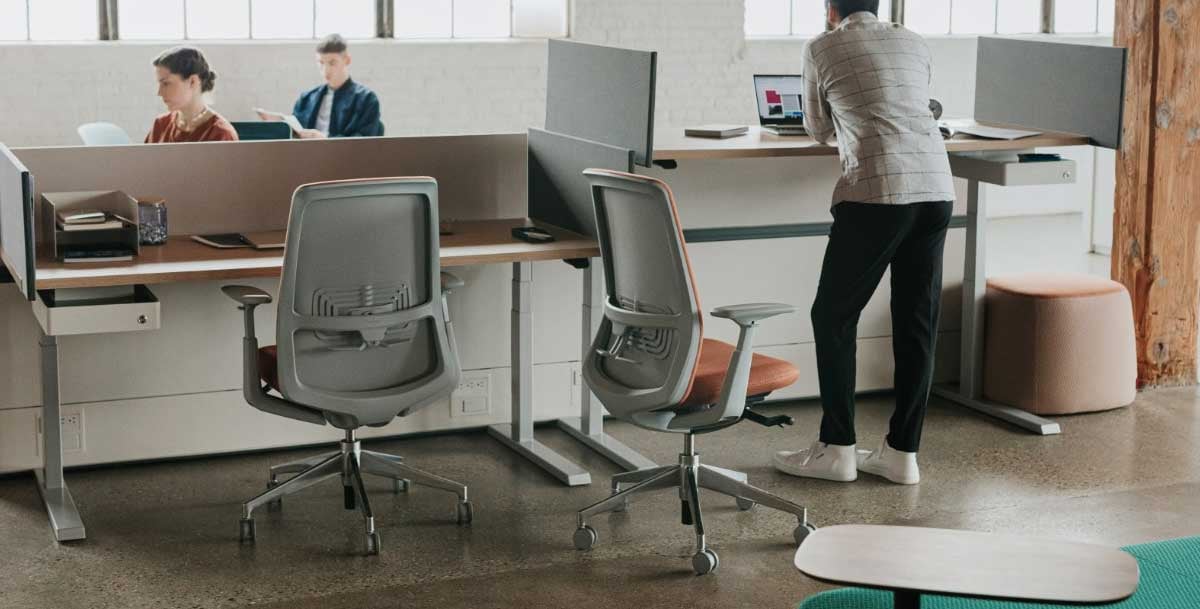 4. Haworth Soji Task Seating
Soji is a reliable task seating solution that offers support for a wide range of people, postures, and workstyles. Height-adjustable arms move up and down for easy positioning in support of your shoulders and neck, and a host of ergonomic options help to reduce fatigue and strain and keep you productive.
---

5.

Haworth Health Gates Recliner and Patient Chairs
With its sleek, contemporary design, the Gates collection offers everything for the patient room, from patient chairs to a compact patient recliner and two patient gliders. The collection features a comprehensive suite of reclining options including sleep, Trendelenburg, and three-position recliners for the patient room
---

6.

Haworth Health Conover Recliner

and Sleeper
The signature arch of Conover is echoed in patient seating, including patient chairs and a compact recliner, that provide the extra stability needed in rehabilitation and senior living facilities. Conover's most comprehensive sleep collection features pull-out sleepers that convert chairs and loveseats into sleeping surfaces and dual sleepers.
---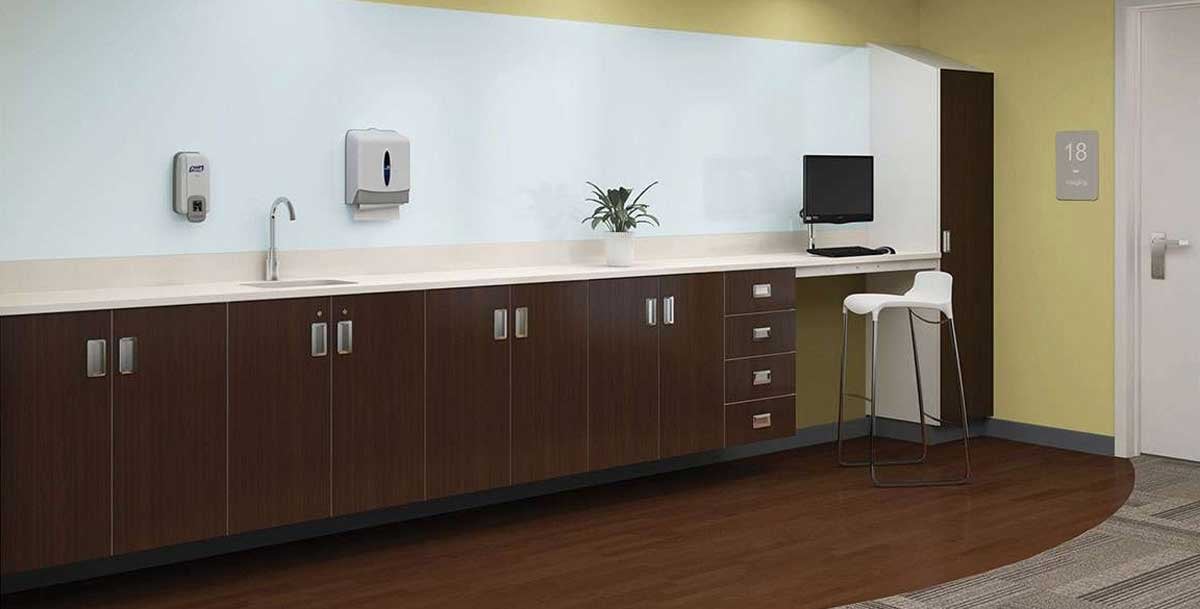 7. Carolina Mile Marker
With its broad offering and smart design, Mile Marker provides supportive solutions throughout facilities. Whether it's for caregiver work stations, patient rooms, exam spaces, family respite areas or lab environments, Mile Marker adapts and supports specific needs. Its high-quality construction is dependable from the time of install and throughout the life of the product.
---

8. Haworth Health Exam Table
The manual exam table features an articulating back with gas assist, reversible side drawers for right- or left-handed application, pull-out comfort stirrups, and a steel slide-out front step, as well as a slide-out leg section with removable drip pan.
---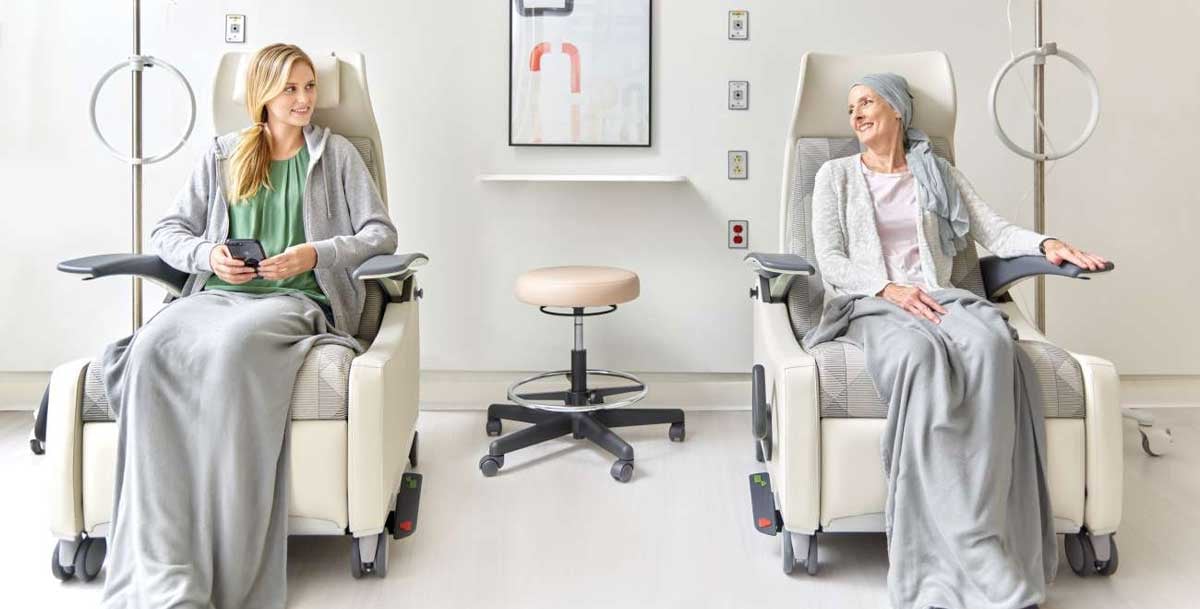 9. Carolina Lasata Recliner
Lasata patient recliner positively supports the critical relationship between patient and caregivers, helping them navigate the best possible path toward wellness and a better life. Its intuitively designed features give patients and caregivers the sense of security needed at critical moments. Lasata's mission is to surround patients with a sense of calm and a place of peace while supporting caregivers during the delivery of care.
---

10. Via Seating Genie Copper Mesh
Via Seating has developed a unique copper infused mesh by partnering with Cupron, utilizing their copper-based proprietary and patented technology. The copper mesh works by physically embedding an EPA registered copper into the fibers of our Via Seating copper mesh. Through this process, the copper will not wear off like topically applied alternatives. The result is a self-sanitizing, copper-infused mesh that has strong biocidal, antifungal, and antiviral properties.
---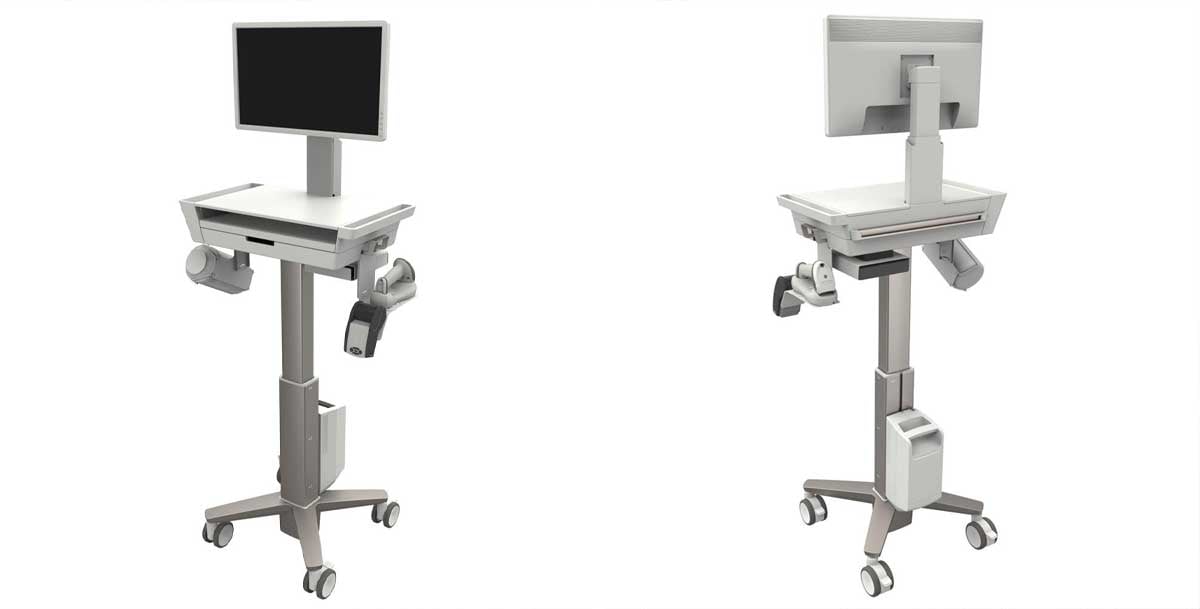 11. Ergotron CareFit Slim 2.0 LCD Medical Cart
Ergotron C50-2500-0 ultra-lean CareFit computer cart works to remove barriers to the best patient care with a lightweight design that fits your people, workflows and environments. The broadest range of caregivers can work comfortably with the expansive height range that adjusts to the ergonomic needs of each user. The compact frame makes it easy to move all-in-one computers and monitors wherever work takes caregivers around the healthcare facility.
---

12. Ergotron Registration Cart
Deliver a patient-focused healthcare experience from the beginning. The registration solution lets caregivers easily move between patient rooms to input registration data for a comfortable and efficient workflow. The long-lasting LiFe-powered battery minimizes downtime while supplies and tools within an arm's reach get patients registered quickly and on the path to healing.
---

13. Haworth Fern Chair
Fern is the world's first chair designed with edgeless comfort. Inspired by nature, Fern puts the person at the center of work with new levels of balance, flexibility, and performance. Inside is a high level of science, engineering, and innovation that enables Fern to work with you, not against you. Fern's Wave Suspension system is the heart of the chair and the key to its back comfort and flexibility.
---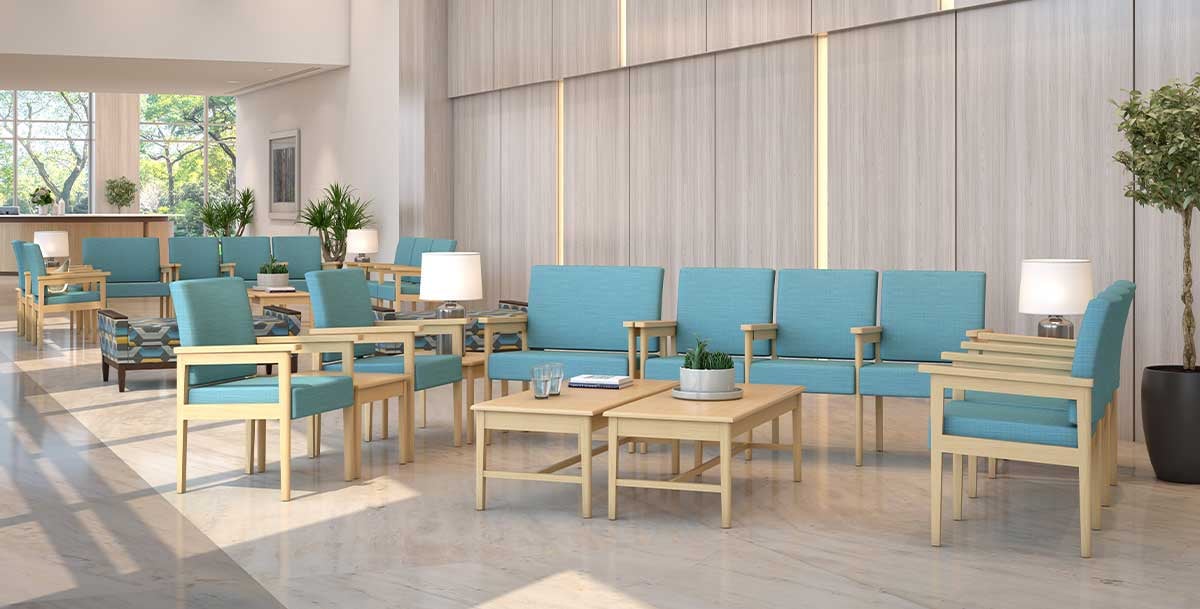 14. Haworth Health Gates Occasional Table
With its sleek, contemporary design, the Gates Occasional table offers a wide variety, with solid maple frames and veneer or laminate tops to complement the Gates seating offering.
---

15. Sunon Samu
This eye-catching product from Sunan is perfect for pediatric waiting rooms. We love the whimsey and functionality of Samu and this product is suitable for many other applications. Jumping out of the ocean, the whale, with its dynamic silhouette, here provides the muse for the SAMU design team, Favaretto & Partners, a renowned Italian studio. SAMU adds natural flair and a sense of sophisticated fun to any space. This design won the silver award at the 2018 A' Design Awards.
---

16. Stance Verity Lounge Collection for Behavioral Health
The Verity Lounge Collection for Behavioral Health offers a soft, home-like aesthetic while satisfying the requirements of safety, durability and cleanability. Comes in 2-seat and 3-seat units. Features a limited lifetime warranty.
---

17. Haworth Upside Height-Adjustable Tables
Upside height-adjustable tables encourage posture changes to promote movement and well-being, so people can comfortably do their best work. An affordable workspace solution with design flexibility and extended adjustability, Upside supports the ergonomic needs of your entire workforce.
---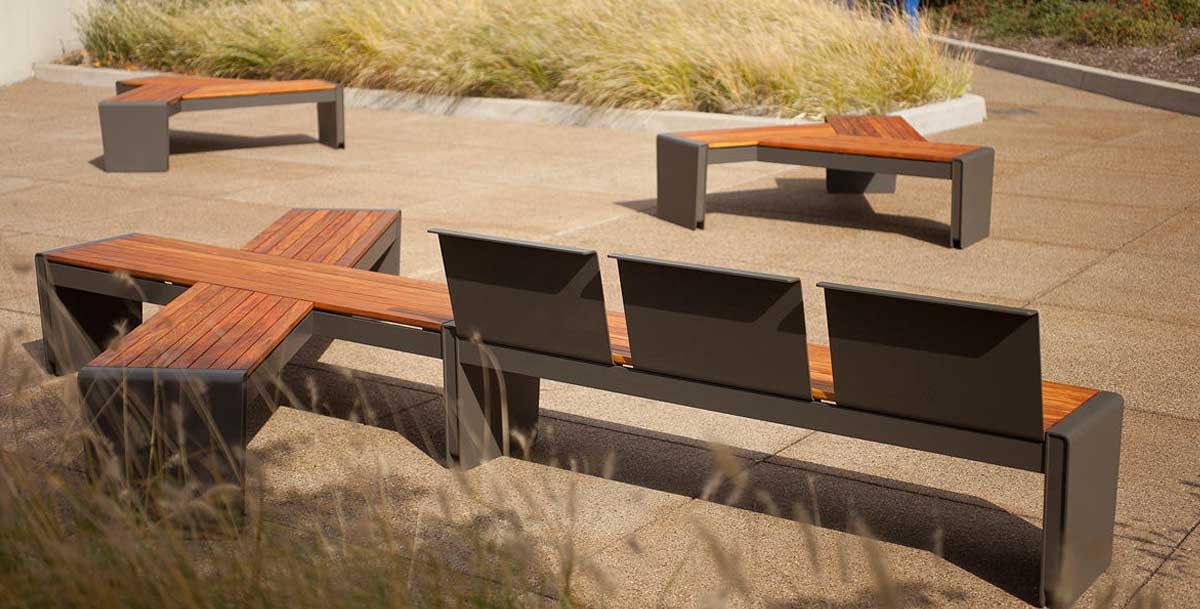 18. Forms+Surfaces Vector Seating Systems
Vector invites you to mix interchangeable modules, materials, and design options to create unique seating layouts. Coordinating Vector Table Ensembles expand the line's reach.
---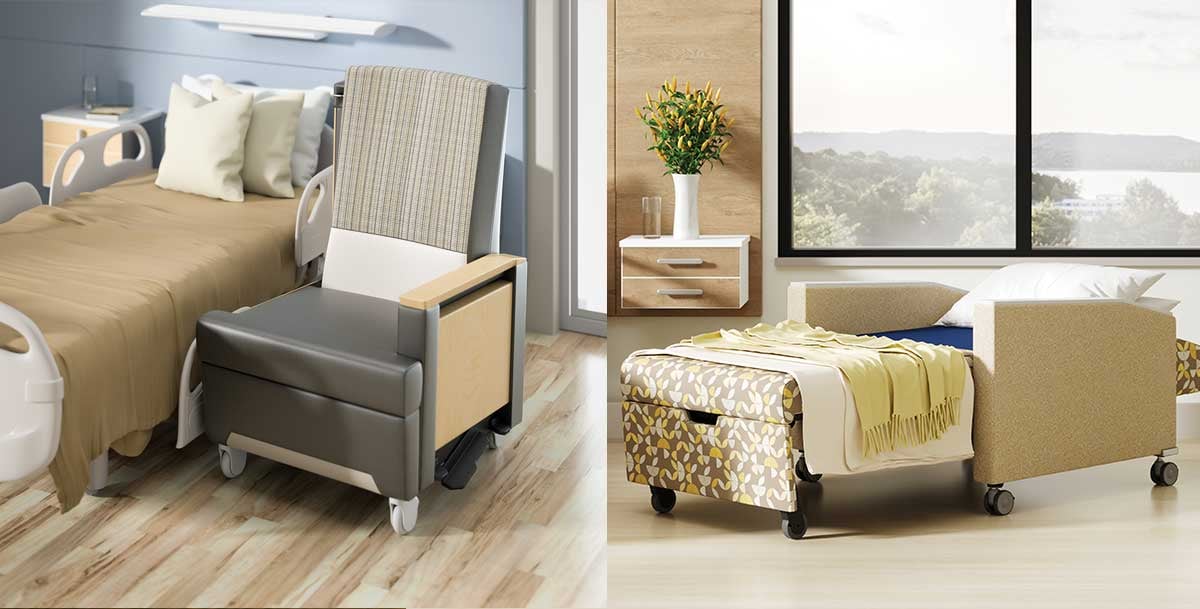 19. Wieland Accord Recliner and Sleep Chair
The unique Trac-Rite casters, zero-turn radius and central brake assures easy movement in and out of the patient room. An ottoman lever and the caster brake are both recessed to minimize damage to the recliner and facility.
---

19. Wieland

SleepToo
Sleep sofa with custom front and an integrated table with a pneumatic sleep conversion. This dynamic sleeper offers versatility beyond a typical sleep sofa. Comes standard with moisture barrier and fully renewable components.
---
Meet our healthcare specialists to schedule a meeting or get a quote