The healthcare industry is one of the most rapidly growing sectors in the United States. According to a recent report, health care added an average monthly increase of 54,000 jobs a month at the end of 2022 and beginning of 2023.
This growth means that there will be an increased need for qualified and dedicated individuals who can provide care and support to patients. In order to meet this demand, organizations must focus on providing adequate support and resources for healthcare caregivers in their workplace. By doing so, they can ensure that these important professionals are given the proper tools needed to succeed and make a meaningful impact within their field.
Additionally, supporting healthcare caregivers can help reduce burnout rates among staff while also promoting better patient outcomes overall. As such, it is essential for employers in the healthcare sector to prioritize investing in their employees' well-being if they wish to remain competitive within this ever-evolving field.
Haworth Health is an industry leader in providing tailored solutions that can help organizations create a supportive environment for their healthcare caregivers. Understanding the importance of integrating technology in healthcare workplaces, Haworth has developed products that support this need. Their solutions are designed to help organizations create a supportive environment for their caregivers by providing tailored tools, such as ergonomic furniture and advanced patient monitoring systems. By leveraging technology, Haworth is able to equip healthcare providers with spaces that offer better care experiences with improved safety and productivity for both patients and staff alike.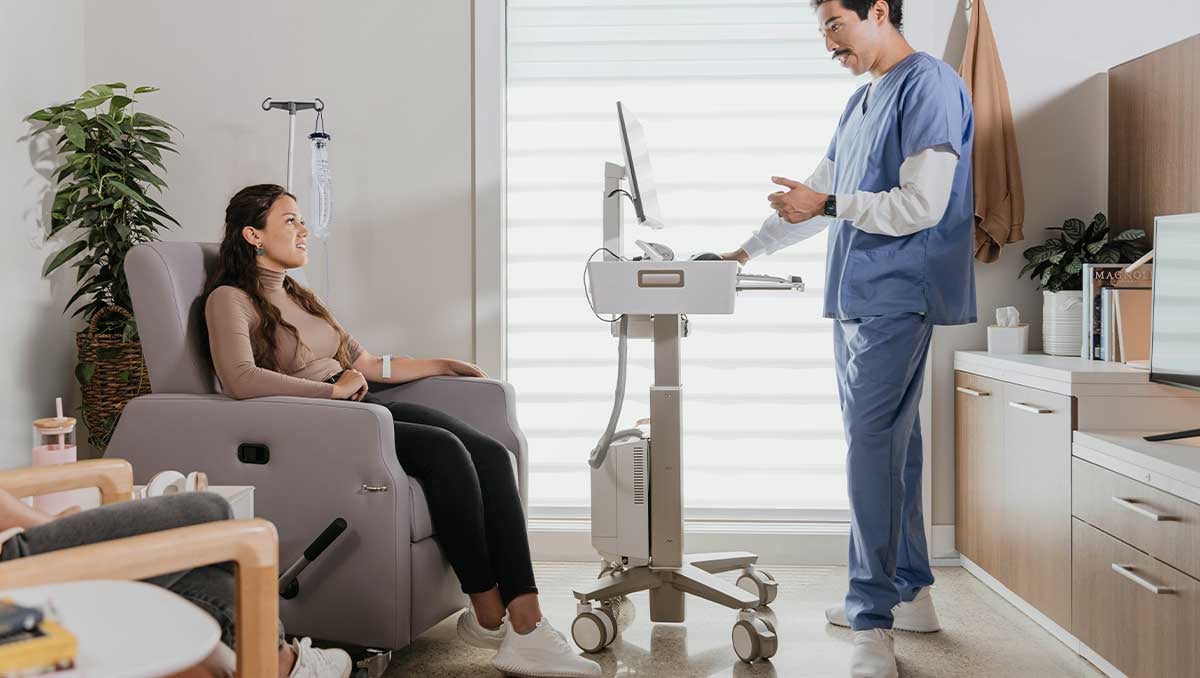 Activity-Based Team Spaces for Nurses and Staff
One of the most important trends emerging in this sector is the transformation of nurse stations into activity-based team spaces. This trend helps foster collaboration among staff while also promoting better patient outcomes overall. By creating an environment where nurses can work together as a team, they can share knowledge and work together to provide better quality care.
Ergotron Mobile Carts and Wall Mounted Workstations are designed to provide healthcare workers with an easier way to organize their workspace, enabling them to complete tasks more quickly and accurately. The carts feature adjustable height shelves, allowing users to select the perfect height for their needs.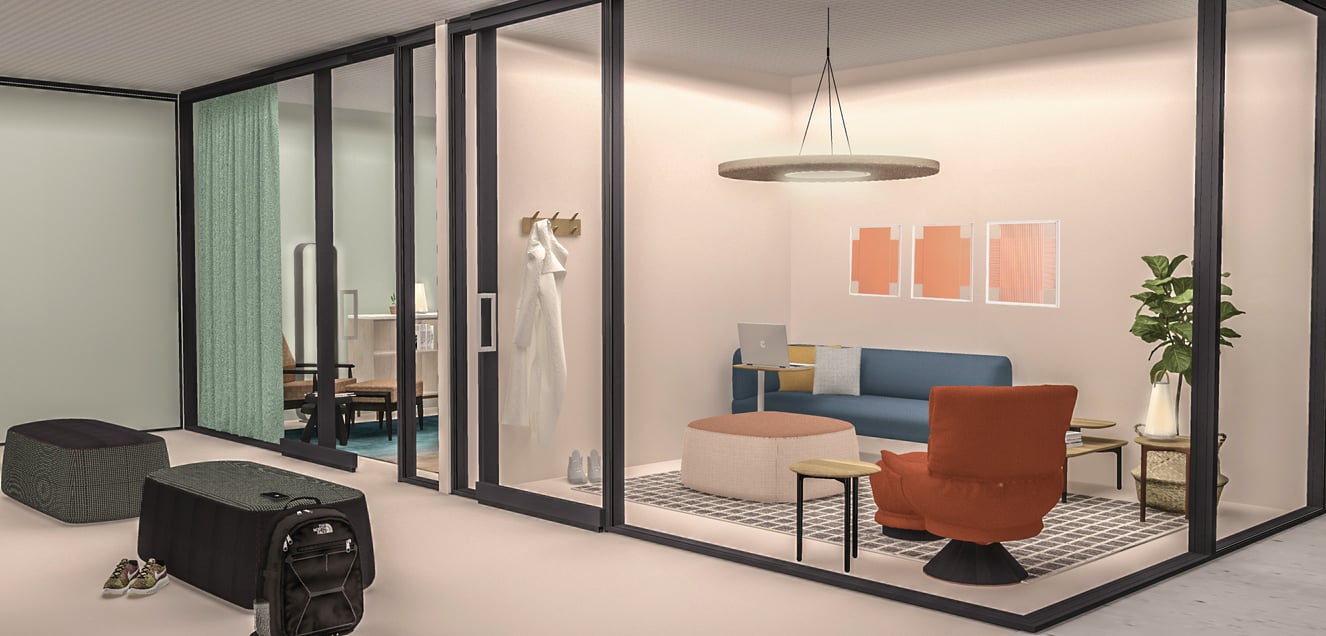 Pre-Fab Solutions Offer Flexibility
Pre-fabricated solutions are becoming increasingly popular in the healthcare sector. By utilizing pre-fabricated components, employers can quickly and easily install new furniture or equipment into their workplace, without having to worry about construction delays or costs. This allows organizations to move quickly when they need to make changes within their workplace.
Enclose is a revolutionary way to maximize space and convenience in any healthcare workplace. These glass wall panels come together effortlessly to form movable offices that provide optimal storage, privacy, and comfort without sacrificing valuable floor space. These movable glass walls also offer power and data integration.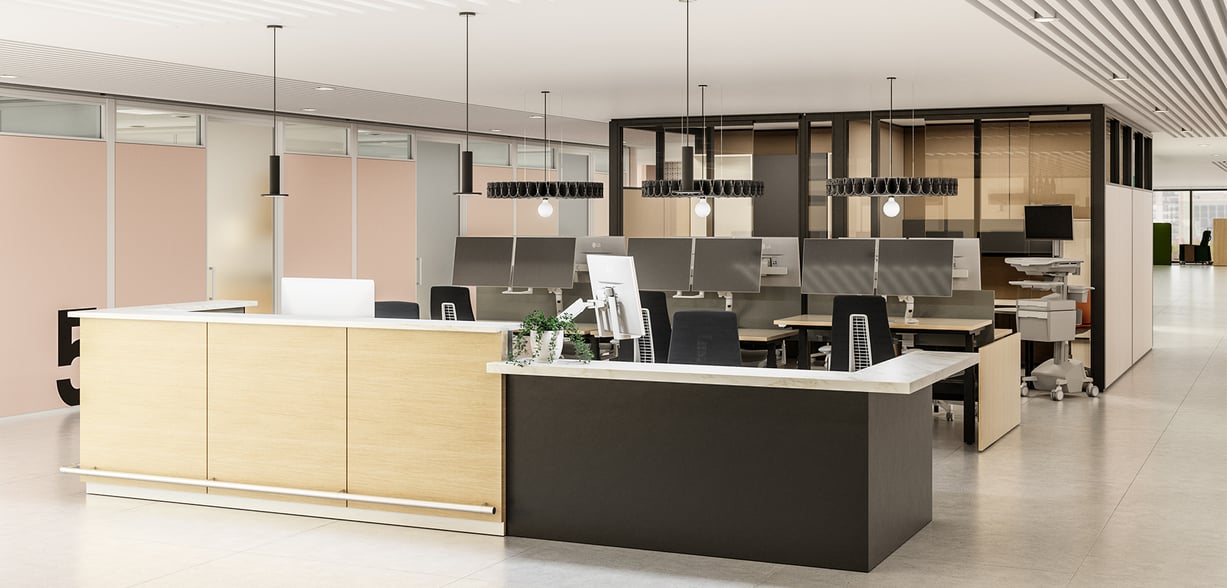 Compose Workspaces is an innovative panel-based workstation that provides versatile and adaptive functionality to meet the ever-changing needs of healthcare workplaces. The modular panels allow users to configure their workspace according to their individual needs, with each panel featuring adjustable heights for increased ergonomic comfort. Additionally, Compose's built-in power and data integration allows for swift and easy setup.
Sit-to-Stand Workspaces Provide Better Ergonomics
The Compose Echo height-adjustable table embodies a unique design that allows for unparalleled customization options. Users are able to set the perfect ergonomic height for any task or sitting posture.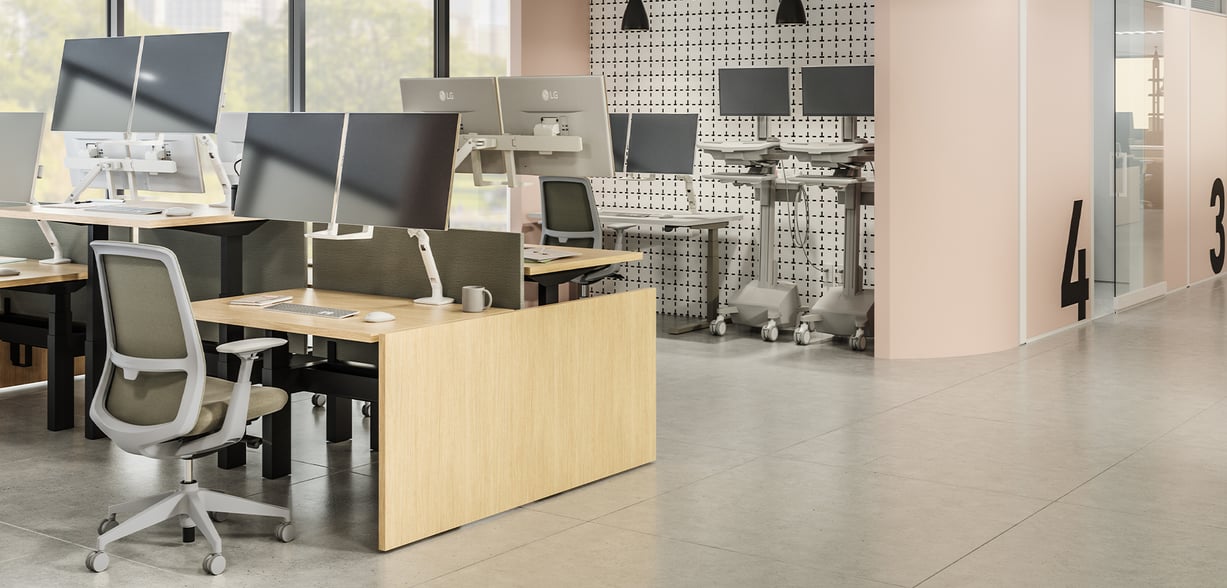 Task Seating Built for Caregivers
Soji Cleanable+ Task Seating is designed with healthcare workers in mind. Featuring an all-encompassing design that combines cleanability, safety, and comfort, the Soji Chair is perfect for busy caregivers who spend extended periods of time on their feet. The breathable mesh back provides added support while the adjustable arms enable users to customize the fit of the chair according to their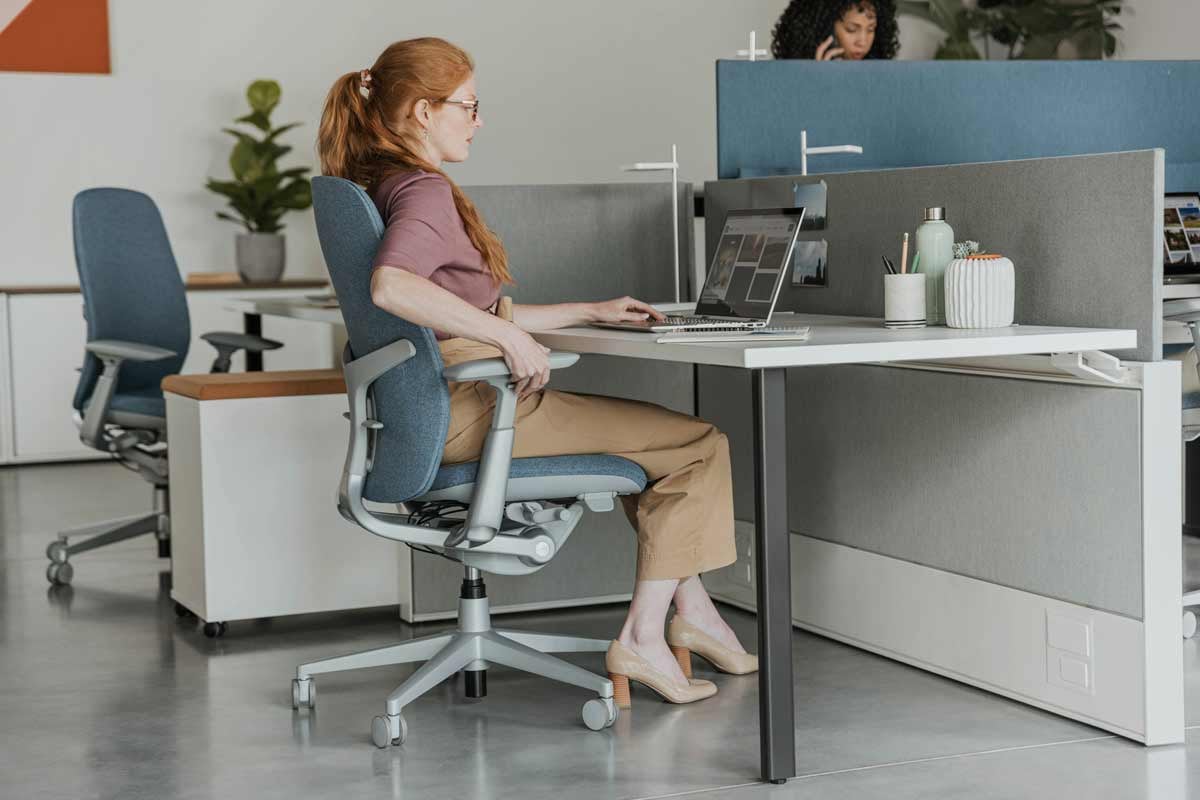 Zody LX chairs provide the perfect combination of style and ergonomics. Featuring a unique design that includes adjustable lumbar support and a flexible back, the Zody Chair is ideal for healthcare providers who require long periods of sitting. Additionally, it offers superior support for extended bouts of sitting or standing.
Supporting Caregivers
As the healthcare industry continues to grow, it is essential for organizations to invest in their employees' well-being by providing them with adequate support and resources. Haworth has developed innovative solutions that can help employers create a supportive environment for healthcare caregivers so they are equipped with the right tools needed to succeed. From activity based team spaces, pre-fabricated solutions such as Enclose Movable Office Walls, Compose panel workstations, Sit-to-Stand workspaces and ergonomic task seating – these products offer flexibility and better ergonomics while promoting better patient outcomes overall. By investing in these tailored solutions from Haworth, organizations will be able to remain competitive within this ever evolving field of healthcare.
---
Contact us to learn more about how we can help you build spaces that support healthcare caregivers.