Whether you are doing a new space build-out or a redesign of your existing workspace, you can take advantage of our workplace design tips to create your new office. We believe that the workplace of your dreams is within reach, and that designing it can be a fun, engaging process.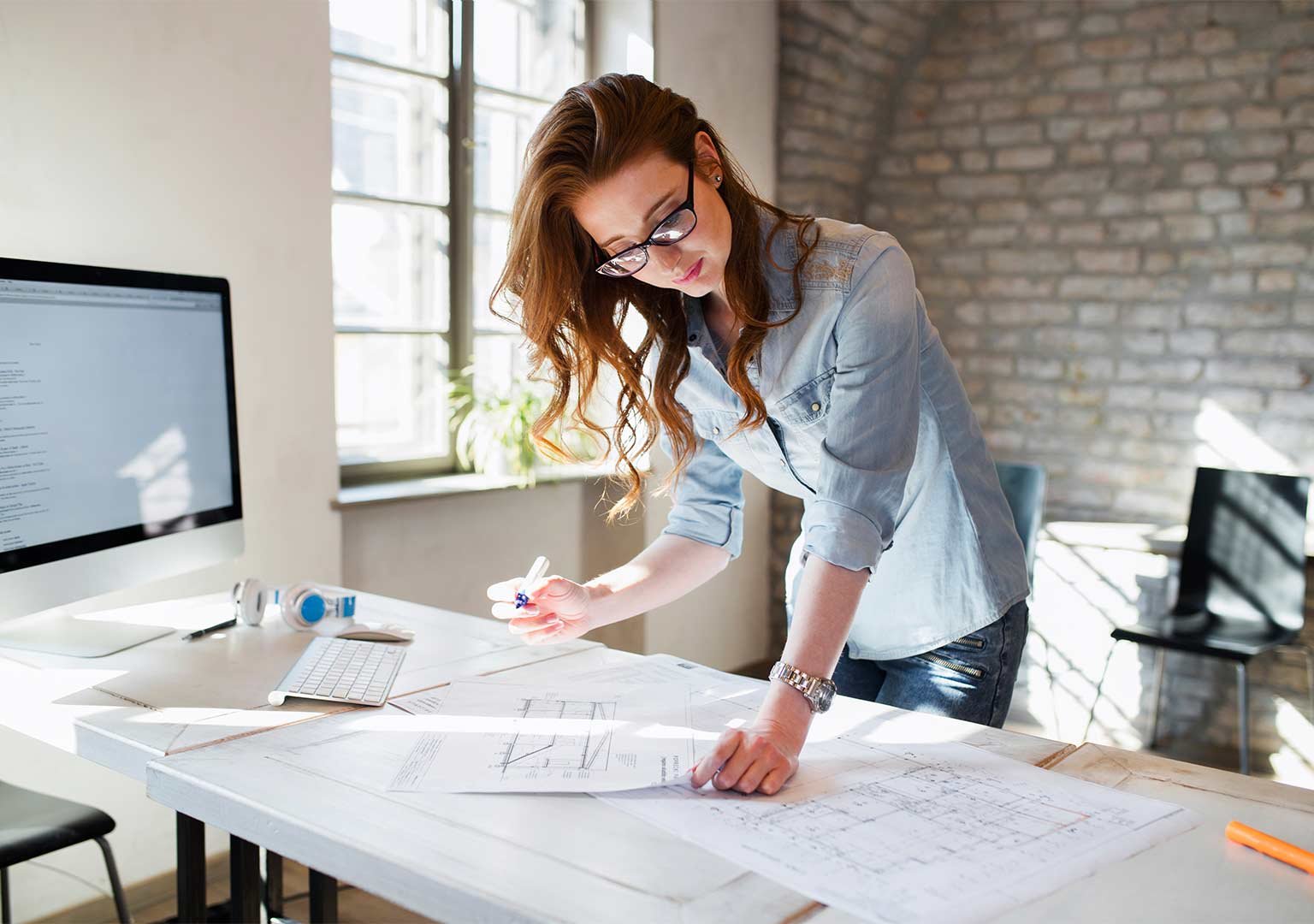 1. Know your Workspace
Every space is a little bit different. In order to optimize your final design, make use of what you know about yours.
Consider factors such as:
Floor area and shape

Number and placement of outlets

Window size and locations
For example, it would make sense to put desks next to outlets. And for employee well-being, it is also a good idea to have desks near windows.
Also, take into consideration how your team uses your workspace. Your employees probably have important opinions on the design of their future office, since they will be working in it. Consider taking a survey, or holding a group brainstorming session to come to a consensus about certain features.
2. Find Your Style
Since you will be spending a lot of time working in your new office, you should settle on a style that represents your organization and your brand. The way your office feels will have an impact on the way your employees operate, and affect the development of company culture.
Ask yourself: Playful or pragmatic? Versatile or minimalist? Colorful or austere?
Once you have an idea of what you want the overall style to be like, this narrows your options to a more manageable field. Your design dealer will use this information to help come up with a smaller set of options for furniture, paint colors, and layouts.
3. Work With a Design Partner
Office designers are trained specifically to help businesses make plans for new offices. Dealer designers are inhouse workplace design experts at furniture dealerships and can provide keen insight into the best and most suitable products. Seeking their help is much like seeking advice from a skilled professional and you can trust their expertise.
A dealer designer will provide several forms of advice, including:
Picking a style and advising on trends

Using space efficiently and productively

Balancing goals and budget

Suggesting furniture ideas
Feel free to reach out to our team to schedule a free consultation.
4. Set Goals
Like any other project, designing a workplace rests on the achievement of various goals. You get to decide what the goals for your office are, based on your unique needs and interests.
Of course any office should be designed with the broad goal of providing employees with a productive and healthy environment. Now is the time to consider also how you want them to carry out that work.
To what degree do you want to encourage collaboration and creativity? Or make it easy for people to find some privacy to do their work?
In what way will hybrid or remote work play a role? If there will be a permanent remote labor pool, you might want to have good resources for handling video calls with them, such as a dedicated conference space and privacy booths.
Crafting good goals is an art unto itself. Many fall into the trap of setting goals that are unattainable, or that don't actually further their interests in a meaningful way.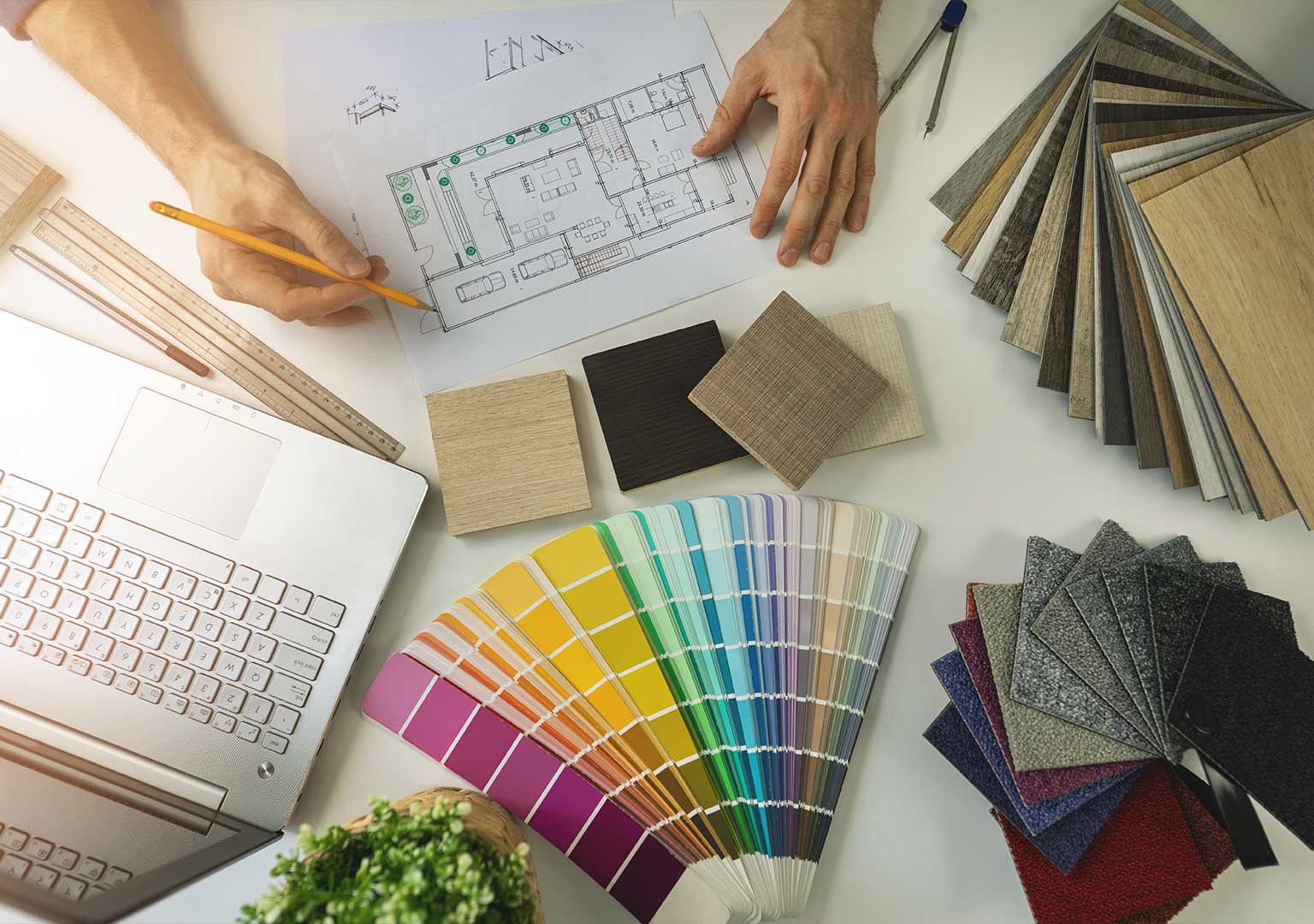 5. Uncover your Creativity
This is where the real fun part stuff. Work with your designer to choose the furniture that will work best in your space. You should expect to discuss topics such as ergonomics, space usage, and space functionality.
Your designer will recommend furniture to consider, but feel free to surf the web and dig into catalogs in order to provide them with and idea of your vision.
6. Let's Talk Finishes
Once you've selected your furniture, the next part is choosing your finishes and colors. Most people have a great time doing this and these fine details are where your office really comes to life.
Your designer will bring you samples, materials, and colors to choose from that work best for your space. Nearly every furniture product come in a variety of finishes and you should enjoy picking out what represents your vision and brand. Will it be earth tones and natural materials or colorful and vibrant patterns? Should you go with the latest Pantone Color of the Year or something more timeless? It's your choice, have fun!
7. Prepare Your Space
If this is a new space, you will have more options for factors like power and other IT details. You can work with a contractor to cover walls and flooring while you prepare for the furniture installation.
If this is a space redesign, you can work with your dealer to recycle or donate your existing furniture. Decommissioning a workplace is a major undertaking, for which you should take a strategic approach.
8. Installation Time
Relax and let your dealer do all the heavy lifting. Once the trucks show up, watch as your space comes to life. Furniture will be installed and constructed. The logistics of furniture installation can get complex, so your dealer will work closely with you to ensure this part of the project is as seamless and simple for you as possible. If your employees need temporary space to work from while this happens, your dealer will take that into consideration by setting up temporary quarters or installing in phases.
Once the furniture is constructed, they will prepare your new space for occupancy and get it ready for you to move back in and get back to work!
9. Training and Onboarding
While sitting in a chair is not a particularly complicated activity, your new furniture may have features that warrant an explanation. Take advantage of ergonomic features and get the most out of your new furniture with proper instruction for your end-users.
Also, your new office may come equipped with smart devices, networking features, and more. These items will require more in-depth training for employees and you'll want to get a good handle on how to use these high-tech devices.
10. Celebrate Your New Space
We bet you can't wait to show off your beautiful new space and we don't blame you! There is nothing like a good office warming party to get your team excited and comfortable in their new workplace.
With flexible schedules and hybrid working, we often don't get to mix with everyone at the office at the same time. This is a perfect opportunity to convey your company culture and encourage networking within your team. You may even want to Invite your customers and business partners. Just don't forget to take a lot of photos!

Keeping it Simple
Over time, you may need some help with various elements of your new office. Reconfiguration, adjustments, and warranty support should all be expected. This type of maintenance and support is easier than you think when you work with Unisource Solutions. Our company motto is Welcome to Simple™ and we take simple seriously.
Interested in designing your workplace with Unisource? Contact us today!