Not long ago, green building was considered a fringe practice. Over time, green has become mainstream, with many developers supporting healthy, efficient, and cost-saving building standards.

Now, a new building movement has taken root, one which looks to not only support the planet around the building but the wellness of the people within the building. Just as green building standards often adhere to the LEED rating system (Leadership in Energy and Environmental Design), newer programs like WELL and Fitwel are promoting their own strongly-held standards for human wellness, including features such as excellent lighting, easy access to quality food and water, fitness facilities, and clean air.
Proponents of these efforts, which unite the practices of building science, health science, and business economics, draw a connection between building design and the health of a building's occupants. They point to mounting evidence that the experience and emotion that is elicited within a building drives actual outcomes. The feeling of wellness helps to deliver wellness.
The WELL building standard has become the leading tool to improve human health in homes and offices across the world. Initially focused on the commercial office space, WELL has recently turned its attention to healthcare environments.
"If we put people in a better environment, science tells us we'll have healthier, more productive workers."

– Phill Williams, Delos
Phil Williams, President of Business Development at Delos, which developed WELL, encourages the healthcare industry to shift its perspective of buildings as neutral or benign to a recognition that buildings are positive forces that have the power to actually improve health.
"If we put people in a better environment, science tells us we'll have healthier, more productive workers," he said at a HealthSpaces event. "The standard is all about making their environment physically better. I think that will drop right down to the bottom line, whether it means less errors at 2 a.m. or the ability to understand how we can recognize a symptom because their cognitive skills are sharper."
Understanding the science behind promoting health outcomes through design is a key step towards improving patient safety, progress, and quality of care. While there are many categories that contribute to wellness design standards, here are three considerations to keep in mind to elevate health within your own healthcare setting.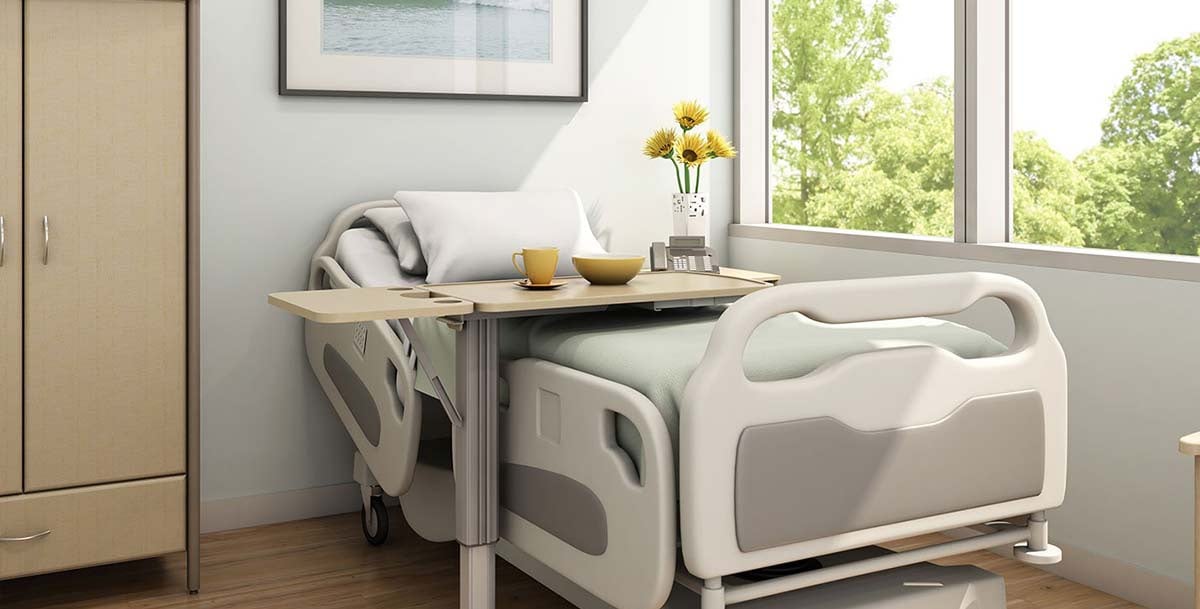 Shown here: Haworth Health Overbed Table
1. Space
Healthy design creates physical spaces that actively support patients, caregivers, and the environment. Every decision you make should be about reducing the feeling that patients are in a healthcare setting. You want to reduce stress by fostering a sense of ease and human connection; design decisions should be about replacing a sterile and cold feeling with one that is comfortable and reassuring.
Wellness standards within design focus on HVAC and lighting systems, natural lighting, dynamic glazing, and energy modeling to put wellness front and center. Ambiance is an important consideration in your spaces, but this isn't just about cosmetics. Efficiency is another aspect of ambience; for example, modular seating, which fosters greater functionality and human connection.
How can the little decisions about patient room layouts contribute to patient wellbeing? Are beds placed in the middle of the room or against a wall, and if the latter, which wall? Patients may benefit from facing the window rather than the interior of the hospital. How is space allocated to provide room for patients to walk versus the quantity of beds and operating equipment?
Think of the color, lighting, and materials that will support not just a look but the function of both interaction and privacy. Consider also the functions of accessibility and usability. Can patients with families use your space as easily as solo patients? Is guest seating in hospital rooms easy, and does it allow for comforts like reclining so that naps are easy? Consider also how spacious break rooms, access to the outdoors, and sleeping areas contribute to a feeling of wellness by medical staff, patients, and families.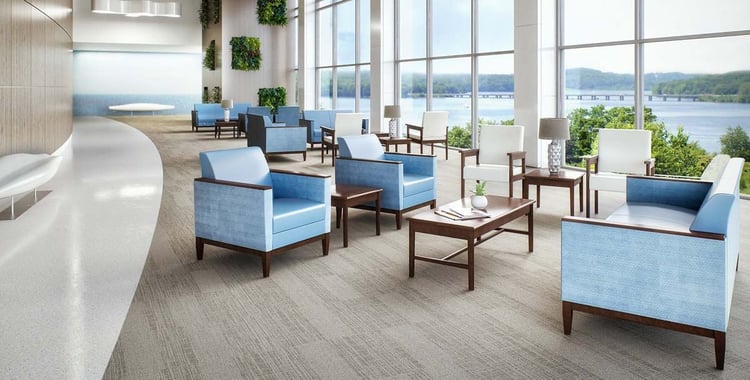 Shown here: Haworth Health Selma Lounge
2. Traffic
Healthcare facilities like hospitals must accommodate a high volume of traffic amongst patients and personnel. How are you designing for a sense of flow that will support the movement of people within your facility and improve patient health? How are you accommodating the needs of people who must talk to each other versus the people who don't?
The aesthetics of your space can promote a better sense of well-being and interaction as people come and go. Acoustic design accommodates sound levels that can maintain the peaceful atmosphere of healthcare spaces. Extra walking spaces can speed up patient recovery and shorten hospital stays.
Experts in wellness design point to The Butaro District Hospital in Rwanda as a benchmark for the connection between healthy design and patient health. The building designers were able to reduce the transmission of airborne disease through overall layout, patient and staff flow, and natural cross-ventilation. Traffic design is not an incidental consideration but a fundamental contributor to patient health.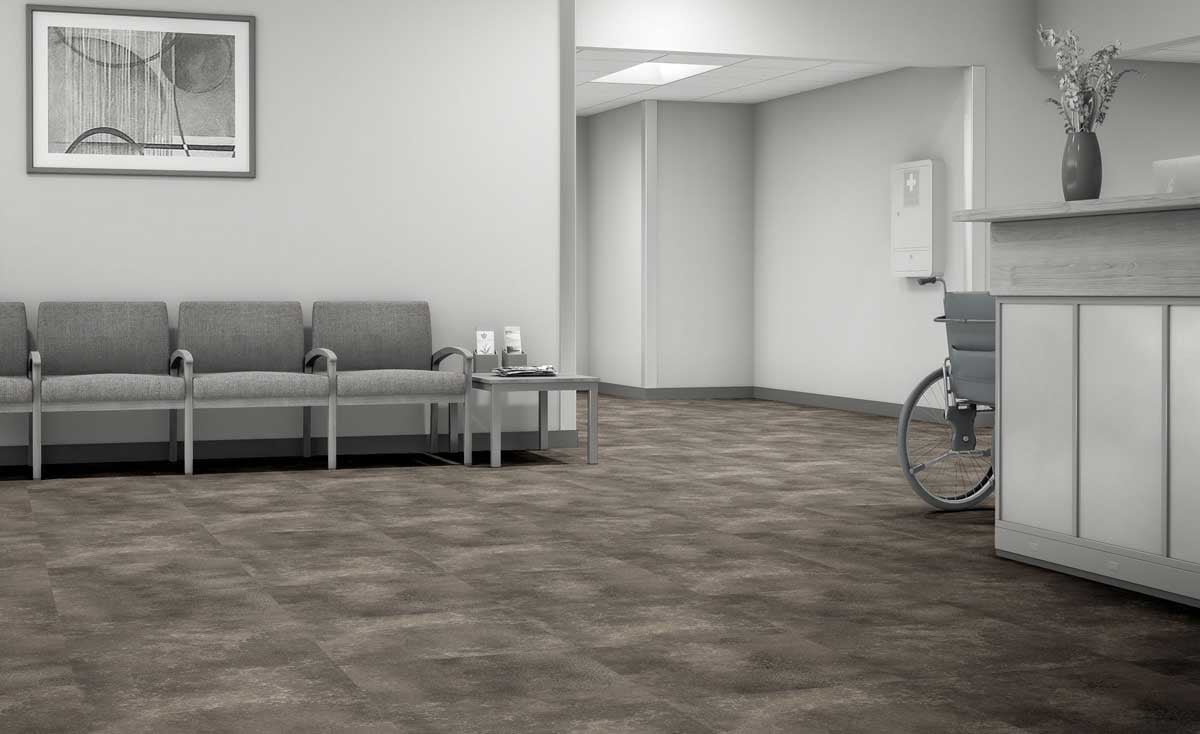 Shown here: Interface Criterion Class Stones flooring
3. Hygiene
Healthcare settings themselves can directly imperil patient health. Everything that surrounds us in a healthcare setting can carry pathogens and perpetuate infection, and sanitary considerations are more important than ever in our pandemic state. But how can you accomplish this goal without descending into the cold and clinical stereotype of a healthcare setting?
Wellness design can play a huge role in combating this problem. You don't have to settle for ugly vinyl just to maintain high standards of hygiene. Today, you can have fabrics that feel luxurious but are also easy to clean.
Today, healthcare facilities are installing solid surface materials for both table tops and arm caps. For flooring, Luxury Vinyl Tile (LVT) is popular for both how it looks and it's ease to clean, disinfect, and maintain.
Wellness design also means minimizing porous surfaces and many healthcare facilities are installing solid surface materials for both table tops and arm caps to reduce the potential for contaminants and increase the likelihood of having a clean and sterile environment.
Luxury Vinyl Tile (LVT) is a favored flooring in healthy design because it provides many practical benefits while maintaining a beautiful, authentic look and feel. Interface is a leader in providing flooring materials for safer spaces, and along with some other manufacturers, offer sustainable versions that can add LEED points.
Every design decision should be about balancing the need for high hygienic standards without sacrificing the health-promoting aesthetics of wellness design.
The field of wellness design is an exciting frontier, one that holds the promise of bottom-line improvement in patient outcomes within healthcare settings. As you plan the buildout or improvements of your own healthcare practice, elements of wellness design should be a part of your decision-making process.