If healthcare design has always been a key factor in patient satisfaction and outcomes, the pandemic has amplified its importance.
Design can make all the difference between a healthcare environment that nurtures or detracts from wellness. From a patient's perspective, thoughtful design evokes comfort and eases anxiety. From the perspective of employees, smart design fosters better workflow and collaboration. Advanced healthcare technologies that are becoming commonplace within healthcare settings, such as telemedicine, must also be factored into design.
If you're thinking about how to plan a new healthcare setting or improve the one you already have, here are the five top healthcare design trends in 2021 to keep in mind: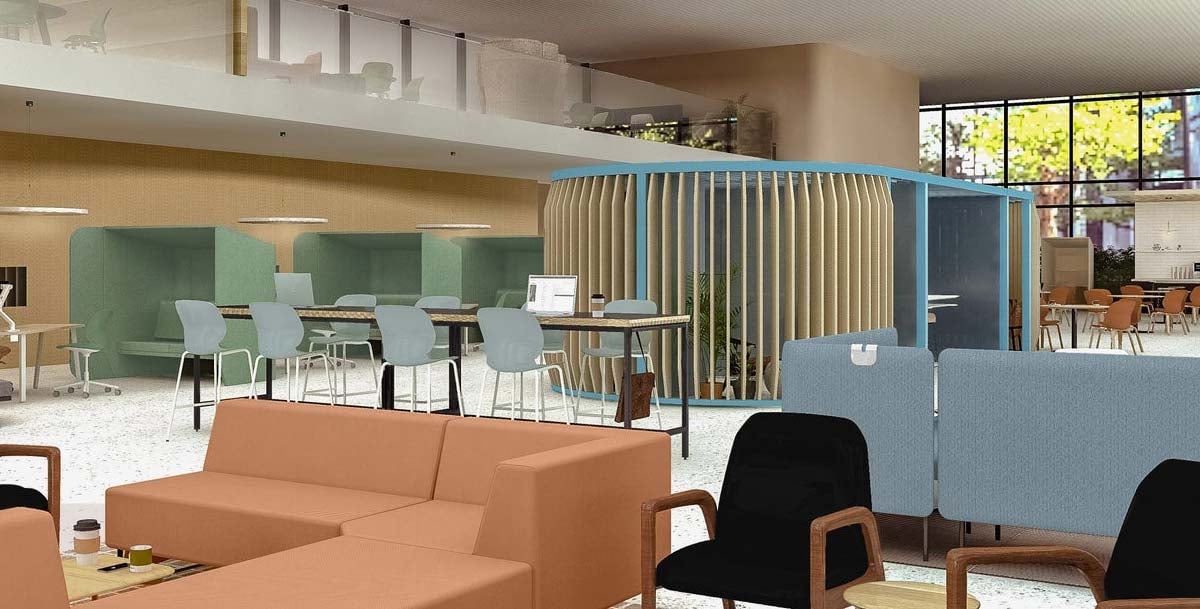 Trend #1: Reinvention of multi-use spaces
How do you optimize the patient experience and create a welcoming feeling for patients and their families? Start with your lobby. Its official purpose may be for waiting, but in truth the lobby is the introduction to the culture of your healthcare practice. The way in which you embrace this opportunity can go miles in earning the trust of your patients.
Creating a safe and pleasant environment is key; the bus stop lobby vibe just won't cut it anymore. Versatility is crucial, so consider ways in which you can segment spaces and open up possibilities for privacy and social distancing. Lobby design needs to consider different pods of patients - not just single patients but also various family clusters. Think about different groupings of safely distanced chairs and sofas, including convenient USB outlets, that will induce a sense of comfort.
Beyond the lobby, how can your communal spaces and lounges be flexible enough to accommodate different needs for physicians and nurses? Employees and managers need versatile areas that can be used for different purposes without requiring the cost of customizing every area for only one function.
Another trend we see is flexibility to utilize multi-use spaces for both public areas, community events, speaker events and educational classes. Typically, these spaces are near the front entrance and sometimes even part of the front waiting areas. This approach includes open space combined with areas for storage of nesting tables and stackable chairs used for different activities.
Healthcare employers are also realizing that repurposing some spaces for convenience uses - such as daycare for employees - can be a powerful tool for employee recruitment. Design planning can also be steered towards patient perks, such as adding hair salons or onsite labs. Get creative in thinking about how to open up your space to as many purposes as possible for patient and employee convenience.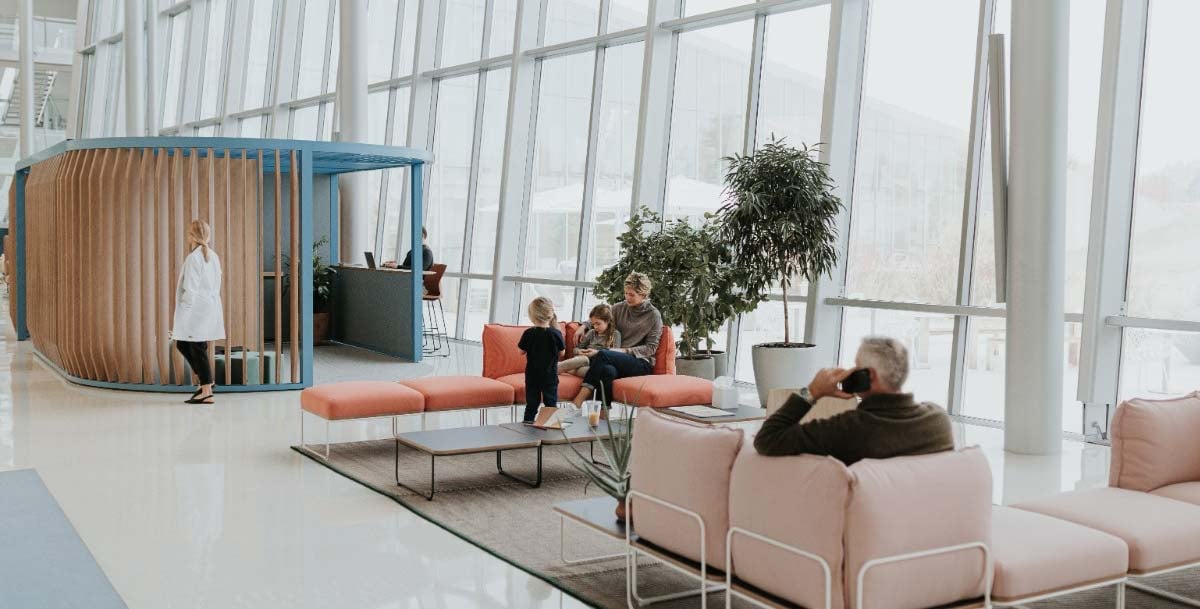 Trend #2: Biophilia
A strong design trend in healthcare is to bring the calming effects of the outdoors inside, integrating landscape architecture with indoor design. It's no surprise that biophilic design is just what the doctor ordered in 2021.
While everyone can benefit from biophilic design, healthcare patients in particular have been shown to have substantial wellness benefits from exposure to natural elements.
The term biophilia means life loving; biophilic design, as defined by professor and author Dr. Stephen R. Kellert, is "an innovative approach that emphasizes the necessity of maintaining, enhancing and restoring the beneficial experience of nature in the built environment." While everyone can benefit from biophilic design, healthcare patients in particular have been shown to have substantial wellness benefits from exposure to natural elements.
Research shows that patient rooms with views of nature translates into shorter stays, less medicine dispensed, and overall improvement in the patient's condition. Even artwork about nature lowers stress and improves pain relief. How can you incorporate gardens, picture windows, sunlight, and nature within your facility? Natural touches can create a zen environment that helps patients feel relaxed and helps employees feel a sense of order.
Additionally, many healthcare facilities are now providing outdoor spaces exterior to waiting areas to accommodate overflow and allow people to be outside within nature, and access to fresh air. These outdoor areas include all the comforts of interiors including outtdoor seating and tables, WI-FI, food stands, and more.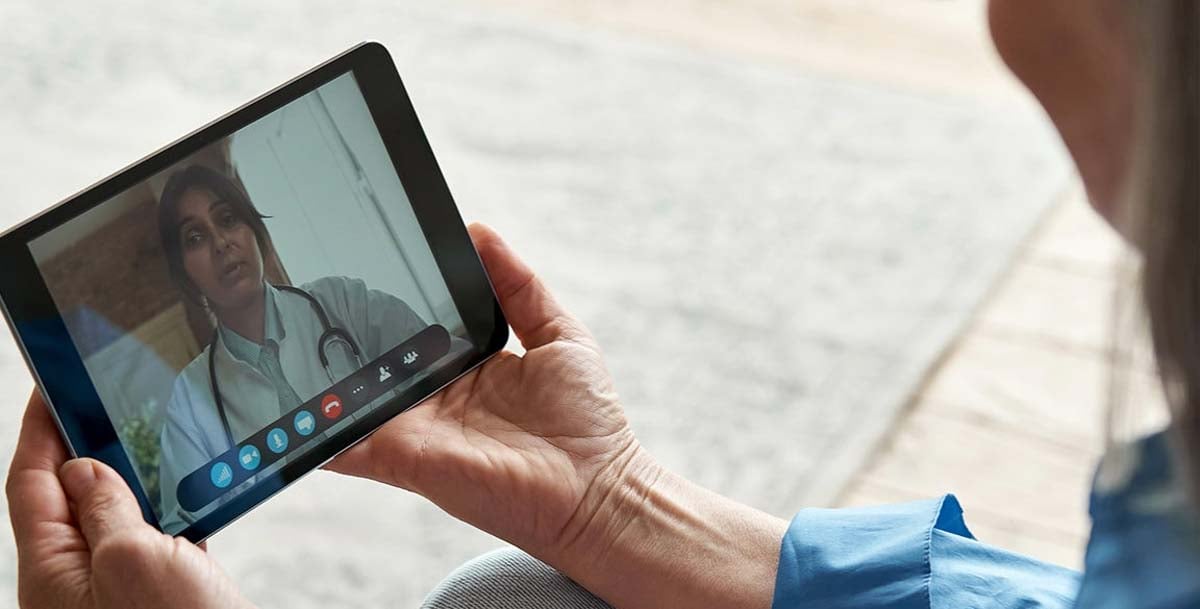 Trend #3: Technology that feels like home
A top design trend for 2021 revolves around technology. As digital innovations create new opportunities for healthcare, design needs to keep pace. The growing popularity of telemedicine is one example; healthcare facilities must design for the function of this new function while also incorporating aesthetic touches that make this remote interaction easy for patients. Addressing technology needs within design affects every corner of healthcare settings today, from planning for connected devices to enabling tablet "remote controls" for patient rooms. Designing for technology can empower patients through high-tech touchpoints that create more flexibility for their stay and improve their care and outcomes.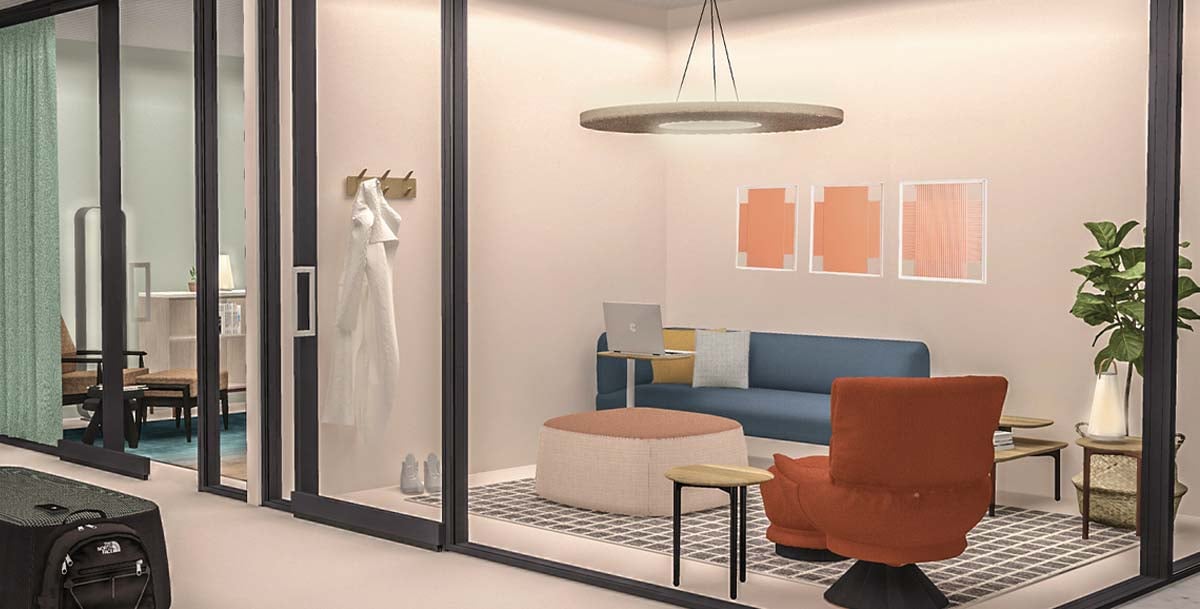 Trend #4: Empowering caregivers
The nuances of technological advances have implications for the caregiver experience as well as that of patients. From HIPPA-certified digital voice assistants to wearable EKG's, new technologies are allowing healthcare work to go beyond the examination rooms. These developments liberate caregivers and open up possibilities for the healthcare space, allowing employees to be more mobile and active during their work.
Related Read: Prioritizing Patient Experience in Healthcare Design
What this means is that every space in a work environment can be a work space, from lounges to cafeterias. Different kinds of work flourish in different spaces. Now the real estate footprint of a healthcare setting can be suited to accommodate different styles of clinical work, from focused to collaborative. Designers must consider how to leverage the full breadth of healthcare spaces to maximize the satisfaction, performance, and engagement of caregivers.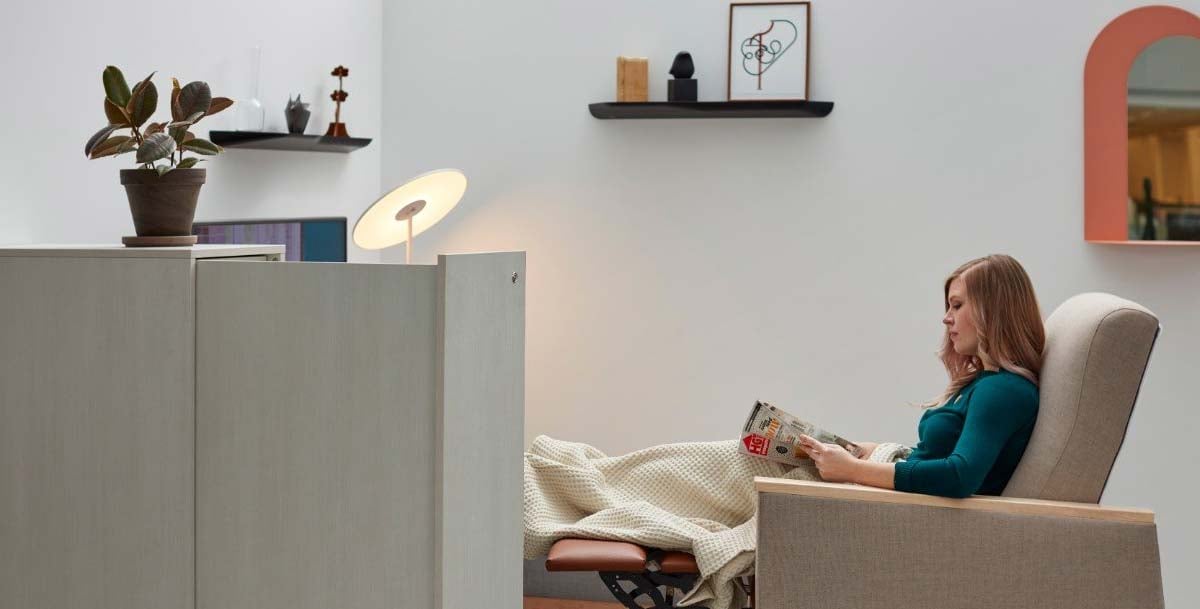 Trend #5: Wellness Design
Another top design trend in healthcare is to incorporate elements that have proven to foster wellness.

How can you give your healthcare space an authentic personality, one which encourages healing through appealing design? This could be about featuring local artists, materials, food, and services, which can also stimulate the local economy and create a sustainable design.

Awaken the senses of your patients by distinguishing your look and feel, from dull and drab monochrome to unique. Distinctive artwork is no longer looked upon as frivolous within healthcare design; it should be part of your plan.

You can also build your design around a theme, which has become a popular design approach that has been shown to improve a sense of well-being amongst patients. Incorporating local thematic elements within the design of your healthcare setting will help distinguish your facility and embrace the aesthetics of wellness.
---

The chaos of the pandemic, and the renewed focus on wellness as life returns to normal, has reframed the connection that patients have with caregivers. Now is the time for healthcare operators to leverage patient and employee-centered design within their facilities to cultivate a relationship of trust and loyalty that endures for years to come.