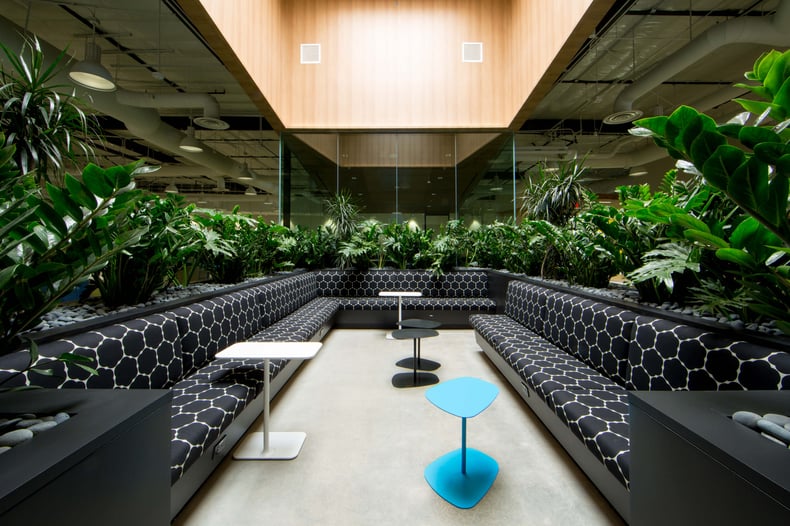 Healthy indoor environments are no longer an extra; they're becoming a standard in office design. From Fortune 500's to boot-strapped start-ups, companies are designing or retrofitting their campuses and office buildings into innovative, sustainable workspace design as a way to attract and retain talent. Employees see green as a given and expect a healthy, environmentally responsible work environment.
While most conversations about employee wellbeing focus on dietary and exercise needs (think free healthy meals and fitness programs), the built environment is leading the dialogue around personal wellbeing. Historically, "green" buildings were designed to lessen their impact on the environment and reduce their carbon footprint; however, there's a movement to bring human factors into sustainable design to benefit the people.
Many of the projects Unisource Solutions works on couple high-performance, energy-efficient strategies with biophilic design elements that connect occupants to nature with appealing, comfortable design-centric work areas. When you walk into an office, immediately, you get a sense of place. Workplaces that feature daylight, fresh air, good air door quality and inspiring design are favorable to employees and can boost their wellbeing. Healthy, low-VOC material selection, a variety of work areas to encourage collaborative work and functional office spaces with natural views and ergonomic work stations are all part of the green office package that employees look for.
The physical environment is an important aspect of the job with employers and employees reaping the benefits of working in a beautiful, sustainable office.
Check out our case study of Dole Packaged Food as an example of a green space we've worked on.
---
Contact us for a free consultation and learn how we can help you achieve your smart office goals.