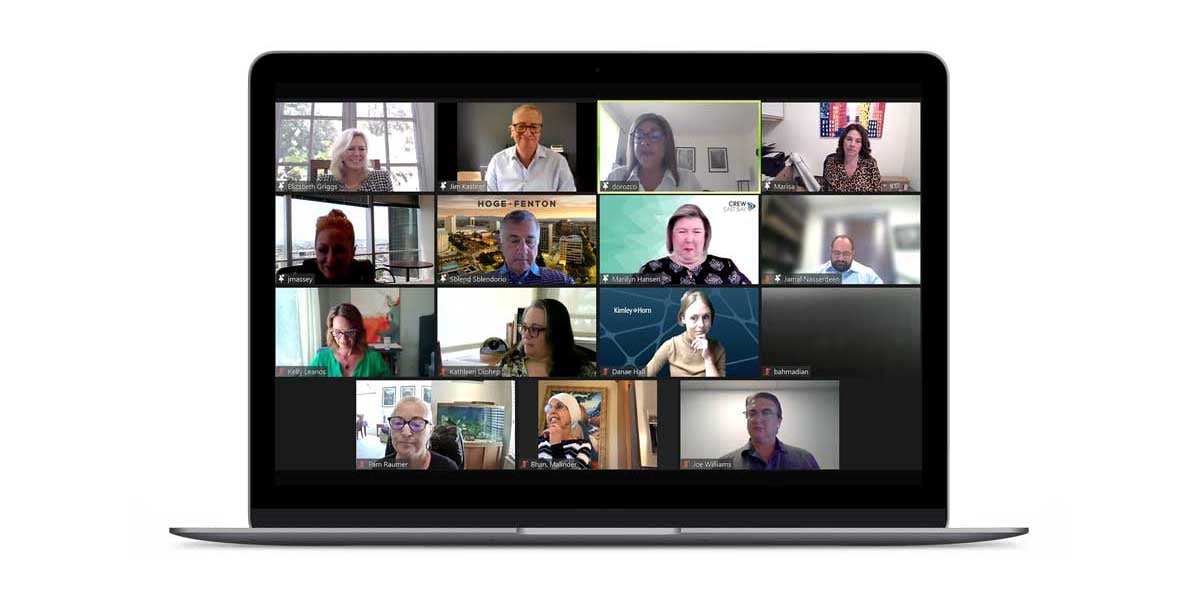 The COVID-19 pandemic has fundamentally changed the way we work, but that doesn't mean the office is dead. On the contrary, companies around the world are transforming their offices to create safer, more flexible workspaces and adapt to this new normal. Unisource Solutions is excited to offer workplace transformational management solutions and dig into the trends that we're seeing today, to help you create a hybrid space that works for your organization.

Unisource Solutions' CEO Jim Kastner and COO Jamal Nasserdeen recently spoke at a CREW East Bay virtual panel about the new normal in the office as we move forward from COVID-19. Unisource Solutions Strategic Account Manager Doris Orozco served as the moderator. Here are some of the key takeaways from this recent panel to inspire and inform your hybrid office plans.
Q: What Does the Future Look Like?
"The pandemic has fundamentally changed the way we work and the way we work in the future.. we should expect that the workplace will work and function differently than it has before. The question is: what will that look like?"

- Doris Orozco, Strategic Account Manager, Unisource Solutions
We've known for the last year that the way we work would change forever, even after the pandemic is over. The big question is, how exactly are things going to change? There are many benefits to working remotely and working in the office, and we've learned that the two don't have to be mutually exclusive.
We've seen this sentiment shared by many of the world's top business leaders. "Employee expectations are changing, and we will need to define productivity much more broadly - inclusive of collaboration, learning, and wellbeing to drive career advancement for every worker," says Satya Nadella, CEO of Microsoft.
Q: How Are Offices Working Right Now?
"On the tactical side, offices are looking at how they occupy space, how much they need, and how they need it to be adaptable. Employers are going to have to make a shift. They are going to have to manage life experience and not just what's happening in the office going forward. And this requires a whole different set of management skill sets. Additionally, we're seeing a lot of organizations change their hiring practices right now because of some of the things going on."

- Jim Kastner, CEO, Unisource Solutions
We are in the early stages of reopening, and it's likely that offices will continue to evolve over the next few years as we adjust to this new normal. Small and mid-sized companies have been the quickest to return to the office, as they have fewer logistical concerns to consider when it comes to reopening.
Many companies are still not using their office spaces to their full capacity. Hybrid work has become the norm for many people. Offices are open, but employees are only going in a few days per week with staggered schedules. These days in the office typically coincide with important meetings or collaborative work. Another popular practice has been hoteling, allowing employees to reserve meeting rooms and desks ahead of time instead of offering assigned seating.
These practices will likely continue moving forward, but it's also likely that density will increase. As local COVID-19 restrictions let up, offices will be able to open at a higher capacity and use their spaces more efficiently.
Q: What Are the Biggest Challenges Moving Forward?
"I think we could all agree that 2020 was one of the most volatile years any of us have ever seen. I also think it would be a big mistake to expect 2021-2022 to be that much smoother. We're looking at different ways that people are consuming products and services, and starting to be more reliant on the digital, which is requiring different skill sets in the employee base. I also believe that the importance of the employee experience cannot be over estimated. It's going to be a lot more challenging as we get into more remote work. The employee experience at the end of the day is what drives your company culture. It drives productivity, attracts and retains people as well."

- Jim Kastner, CEO, Unisource Solutions
There's still a long road ahead to get employees back in the office. At the CREW East Bay Panel, Jim Kastner spoke on some of the biggest challenges of going back into the office. Health and safety remain a big concern, as we are still dealing with the Delta variant of COVID-19. However, getting employees re-engaged is a major concern as well.
So much of the work we used to do in person has moved online. However, it's still very important to maintain your company culture and keep employees engaged, even when they are working online. Most companies have a high-level idea of how they want to handle this, but we're seeing a large gap between strategy and execution. It's also where we can come in to help! This is going to be a major challenge for companies of all sizes over the next few years.
Another interesting challenge to think about will be the legality of requiring employees to return to work during this transition period. It's unclear yet if offices will be able to mandate that their employees get the vaccine or even if they can mandate returning to the office. This transition period will likely continue for several years, and companies should be prepared to deal with this on a case-by-case basis.
Q: How Are We Modifying the Workplace from A Design Perspective?
"What we're seeing from a design perspective is a lot more intention around collaboration and making sure the experience is both safe and intentional. The hygiene requirements that have come into play will remain."

- Jamal Nasserdeen, COO, Unisource Solutions
Since COVID-19 is still a global threat, companies have needed to make physical modifications to their workplaces to stay safe. These design modifications are also very important for employee wellness and engagement.

Many workspaces will now include hygiene stations, better access to sinks, and larger workspaces that account for social distancing. Additionally, work culture is changing - companies are now encouraging their employees to wear masks or stay home if they are feeling sick. Even after the COVID-19 pandemic, these changes will minimize the transmission of other illnesses in the office.
Companies are also adjusting the design of their workplace to entice employees to come back in. So many people have gotten used to remote work that office spaces need to provide real benefits for employees. This could include outdoor spaces and other exciting amenities.
Q: What Are Employee Expectations Moving Forward?
"Right off the bat, what people are expecting when they come into the office is safety, comfort, wellbeing, and seamless integration of tech from the home back into the office. They're also expecting a lot of control so that they can move things around, create barriers, and have an operation that responds to their specific needs."

- Jim Kastner, CEO, Unisource Solutions
Another key factor to consider when going back into the office is the way that employee expectations have shifted. Many employees are resisting going back into the office full time, especially those with long commutes. Working from home also has huge benefits for employees with kids.
"I think there's going to be a lot of regional hubs that are going to have the feel of the local environment so they can attract people. Branded and non-branded co-working space. All of these spaces are going to have an impact on meeting the employees' expectations and I think one of the hardest things is going to be particularly with the hub model is you need to live within driving distance of a facility to make something like that work."

- Jim Kastner, CEO, Unisource Solutions
Because there has been some resistance here, it's important to focus on making the office a comfortable and productive place to work. This could include rethinking the layout of your space, adding new amenities, and making employee collaboration easier.

Growing trend: Regional office hubs that reflect local environments.
For this transition back into the office to run smoothly, companies must communicate openly with their employees about what is happening. Managers will need to check in directly with their reports, but it's also important to open company-wide channels of communication. Employee surveys are also key to making sure that everyone's concerns are heard.
Ultimately, organizations will need to be flexible as their employees move back into the office. There's no one-size-fits-all solution here, so being adaptable will be very important.
Q: How Has the Pandemic Affected Office Sustainability and Leasing?
"One of the things that are going to have a dramatic impact is smart tech. It will be integrated into the workplace and building infrastructure. The data we are going to drive from that, particularly with the advent of 5G, will maximize workplace efficiency. I think at the end of the day, the tech is going to dramatically reduce carbon footprint."

- Jim Kastner, CEO, Unisource Solutions
Sustainable office technology was gaining traction before 2020, but the pandemic kicked this trend into overdrive. Smart technology is not only more sustainable from an environmental perspective but can also be used to keep employees safe and ensure that the office stays clean.
Source: JLL US office market statistics, trends & outlook
The leasing process for commercial spaces has also changed dramatically over the past year. Instead of in-person office showings, many landlords are opting for video showings instead. Some leases now have clauses that provide relief in the event of another pandemic; it's also becoming more common for companies to purchase business interruption insurance.
Q: How Is Real Estate Footprint Changing?
We're over a year into the pandemic and companies are still downsizing their offices. Many new offices are less than 20,000 square feet and serve as local hubs. Many companies that are leasing new office space are in the biotech industry. On the other hand, retail stores are either downsizing or moving completely into e-commerce. The commercial real estate market will be fluid in the years to come - many companies are waiting to see just how many employees come back into the office before making changes.
The biggest takeaway here is that we don't know what the new normal is going to look like, but it's going to be important to remain flexible and partner with companies to lean into knowledge and innovation moving forward. Are you taking the right steps as the world returns to the office? Contact Unisource Solutions today to learn more about how we can help you manage this inevitable workplace transition.
---
Contact us to learn more about how we can help you manage your workplace transformation