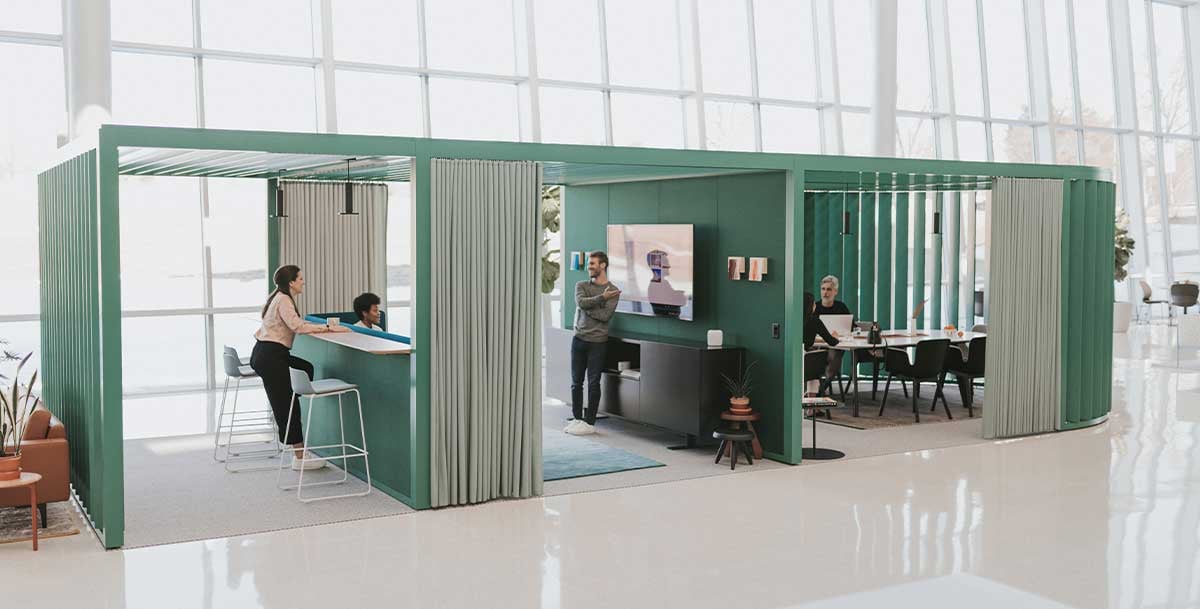 The healthcare industry is undergoing a reevaluation of facility design needs. While healthcare facilities have pivoted their operations from safe, supporting spaces to health-enhancing environments focused on physical and emotional well-being, the pandemic has made it clear that more needs to be done when balancing contagion, comfort, and connection. As we look ahead, healthcare design will continue to lead with a people-centric approach. However, with an eye on unforeseen illnesses and infections, design trends will include measures for increased health and safety. This runs the gamut from designing flexible spaces and versatile work areas to supplying cleaner air via quality HVAC systems and healthy materials. Below are seven healthcare trends that will continue throughout 2022.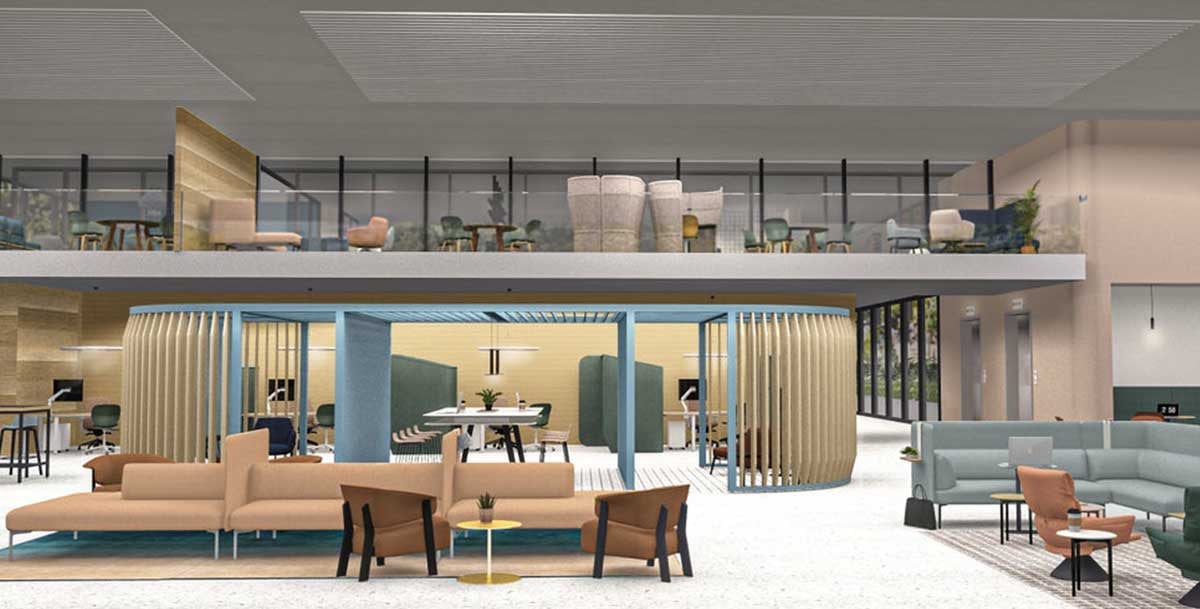 1. Flexible Floor Plans
Covid-19 has stressed our healthcare system, exposing our shortcomings in dealing with overcrowding. Integrating an open floor plan can help healthcare facilities navigate an influx of patients while providing sensible solutions for staff. Instead of compartmentalizing spaces within walls, flexible floor plans allow for better circulation and more control over traffic flow. When needed, facilities can quickly set up triage areas, shift workstations, and reconfigure these open areas, potentially lowering the risk of infectious disease transmission. Design requirements change constantly and it is important to add project value by providing flexible working environments.

2. Versatile Work Areas
In addition to open plans, creating versatile work areas can help keep healthcare workers safe. The pandemic has caused many to put in longer hours and exposed them to more stressful situations. Collaborative lounge area and flexible workstations, like Haworth Compose® Echo, are redefining versatility. These office furniture systems can be easily rearranged to define on-demand workspaces. Whether you need to set up neighborhoods for collaboration or individual work areas to maintain social distancing, these are the perfect scalable solutions. Coupled with sit-stand desks and lounge seating, versatile work areas are a great way to address patient and worker well-being
Related read: How Design Can Increase Wellness »
3. Daylighting
Designing with human comfort in mind means designing with nature in mind. Upgrading medical offices or building anew with operable windows and skylights that pull in daylight is becoming best practice in healthcare design. Giving patients and healthcare workers direct access to sunlight not only creates a more inviting environment, but also helps medical facilities save on electric bills. More natural light lessens the demand for artificial light, equating to calm surroundings with greater access to vitamin D.
4. Natural Ventilation
In line with daylighting, having access to outside air is also becoming best practice in healthcare design. With the goal of improved indoor air quality, operable windows, coupled with expansive spaces, can increase interior airflow. Plus, operable windows can help better regulate indoor air temperatures, providing a more comfortable environment for patients and staff. In a 2007 study comparing naturally ventilated patient rooms (infused with a variety of infectious diseases) versus mechanically ventilated rooms, it was found that open windows and doors provided more than double the ventilation than that of mechanically ventilated rooms. This study concluded with the understanding that open windows lower the risk of airborne contagion. Thus, providing a safer working environment.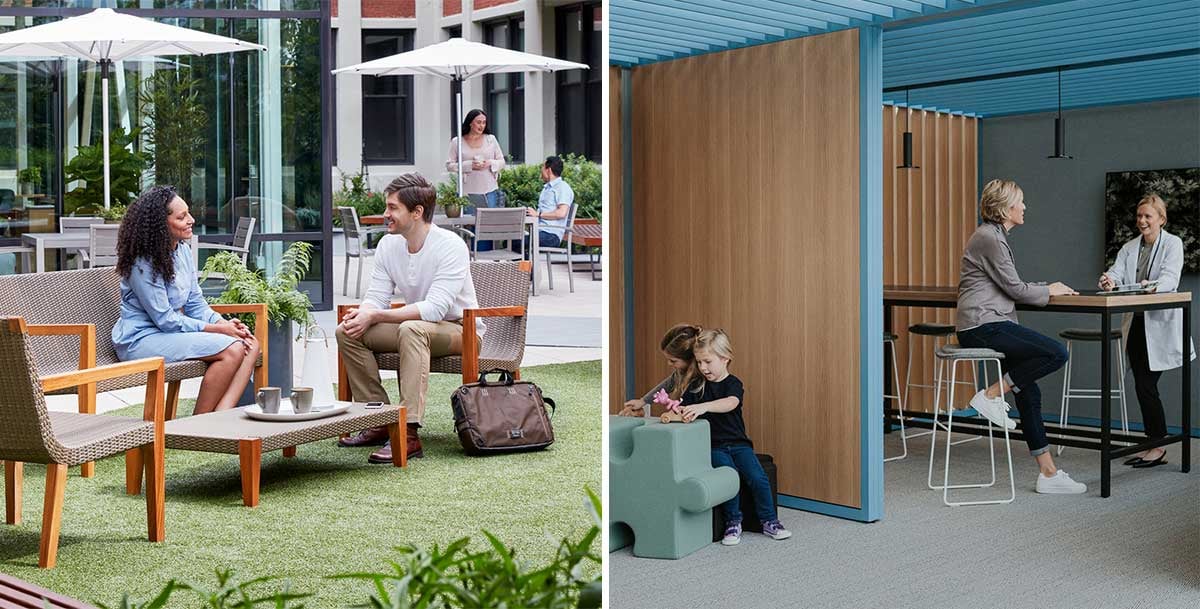 5. Access to Outdoor Spaces
Having direct access to nature is another trend we will be seeing. Courtyards, terraces, and gardens, landscaped with beautiful plantings and peppered with comfortable seating, can assist with wellness goals and establish an authentic sense of place. Green spaces have a direct affect on our mental health. Not only are they associated with reducing stress and anxiety, but they also help promote positive social interactions.
6. Healthy Materials
Low-VOC materials that are easy-to-disinfect, such as polished concrete floors, solid surfaces, and eco-friendly upholstery, not only help mitigate infection but also contribute to healthier indoor air quality. In addition to little or no off-gassing, these building and interior materials come in an array of colors, enriching environments that patients and workers want to come to. When sourced using natural colors and textures — earthy tones, wood patterns, and plant motifs — these materials can bring in a biophilic element, indirectly connecting people to the outside world.
Related read: 19 Healthcare Furniture Products to Transform Your Space
7. HVACs
Behind the scenes, we'll see more hospitals and medical offices upgrade their HVAC systems. Focused on healthy airflow, which restricts air movement in and between various departments, high-efficiency particulate air (HEPA) filters that remove airborne contaminants and newer systems that dilute contamination will all contribute to healthier air ventilation in the workplace.
Hospitals and medical facilities are no longer just about providing access to care. Today, healthcare facilities are responsible for addressing personal and public health issues. Healthcare design will continue to play a critical role in physical and emotional health, with designers aiming to create inspiring, healthy places that put patients and providers first.
---
Contact us to learn more about how we can help you create a more balanced healthcare environment.