Kristi Paulson participated as a panelist in our live webinar Post-Pandemic: The Future of Workplace Strategy. Krisiti leads the Los Angeles office of Behnisch Architekten on projects that range from educational, residential and workplace to museums and sports facilities.
Below are Kristi's answers to questions submitted from attendees during the webinar.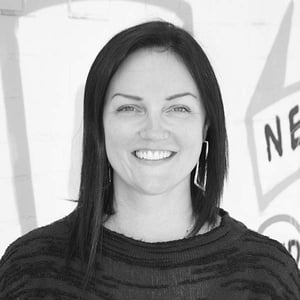 Q: What role does the panel think Unified Communications (UC), Web Conferencing, etc… will play in the future of workplace strategy?
Video conferencing hit the mainstream during the Covid-19 pandemic. There are many advantages to having this technology more common and accessible to the masses. In the workplace, we will see this form of communication replace some (not all) face-to-face meetings which can reduce our travel and time away from home and work. For some, video conferencing was always a way to connect with global colleagues and collaborators. For others, this will provide another means of communication that can be very effective. This will not replace the need for face-to-face meetings, but we will prioritize our need for those meetings with more scrutiny.
Q: With recent volatile economic metrics in oil, unemployment filings at 30M, numerous office rent non-payments in April and May (Newmark, source), and a recent JLL study suggesting 8 of 10 workers are in fear of returning to the office, what is your panels insight on the future of the office industry in general and what specific well-being protocols are they implementing for employees to assuage their fears of returning to the office?
This is a topic that requires leaders of companies to have the utmost attention to careful planning of their workspace environment and communication with their employees. We will likely see standards of practice for the workplace from our government institutions, but it shouldn't stop there. Each workplace needs to assess the acute needs of each of their employees. Within the workplace, rules and office etiquette need to be clear. This can include the wearing of face masks, having a maximum number of people in common areas with distancing, lowering desk density or staggering the days that people are in the workplace versus working from home.
Having accessible sanitization stations in the office will also be important. Workplaces that provide food for their employees can go from buffet style to personal plates. Coffee and breakroom areas can have cleaning supplies readily available after each use of a common amenity.
We all came together as a global community to radically reshape our lives to save lives. If we keep this sentiment as we go back to work, we can all depend on each other for our safety and health.
Q: It was stated open space being more desirable at this time but the latest report out of China stated a restaurant was found to have spread the virus via the AC circulation. How do we address the airflow concerns?
If we are talking about open space being outdoor space, then I would agree that outdoor space is desirable. Workplaces that have outdoor space can conduct meetings with distancing and that can be very effective.
If we are talking about open space as an interior space like open offices or open restaurant seating, then there is not much difference between an open office space and a private office or conference room. All of these spaces are dependent on air quality and air movement. This question brings up an important point on qualitative environments. Buildings that rely on re-circulated air should consider types of filters used and how often the filters are changed.
Q: Do you see buildings being outfitted with UV lighting fixtures that are activated overnight when the space is unoccupied to help sanitize the space?
I am not an expert in UV lighting so I cannot comment on whether this becomes something that will be implemented in workplaces. If there is a proven technology that can stop the spread of viruses on surfaces and not have adverse effects on the people who occupy the workplace that will be evaluated by each company and their workplace.
Q: Do you see new emerging technology for workplace activity tracking resulting from this situation or just an increase in current technology usage?
An increase in technology use has already happened and is inevitable. Whatever makes us more nimble to do our work will be relied upon for businesses to be successful.
Q: How do you deal with the interaction between older and younger staff psychologically?
I hope this pandemic will focus our attention toward respect and awareness of our peers and colleagues. Each of us has sensitivities that need to be considered and we have found ways to communicate and collaborate under unusual conditions. We are all intrinsically connected and our interactions need to be predicated through the lens of those most vulnerable and at high risk. Our project teams are diverse. Some people need to stay at home while others can work in the office. This pandemic has helped us develop flexible communication tools that can keep us all connected and productive. We all need to stay mindful of our colleagues, younger and older, and find the best communication medium to continue our work together.
Q: What is the best way for companies to provide flexible office organization with non-attributed desks?
If your workspace has a "hoteling" desk environment, sanitization stations are important. Even if there is technology that confirms the desk is clean, it is natural that people will want to clean it themselves to ensure the safety of their desk space. Empowering people to clean common areas will help them to feel safer within their environment.



Q: Can you elaborate about the importance of the outdoor areas for the moral/mood of employees?
Outdoor space was important to the workplace before the Covid-19 pandemic. These spaces have often been attributed to places of respite within the workplace. Given our current conditions, these spaces continue to be places of respite but also areas of collaboration and meeting. They give us an alternative to the restrictions on the interior environment that typically have smaller room sizes than our outdoor spaces.
Q: Are we going to see a return to a more cubicle-oriented design approach?
Not necessarily. We can use face masks and physically distance from each other without creating a cubicle environment. We can stagger our employee time in the office to reduce physical density. Cubicles do not prevent an airborne virus to move throughout a workplace.
Q: Are large companies with open floor plans all following a standard guideline for work after COVID?
There is no standard practice that I am aware of in the US. This may change in the coming weeks.
Q: Do you see work from home burnout as a contrary trend that will send us back to the office?
Many of us are anxious to get back to our workplace. None of us more than working parents which I can certainly attest to! This pandemic has been a real-time drill to be nimble in our lives. The very act of learning how to work from home for many people has been two-fold. We now know we can adapt quickly to situations that require us to work remotely, but we also long for the communal and collaborative environments of our physical workplace. One is not replacing the other. Workplace and work from home must co-exist. We have greater appreciation of our workplaces and we understand the need to adapt and be nimble in the absence of our workplace.
Q: I'm more in the education and government business, do similar changes for these segments?
Education and workplace are not so dissimilar. As in the workplace, there are important social and communal attributes that we gain from being part of a classroom, campus and institution. Knowing that we are part of a larger community gives us both support and pride.
More acutely, the main difference between education institutions and workplaces is the turnover of a classroom/conference room. Institutions will be tasked with the sanitization of each lecture hall per class. However, TA sessions can be over video conference and lectures can be done the same way as needed.
Before Covid-19, many universities and colleges offer online learning, but that doesn't replace the greater social aspect that many students look forward to as they continue their education. Qualitatively, institutional campuses are far better suited than workplaces to have a good ratio between indoor and outdoor space. Maybe classrooms will start to occupy outdoor areas rather than remain in the traditional lecture halls?
About Kristi
Kristi Paulson is an architect with 17 years of experience in architecture, interiors, planning, and programming. Project types range from educational, residential and workplace to museums and sports facilities. She joined Behnisch Architekten in 2007 where she led the design of the UC Berkeley Maximino Martinez Commons and the Santa Monica Parking Structure #6, both award winning projects in design, innovation and sustainability. In addition, she led many international design competitions and her leadership was integral in building our Los Angeles office. In 2019, Kristi re-joined Behnisch Architekten to lead the newly opened Los Angeles office.
Outside of Behnisch, Kristi led the design of the new home for the Space Shuttle Endeavour at the California Science Center where it will proudly stand like it did at the Kennedy Space Center launch pad. Most recently she rehabilitated a massive, historic, heavy timber hangar built by Howard Hughes in 1943 and then designed 500,000sf of workspace within the hangar for Google in Playa Vista, CA (aka Google Spruce Goose). Her proven ability to design and lead outstanding projects and work confidently in collaboration with clients is rooted in an architecture where unique and tailored designs are manifested through the relationships and intentions between people and their surroundings.