Over the past few years, we've seen the state of the workplace evolve into a more diverse and inclusive experience focused on strengthening the social infrastructure of the office. At the core of this movement is human-centered design — a concept rooted in designing spaces that build interpersonal relationships so we can better engage and work together.
What is Human-Centered Design?
In short, human-centered design puts people, and their well-being, at the center of the design process to give rise to a high-performing office. It approaches office design through the worker's perspective, taking into consideration the varied work styles, habits, and preferences of a multigenerational workforce. Gone are the days of utilitarian office space. Today, a flexible work experience, embedded with emotional connections, is key. By making the shift from "office as an obligation" to "office as a destination", chock-full of hospitality-like amenities and inspiring aesthetics, organizations can create high-performing work environments where all employees thrive. This people-first methodology includes a mix of spaces — quiet areas for focused work, social spaces for collaboration and impromptu brainstorming, and tech-enabled rooms to power employees throughout the day while seamlessly connecting them to remote teams.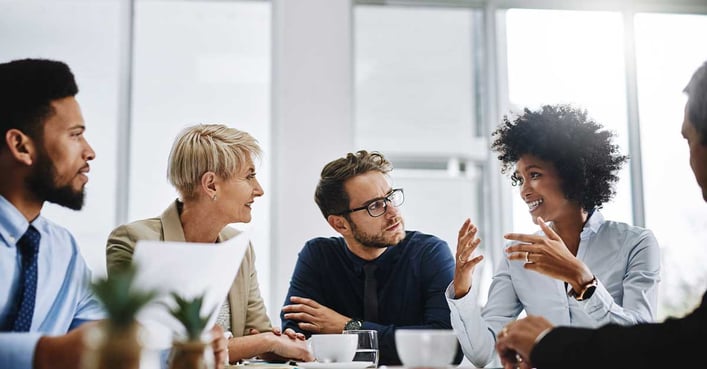 Benefits of a Human-Centered Office
The growing body of research shows numerous benefits of a high-performing, people-centric workplace, from improving employee satisfaction and performance to building stronger workplace connections and better engagement.

1. Employee Satisfaction
When you put the focus on the employee, it's hard not see a boost in satisfaction. With office environments reflecting individual values and work styles, according to The U.S. Workplace Survey 2022, released by Gensler Research Institute, it's more likely that employees "will want to come into the office more regularly to maximize their productivity. These workplaces also facilitate better organizational outcomes such as speed of decision making and quality of work, and they positively impact individual employee wellbeing and job satisfaction."
2. Higher Performance
Another recent survey, conducted by Gartner, Inc., indicates "Employees who operate in human-centric work models … are 3.8 times more likely to be high performing." The survey emphasizes that companies need to look at employees as people with individual needs; not just as resources. In doing so, employers can establish a more productive a office; ultimately, increasing employee performance while positively impacting the bottom line.
3.
Fostering Community
Moreover, implementing a people-centric workplace strategy can build community. Having the right communication tools, ergonomic seating, and reliable internet is essential in building teams. By omitting the barriers to communications, you can foster community and forge strong relationships among staff.
4. Engaged Employees
A human-centered design model engages employees, paving way for collaboration and knowledge-sharing in the workplace. If individuals are learning and being challenged, they tend to enjoy their work more. If not, boredom sets in, and employees begin to look elsewhere for cognitive stimulation.
5. Reinforce Company Culture
In addition to stimulating staff, putting team members at the heart of everything an organization does not only reinforces corporate culture but also allows companies to highlight their vision, mission, and values. Utilizing workplace design — integrating ergonomic furniture, strategic space planning, biophilic principles, and resi-mercial touches — as an essential perk (a wellness benefit), gives executives an opportunity to put the attention on their biggest asset, the employees. For utmost comfort, consider custom-built furniture that can be tailored to individual needs.

How to Create a Human-Centered Office
To achieve a people-centric workplace, a variety of spaces and seating options are a must! Include task-specific spaces for individual focus, group collaboration, team learning, and relaxation. Combine a mix of modern cubicles, open office concepts, and enclosed private areas, and have a flexible working policy for hybrid office arrangements.
Reliable IT solutions and communication tools are also critical to a human-centered office. Make sure technology is current and user-friendly, as it fosters connection, both in and out of the office.
If budget permits, include employee well-being amenities, such as gym facilities, pantries/kitchens, and mediation/relaxation rooms.
People First!
As we work towards a better workplace experience, remember to keep the focus on the employees. Cultivate a sense of culture by supporting activities that lead to stronger workplace connections, and in turn, better health and wellness outcomes for individuals. Employees look to a community of colleagues to engage and talk through what they are experiencing. A well-designed, people-first office, can foster that!
---
Contact us to learn more about human-centric design
If you need help executing a human-centered design, contact us. We've been working with companies, across industries, to upgrade their facilities into people-rich environments.