Workplace design is entering a new golden age with office interiors rivaling the chicest boutique hotels and residential properties. The move from utilitarian space to inspiring and engaging functionality is the new standard. The design pendulum points to people-centric design, making it a very exciting time for workplace design. With businesses focusing on employee health and well-being, we identified important workplace design trends we expect to see in 2020.

Agile Office Floor Plan
Choice matters. A big trend in 2020 will be an activity-based, agile office floor plan that blends open office concepts with social and collaborative areas. With the multigenerational workforce in full swing and wifi-enabled spaces throughout the office, corporations will focus on creating a variety of work areas so each individual can thrive. Furthermore, as work becomes more collaborative, spaces for team meetings and brainstorms will be just as important as private workstations, which are essential for focused work. With an eye on employee satisfaction and productivity, a balanced floor plan that accommodates multiple working styles will be a key driver in 2020.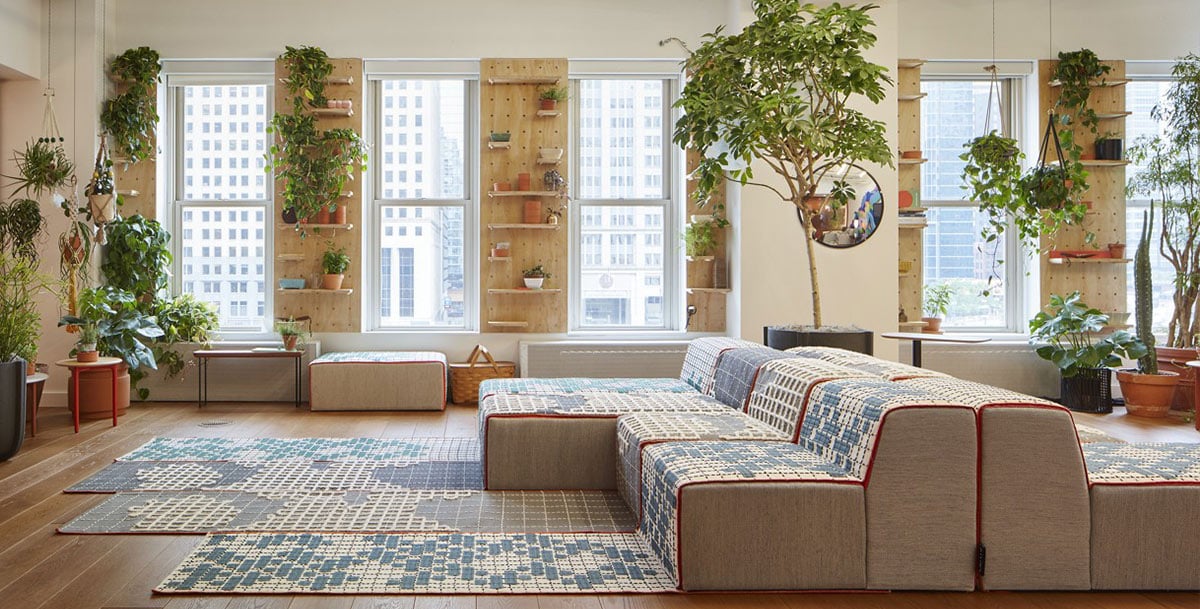 Biophilic Design
Reconnecting people to nature is a powerful movement in office design. The demand for natural light and ventilation is not only good for energy bills (it prevents the need for artificial light) but it is also great for our health and wellbeing. Fresh air and outside breezes will be a leading design factor. And for those "tough-to-daylight" areas, indoor plants coupled with natural-emulating elements, such as organic shapes (curved soffit ceilings, rounded tables and curvilinear ancillary furniture) and earthy color palettes (neutrals, browns, greens and blues), will reign. We also think living walls will make a stronger statement in lobby and reception areas.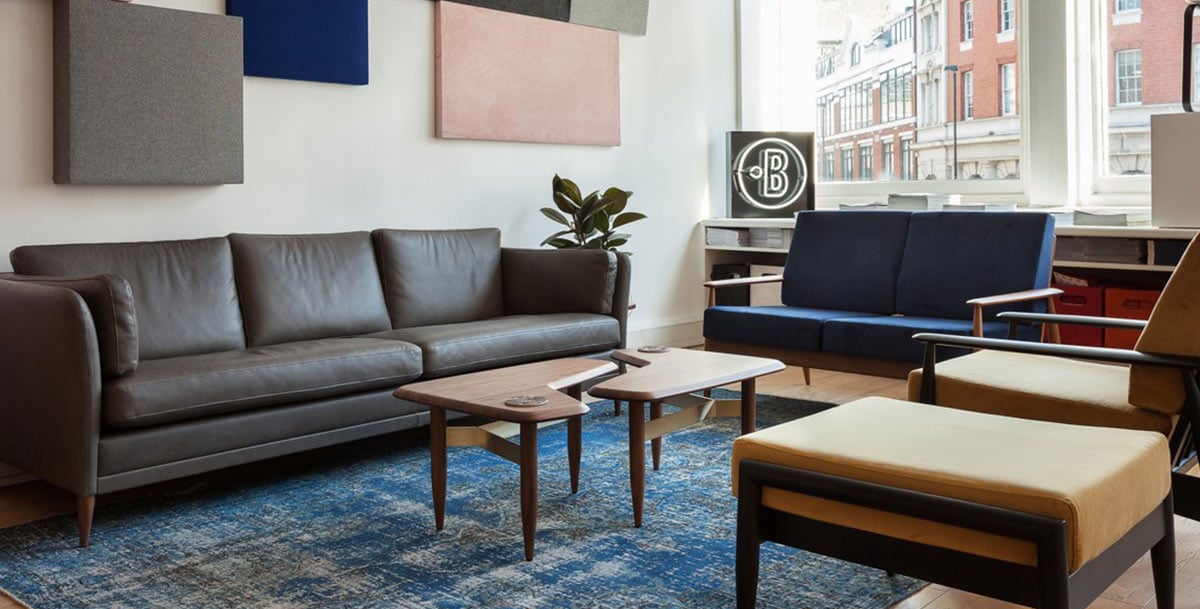 Resimericial
With resimercial design, the comforts of home are no longer contained to residential and hospitality. They also resonate with commercial spaces. Workplace environments are feeling more like a well-appointed home than a staid, plain white box. Lobbies, reception areas, huddle rooms, pantries, and employee lounges will continue to mimic our living rooms and kitchens. Comfortable sofas, area rugs, table lamps, and side tables, will be integrated into the mix to create a sense of place. Don't take our word for it. The latest residential brand to expand into workplace design: Room and Board. Like other workplace designers and brands, pairing commercial functionality with residential style has become standard practice. In 2020, we'll see more offices combine fresh aesthetics with resilient design that can withstand the daily wear-and-tear of an active workplace.
Streamlined Silhouettes
Comfort doesn't mean big and plush. Streamlined silhouettes have a timeline quality and the midcentury modern furniture style has serious staying power. Office furniture trends are showing tapered legs, skinny profiles and streamlined silhouettes. Higher-density and commercial-grade foams will offer posture support and comfort without taking away from popular clean-lined design aesthetics.
---
Related Download: Platform by Unisource Solutions - A new concept for workplace, hospitality, and retail furniture.
---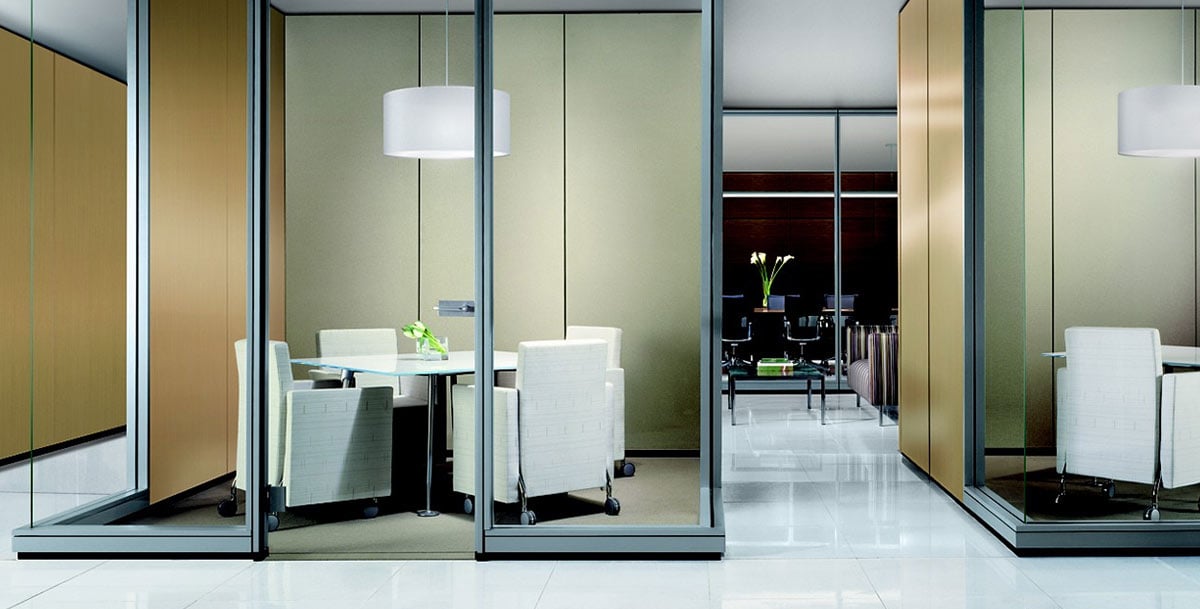 Moveable and Modular Office Furniture:
Just as the workforce has become more mobile, so has our office design. To enhance team integration, tables on castors can quickly be reconfigured to host impromptu meetings. Folding partition walls can shrink or expand a space based on occupancy need. Using white board surfaces can give walls double playing power, adding more flexibility to office design. Poufs and ottomans can easily be deployed and stored to accommodate changing group sizes. And task chairs on wheels makes it easy for employees to adjust their seating throughout the day. Install moveable walls to reconfigure space as needed.
---
To learn how we can weave in these workplace design trends into your office, contact us today!