Research shows that a quality workplace can help reduce stress, improve productivity, and spur employee engagement and collaboration. As a result, taking a human-centered design approach is becoming the norm in office design. More companies are advancing workplace wellbeing and enhancing the worker experience by creating agile workspaces that cater to the individual. They understand that employees need to feel comfortable in order to thrive.
So how do you create a workplace setting to meet the wellness needs of today's modern workforce? Below are 7 tips to help well-proof your office.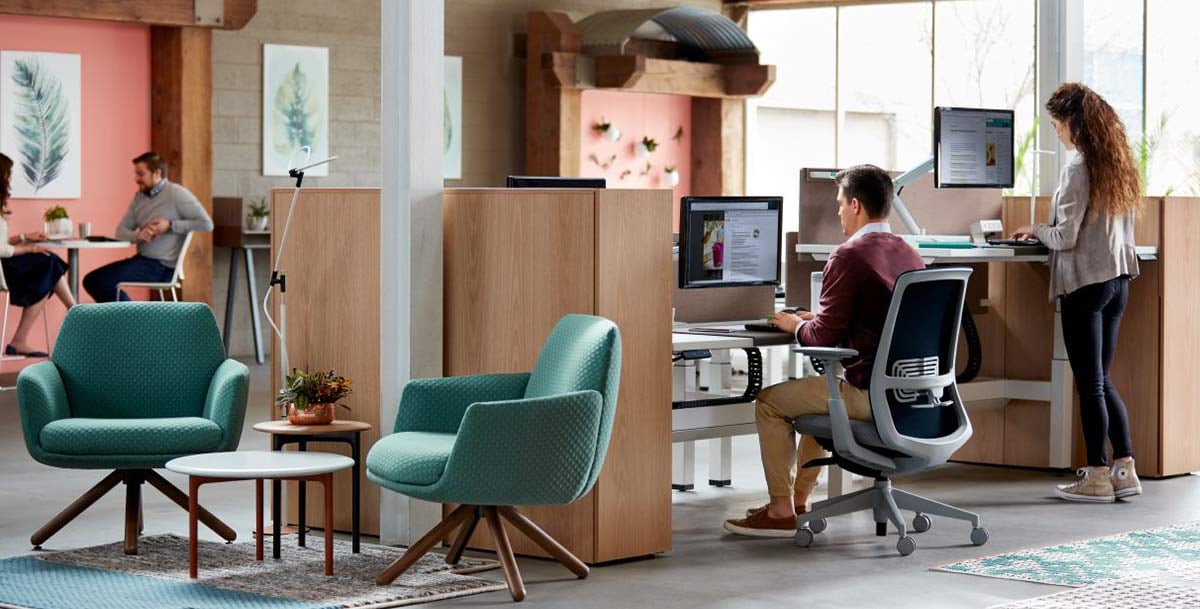 Pictured here: Haworth furniture
1. Buy Ergonomic
For an ergonomic workspace, swap out stationary desks and dated office chairs with height-adjustable workstations and high-quality task chairs that provide back, arm, and neck support. For complete user-control, moveable monitor arms, ergonomic keypads and mouses, and desktop computer risers, provide small tweaks to the work area that can make a huge difference in physical comfort.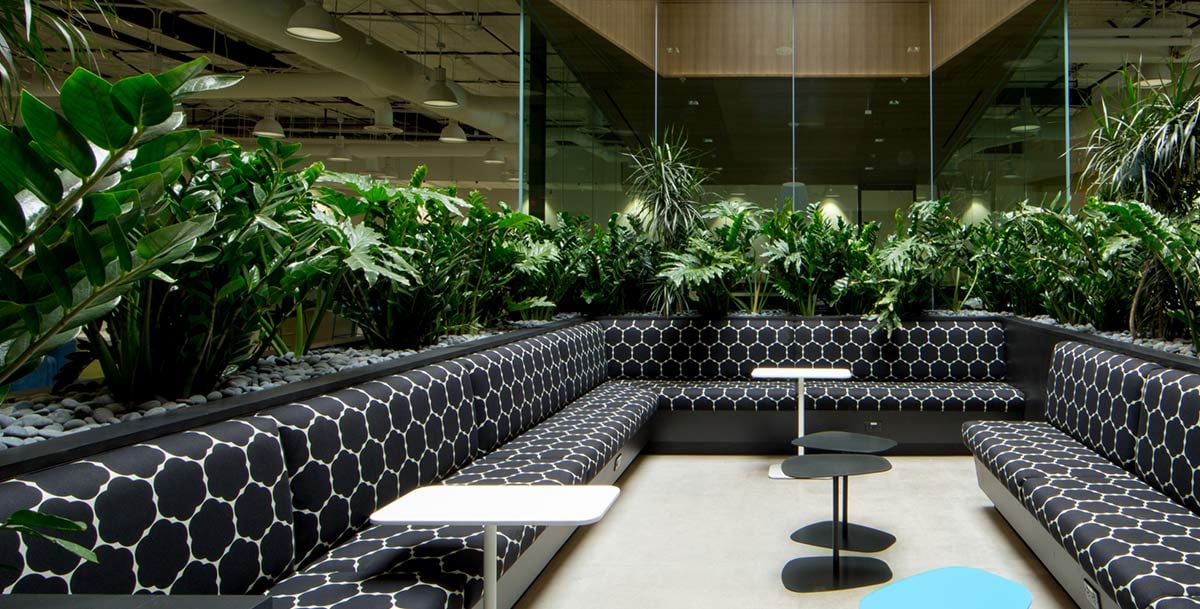 Pictured here: Confidential biopharmaceutical company
2. Plant It
Indoor office plants are a great way to bring biophilia into the workplace and connect employees to the natural world. Plants not only improve indoor air quality by removing impurities, but they also provide warmth, adding character to the office. A living wall is an excellent way to liven up a bare wall. Floor plants in empty corners add a touch of healthy color throughout the office. You can also arrange plants to create separations between work areas — a natural barrier that creates a world of wellness.
3. Cool It
Offices with walls of exterior windows are wonderful for daylight and ventilation, but during the midday sun, they may invite unwanted heat. To mitigate glare and solar gain, install roller shades that can be manually tuned throughout the day. Providing a comfortable indoor temperature is a must for the well-designed office.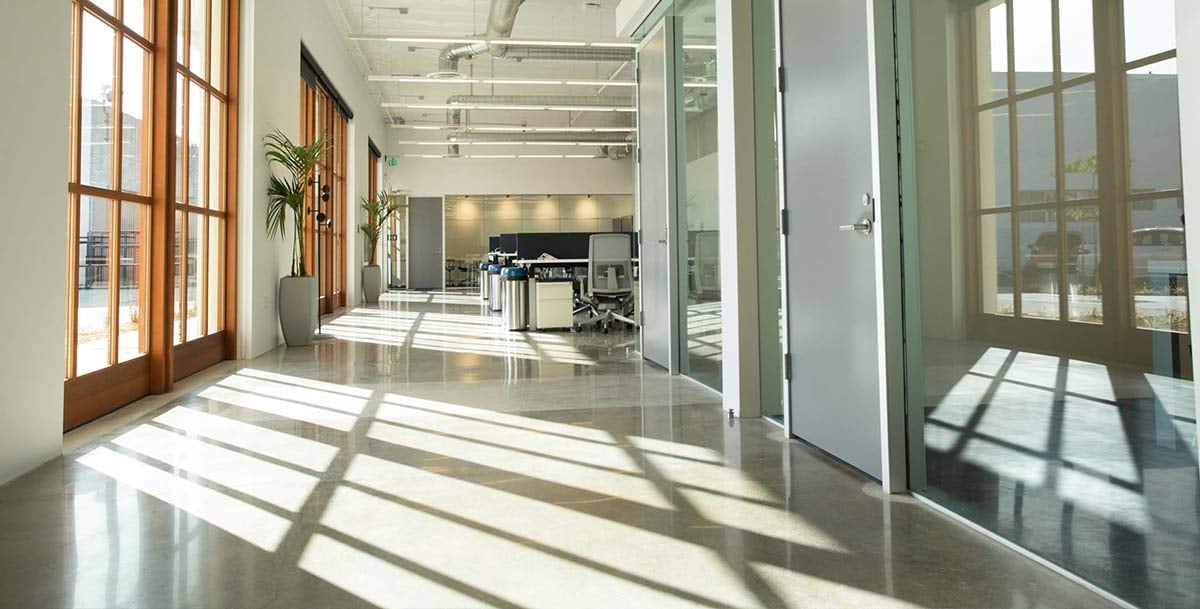 Pictured here: Sonos Corporate Office, Santa Barbara, CA
4. Filter in Daylight
Daylighting is synonymous with wellness. Unfortunately, many offices only have one or two exterior walls with windows, dictating that some work rooms be situated against a windowless plane. Consider sliding or folding glass dividers or non-bearing divider walls with clerestory windows to help filter in natural light to those hard to reach places. For work stations, source shorter partition walls. They will provide privacy while sharing the light.
5. Soften Artificial Light
LEDs have come a long way in terms of light quality, temperature and color. Trade harsh, overhead bulbs for warm, soft light to create an inviting environment that calms and soothes. Task lighting is just as important as ambient lighting. For individual work stations, provide desk and computer lamps to aid in productive work.
6. Reduce Unwanted Sound
Noise pollution is one of the biggest distractions at work and can wreak havoc on the workplace experience. For large spaces with exposed ceilings, hang acoustic panels and dropped ceilings to absorb echoes. For collaborative areas, try a sheltered enclosure or pod-seating, and use poufs, plush couches, and arm chairs to reduce ambient noise.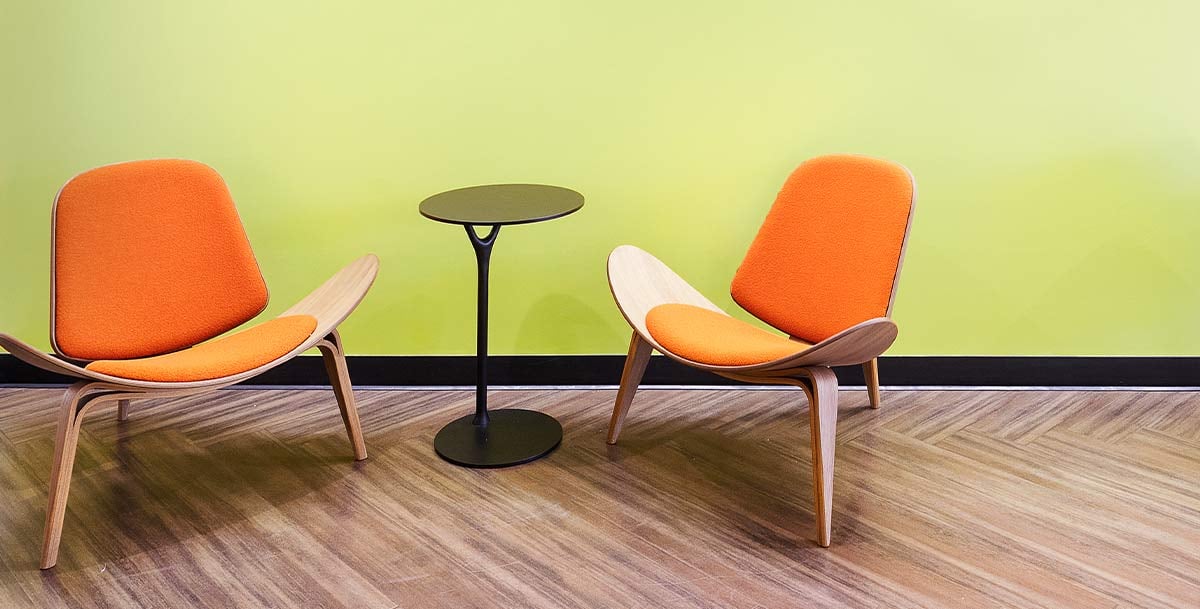 Pictured here: Confidential national healthcare insurance company
7. Create Cozy Corners
Embrace workplace design to appeal to the overall sense of wellbeing, not just the senses. Creating lounge-like nooks and welcoming seating clusters that provide a place of respite or a space for socialization can foster a healthy attitude and boost employee satisfaction.
Office wellness design is about the occupant. Keeping their physical and emotional comfort in mind while you design will afford wonderful wellness solutions.
---
Learn how we can help update your your office for workplace wellness: