Experiencing the pandemic as students and young adults has significantly shaped Generation Z's outlook and expectations. If your business seeks to attract new hires, especially recent graduates, you need to build an engaging office. This post-millennial generation seeks in-person interactions, community building, and co-working in mixed-use spaces.
Roberta Katz, a senior research scholar at Stanford's Center for Advanced Study in the Behavioral Sciences (CASBS), says that Gen Z are highly collaborative, self-reliant, and pragmatic.
So, how do companies accommodate the needs of Gen Z in the post-pandemic workplace and still maintain the needs of all employees? The answer, of course, is the hybrid office.
While remote work has its perks for some employees — no commute, sweatpants, and flexible time management — it has become monotonous and unfulfilling for many, especially Gen Z-ers. This young demographic seeks to find their independence and discover their place in the world. Working isolated and alone isn't exactly the springboard to work experience and successful career building.
Most young professionals build their professional and social contacts at work. For many, the workplace is a place to nurture life's potential. As working generations change, so must our workplaces to meet their needs. To accommodate the needs of Gen Z — as well as all generations, really — employers should consider investing in a hybrid office design strategy that provides flexibility and independence, as well as collaboration and community.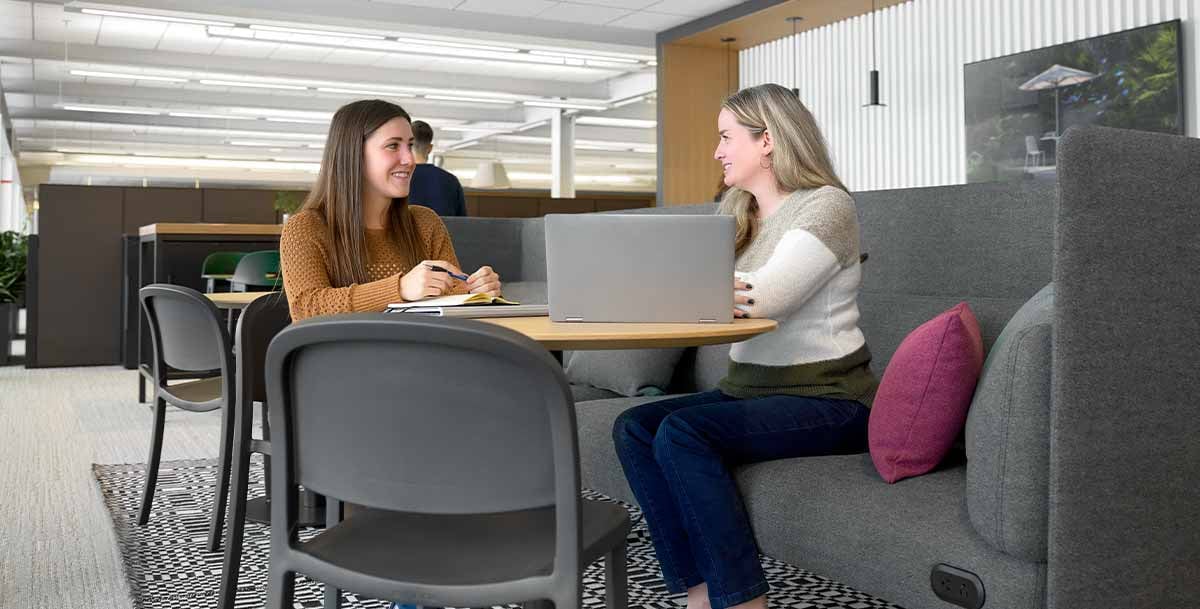 The Perks of Working from the Office
Zoom may have been the way of the world two years ago. But IRL face time is where the true connections happen. Nothing can replace in-person collaboration. From building trust and camaraderie to improving social skills, working side-by-side provides endless opportunities. It opens doors to mentorships, improves communications by reducing misunderstandings, and offers a chance to transfer knowledge from experienced colleagues. Plus, it's a place to have fun and build company culture — both factors in reducing employee turnover.
Gen Z Prefers Hybrid
According to this article from Fast Company, Gen Z workers are looking for flexibility — and a reason to return to the office. Hybrid offices satisfy this need requirement.
Hybrid work is practical but there are challenges. Not everyone will be in the office at the same time. Each person is on their own trajectory. For some, they might be starting their career. For others, they may be growing their family or near retirement age. These differences can lead to communication barriers, difficulty in establishing team culture and cohesion, and lack of visibility into coworkers' workloads. Especially for Gen Z workers.
To overcome this, hybrid offices are focusing on areas for independent and private work, as well as areas built for collaboration. Designating spaces outfitted with inviting, comfortable furniture helps set a productive and inviting tone. Level up and opt for custom workplace furniture and fixtures that reflect your brand, reinforce your values, and create a strong sense of place.
How to get the most from your hybrid office for Gen Z:
Establish a strategy, and process for communicating with staff when individuals will be in and out of the office.

Coordinate regular team meetings and check-ins to ensure everyone gets face time.

Provide flexible workspace options, such as private offices, bench desks, and conference rooms.

Invest in

technologies

so that your entire staff have an optimized experience.

Collaboration is Key to an Engaging Office
Generation Z seeks collaboration, especially when they're at the office. Collaborative spaces not only stimulate us creatively and socially, they also reduce the monotony of long workdays and evoke a sense of belonging to a community. They provide employees with the ability to engage, and work together — or work together alone. These spaces, akin to a communal living room, a coffee shop, or a university student union, can bolster teamwork, prompt an informal brainstorming session, and foster creativity.
The four types of collaborative spaces include areas to inform, do, think, and connect:
Inform: These areas are presentation and training rooms generally built for large department-wide meetings, guest speakers, and client engagements.
Do: These tactical spaces are designed for groups and teams and include desks and workspaces, as well as white boards and video conferencing.
Think: Spaces built for thinking usually include comfortable furniture and some level of optional privacy, designed for creative and strategic thinking.
Connect: Social spaces built for connection are people-centered and informal, highly flexible, and either indoors, outdoors, or both.
The Big Takeway
Employee expectations are changing, and companies need to adapt to meet their needs. To attract and retain the best talent from our youngest workplace generation, give your teams the flexibility to work from home, on their own terms, and access to work from the office, where they can satiate a real human need — personal interactions.
---
Contact us to learn more about how we can help you create an engaging office.