The debate over open office plans is as prevalent as ever. It's a highly talked about topic in workplace design circles, and in business in general. How can companies choose an office layout that's right for their workforce and their bottom line? There's no one size fits all. And for many, it's a balancing act between creating a thriving culture and designing a workplace that functions for the staff and owners. An optimized office isn't one that packs in the most people in the least amount of space. In the short-term, the hard costs might look advantageous with this approach. However, the long-term costs — employee productivity and engagement — pale in comparison. In contrast, agile office design is a popular trend for many good reasons.
When evaluating your office layout, consider your budget, culture, vision, and values. Don't follow a prescribed design movement. Devise a plan that works best for your brand. Below are examples of office layouts that have been individualized to optimize work performance and employee engagement, and provide a return on investment.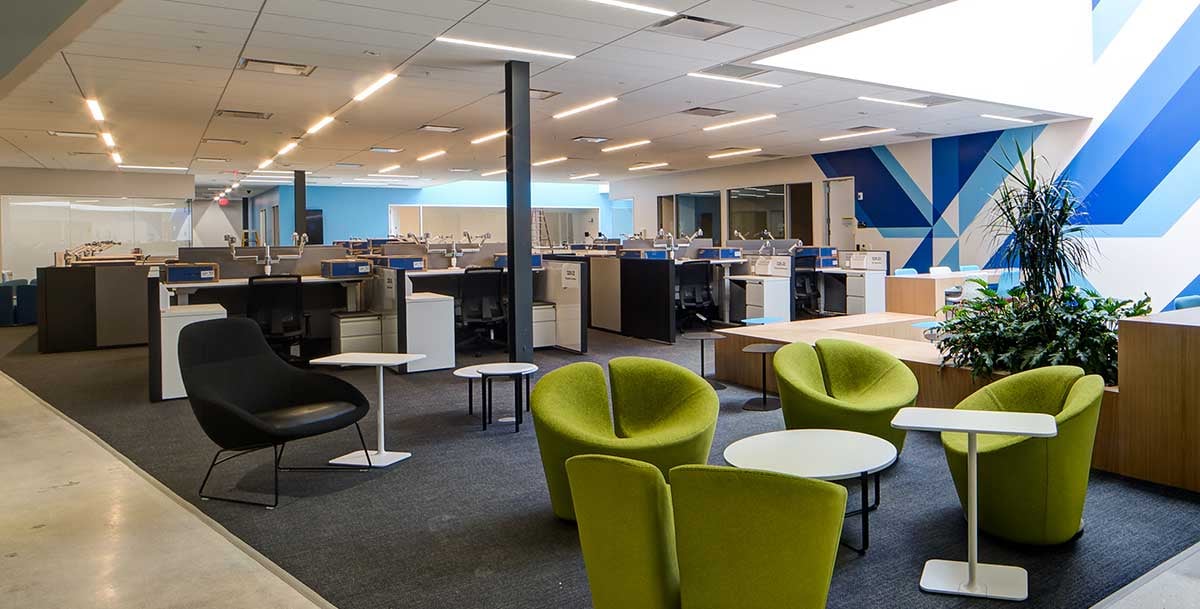 1. Open Concept is the Main Driver: With many companies promoting collaboration, transparency, and engagement, benching workstations and open concepts are an on-brand seating concept. These spaces are great for call centers across all sectors. The open concept can be the main driver, but dedicate spaces for social, personal, and focused work. To give employees needed privacy, add huddle rooms and phone booths. To encourage socialization and fellowship, make social areas easily accessible. Read how our national healthcare client successfully integrated the open concept with more personal spaces.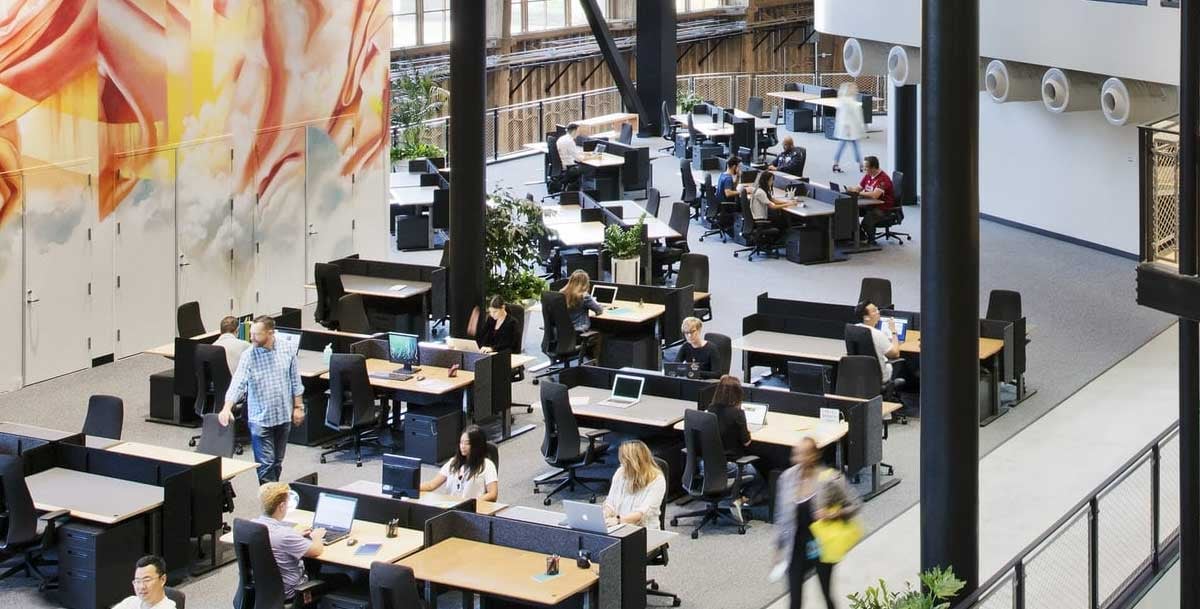 2. Agile Office Spurs Innovation: Open-conversation, impromptu encounters, and free flowing ideas drive many tech companies. Blending open concepts with non-traditional seating plans, with seating options that are more akin to a boutique hotel, work great in these environments. For Google's new Playa Vista location, a mix of traditional and non-traditional seating arrangements worked best for them. Not only did this approach align with the company's collaborative culture, but it also underscores their mission and values.
---
Related Article: Improve Employee Engagement Through Workplace Design
---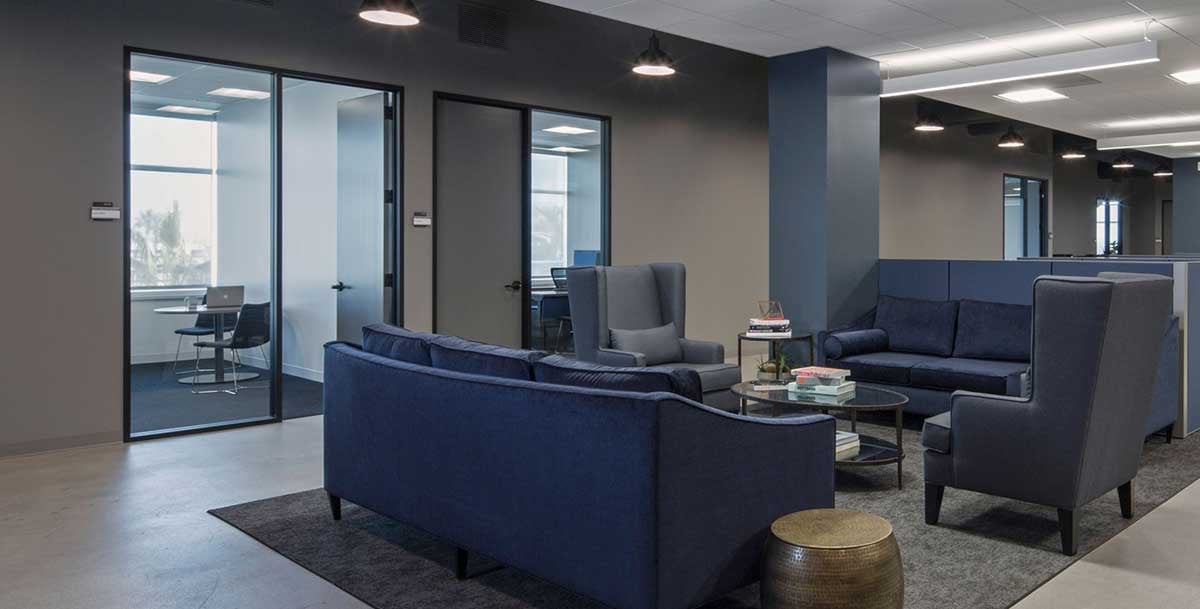 3. Traditional Design with Flair: Some brands are hierarchical in nature. A traditional seating plan with C-suite corner offices, executives offices that perimeter the space, and administrative cubicles and workstations situated just outside office doors, can work well in the entertainment industry. When TV production house Endemol Shine condensed their operations, they opted for a traditional office layout to help their agents and executives perform optimally. To individualize the space, they folded in agile office concepts by creating a welcoming front lobby space ,with a resimercial feel, where workers can socialize and work remotely.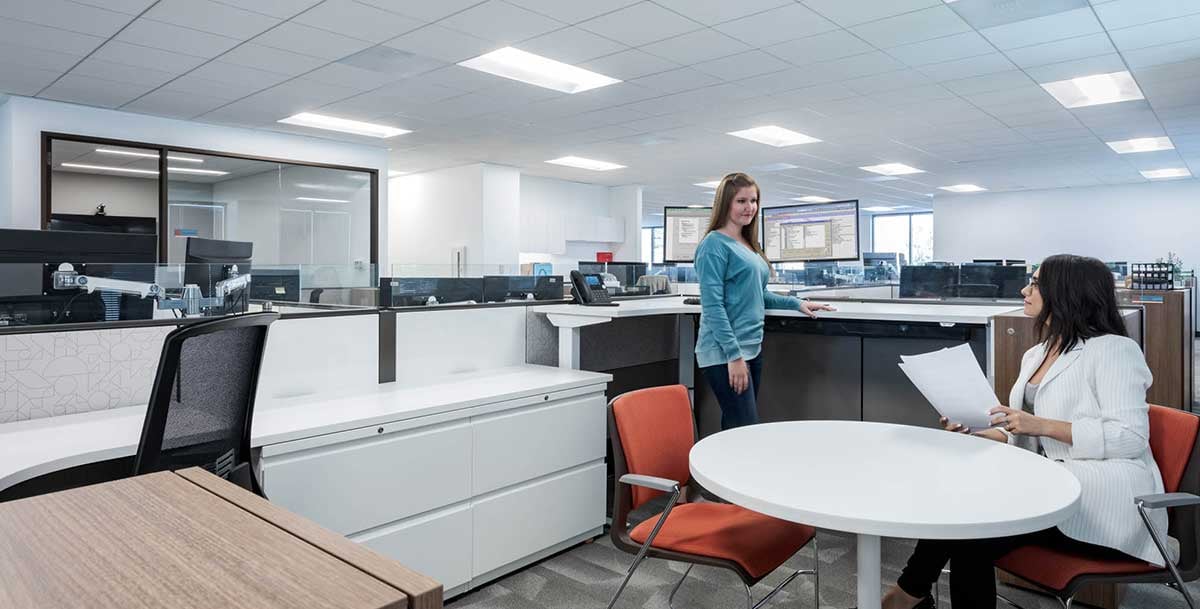 4. Shared Approach: A company who values collaboration doesn't necessarily need to adopt an open concept. When test equipment services company Electro Rent moved their headquarters to West Hills, Calif., they created a more balanced office, complete with outdoor collaborative areas, onsite conference services, and a 145-seat amphitheater. Many of their floors feature shared cubicle-style desks which aid in verbal communication and create camaraderie among employees, while providing a sense of privacy.
No matter what industry, each corporation has varying staffing demands. It's important to assess your values, budget, and employee needs. Your corporate culture will dictate how you balance open plan concepts with cubicle arrangements and private offices, as well as how many social spaces to provide.
If you're thinking of an office relocation or consolidating operations, give us a call. We'd be happy to help evaluate your office structure and come up with a layout that works best for you.
---
Contact us to get started with your office layout improvement