Pantone's Color of the Year, Viva Magenta 18-1750, is as powerful as it is empowering. A confident shade of purplish red, this vibrant hue is brimming with "vim and vigor".
A color that emotes bravery and optimistic celebration, Viva Magenta is an ideal choice for commercial interiors, spanning all industries. Whether used as an accent or a main design piece, this expressive hue can be a differentiator for many workspaces.
The Pantone Color Institute launched the Color of the Year program in 2000, kicking off the 21st century with Cerulean Blue.
Coming almost full circle on the color spectrum, we're thrilled to champion this distinctive shade. Apropos of the times, when workplaces are shifting from the conventional 'work at the office' commute to the unconventional 'working remote' hybrid option, Viva Magenta demonstrates an acceptance of today's new workplace. And the best part, there are endless variations in tones, shades, and tints. No need to follow a design dictate or match the color as is. This year, designers have cart blanche to experiment, expressing brands in a matter that fits their mission and values.
We've rounded up a few products that are available in this year's color. Lighten it up or tone it down. Add a splash above the desk or below the chair. Source it as a pod, paint, pendant, or any other workplace furnishing or decorative item, and Viva Magenta can enliven your next project.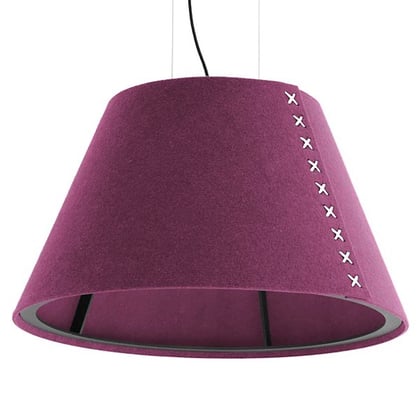 BuzziShade from BuzziSpace
BuzziSpace offers a noise-reducing pendant, BuzziShade, in this beautiful, bold color. With acoustic and lighting rolled into one product, this piece can positively influence a person's well-being. By suppressing background noise while illuminating the work surface, these fixtures allow for better focus.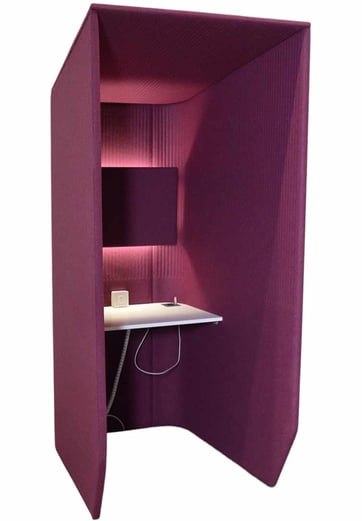 BuzziBooth from BuzziSpace
BuzziSpace also has a boast-worthy line of work pods, dubbed BuzziBooth. Available as a phone booth or workstation, and made with high-quality sound-insulating felt, these booths pull multiple duty. They help reduce unwanted noise, create a privacy area in an open office setting, and add a moment of intrigue to the office design.

1 Inch Reclaimed Stacking Chair by Jasper Morrison from Emeco
Made in America, Emeco Chairs, released a magenta-colored stacking chair that is as versatile as it is practical. If you're looking to outfit a large multi-purpose room, the workplace pantry, lunchroom or cafe, these environmentally-friendly chairs can contribute to an inviting atmosphere. Their slender frame and eye-catching shape are a well-suited match for this 2023 color.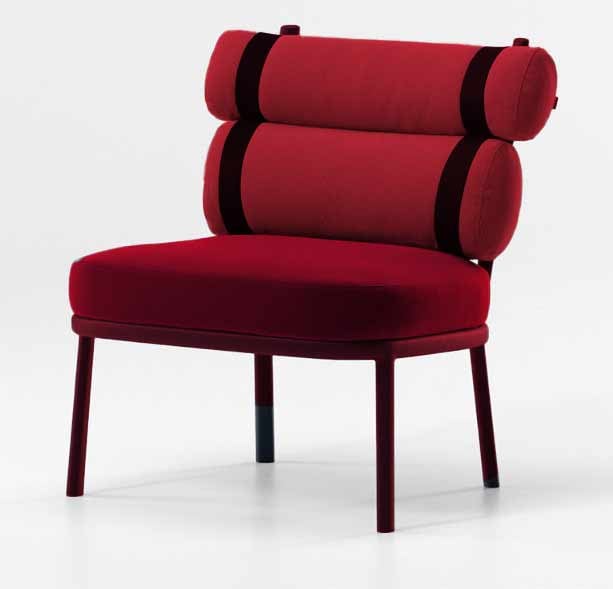 Roll from Kettal
Nothing prevents you from sitting down, and the Kettal Roll is all the more tempting. The ironical intervention on the conventional upholstery converts a regular backrest into two independent 'wraps' connected by colorful straps. A graphical aluminum structure frames the protagonist of this chair, the cushions.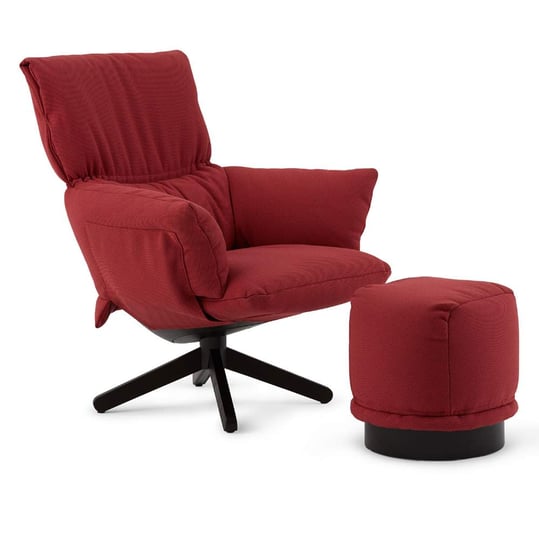 Lud'o from Haworth
To create a workplace dedicated to wellness, don't forget the lounge chairs! Haworth Lud'o lounge chair, designed by Patricia Urquiola for Cappellini, packs an extra punch of panache when sourced in a reddish purple. These lounges are a nice complement to an executive suite, work well in social zones, and can even be used to establish a wellness room, outfitted just for relaxing. Made for comfort, the Lud'o comes with an ottoman. It's also designed for complete versatility. The cushions are replaceable and can be easily interchanged for next year's color.
If you're considering magenta — our any of its cousins on the color wheel — for your upcoming project, drop us a line. We know color plays an important role in office design and finding the right shade can enhance or detract from the overall concept.
As color experts, we can help connect the color selection process to product specifications, helping hone in on aesthetics and performance attributes that will bring your vision to life.