Each year, Unisource Solutions assists our clients in helping to create spaces that reflect their company culture and aligns with their Key Performance Indicators (KPIs). Through our network of over 280 partners, 300,000 square feet of warehouse space, 250+ in-house installation team, and new Smart Office technologies, we were able to help our clients create spaces which would grow with them. With an overall focus on budget, unique design, individual ergonomic flexibility, and branded spaces via custom furniture; 2018 concluded with hundreds of projects resulting in balanced and efficient office spaces, boasting savings and scalability.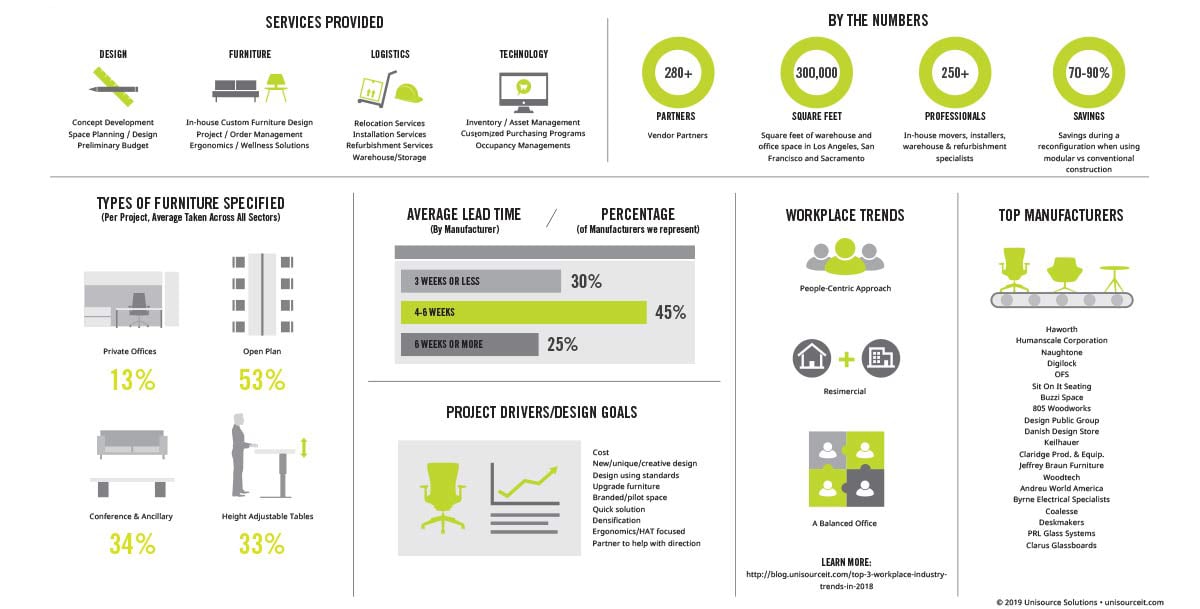 On average and across all sectors, we found that designers brought a much more balanced office to 2018. 13% of each project specified private offices, 53% open plan, and 34% conference and ancillary furniture. Through these projects, 33% of each project on average, included height adjustable tables within the workspaces for their employees. This, in part, illustrated a major workplace trend of 2018: a people-centric approach to redesign in the workplace.
Our top manufacturer partners in 2018 helped us to focus on a resimercial trend throughout the year. These partners included: Haworth, Humanscale, Sit On It, Buzzi Space, Keilhauer, Andreu World, and Coalesse. Through these long-term partners, we were able to keep on-time installation schedules with 30% of those manufacturers delivering to us in 3 weeks or less, 45% in 4-6 weeks, and only 25% in 6 weeks or more.
As we embark on the second half of 2019, we are continuing to see trends focused on Smart Office technologies including ergonomic design, employee engagement programs – resulting in committed employees and higher performance levels, and workplace occupancy studies – helping us to understand how the spaces we create are performing. We expect to see an increase in resimercial tendencies and custom furniture design, with lower lead times.
Note: %s shown are taken from a random cluster of projects and are a % of overall cost per project.
---
For more info on this analysis or office design trends, contact us.