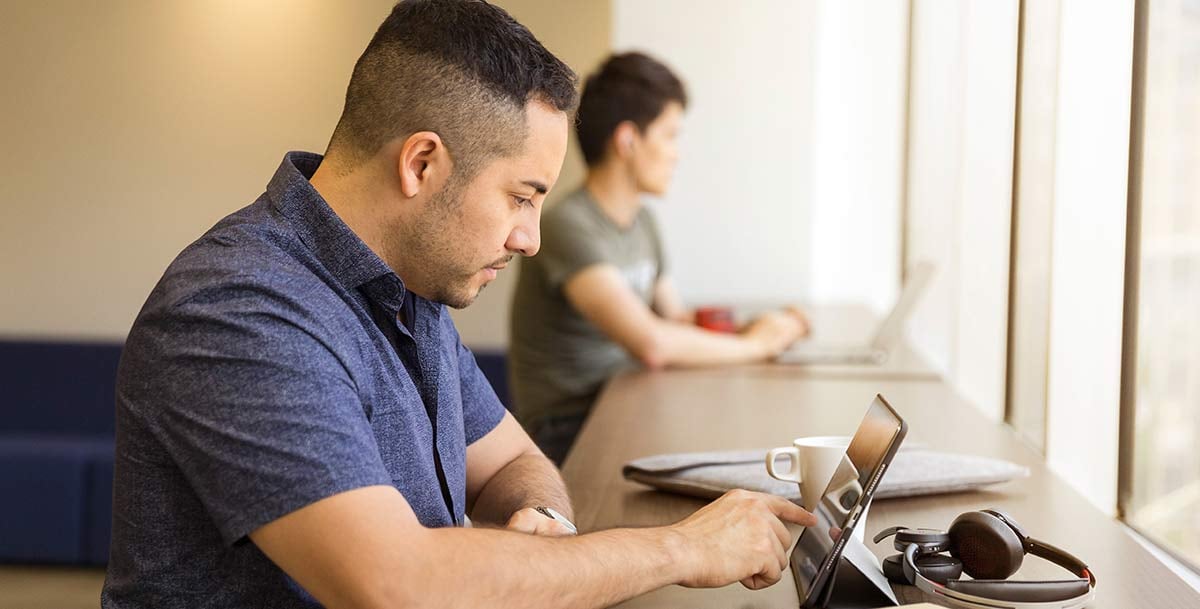 The new technology-driven, multigenerational workforce is shaping workplace design and fundamentally the way we work. From the speed in which we communicate to our plugged-in life and work styles. Technology has not only streamlined how we work — shared documents, group chats, tele/video-conference — but has also made us accessible from anywhere on the globe. Because of this, our workplace design has changed just as much as our working habits. And business leaders are taking note. They are embracing these changes and shifting their business models to better position themselves to compete in the modern world. We have identified two macro trends that are shaping how we work.
1. Service-based economy driven by technology
Companies from all sectors are catering more and more to their customers. It's not enough that the product has to be outstanding. The customer support and "added-value" is what is driving brand loyalty. Amazon thrusted us into "same day" delivery. Apple gave us the Genius Bar. FreshDirect brought groceries to our doors. Coupled with the gig economy, where you can hitch a ride with Lyft, have your dog walked, or your home rented out on AirBnB, getting what you want, when you want, is expected. With the added layer of technology, products now have a higher service component than in years past. It's no longer customer service as support. It's customer service as product. And this notion has changed how companies are doing business. This shift towards a service economy is also opening doors for custom-made solutions. We're seeing it in our own business and have taken a customer-centric approach to furniture with Platform. Servicing clients is what we built our business on, and it's what we're seeing our clients embrace as they plan for the upcoming years.
---
Related Read: Resimercial and Corporality Design Styles Blend Comfort, Productivity
---
2. Catering to a multigenerational workforce
The second major trend we're seeing is the 5G workforce where five generations are working side-by-side. As experienced baby boomers begin to retire and the socially-connected millennials further populate the workforce, companies are struggling to find ways to attract and retain top talent. Technology might make communication faster, but experience and in-the-field training is hard to replace. Twenty plus years ago, people would get hired and move up the ranks in a company, staying with one company through retirement. Today, employees come and go. As a result, it's getting harder for employers to retain talent. They have to compete, not only on salary but also on the "perks". And with today's workforce, perks go beyond a gym membership and tuition reimbursement. Perks for the younger generations include a healthy office environment and a culture that aligns with their values. Employers need to adjust to this "fleeting job" attitude and make concessions to keep employees satisfied and loyal.
---
Related Download: Optimize Your Office Space (free ebook)
---
We are working in an always-connected society spanning multiple generations. Technological conveniences are part of our everyday with companies adapting to make sure their customers are serviced accordingly and their employees' needs are accommodated for.
---
To learn more about how we can better service your workplace project, contact us here

.