NeoCon has come and gone, and the trends emerging from the conference are transformative. Emphasizing health, wellness and a connection to each other, a common NeoCon theme was "people first". Which should be no surprise given the state of business. Even as we face an uncertain economy, according to a recent Job Openings and Labor Turnover Survey (JOLTS) report published by Bloomberg , the demand for workers is still strong. In fact, we're looking at 1.9 open positions for every unemployed person. Translation — we're in an employee-driven market.
What does that mean to you and why should you care? It underscores what many of us in the commercial interiors space know — people are our greatest asset. As a result, some of the greatest designers and manufacturers in the industry are paving the path for a people-centric workplace, developing holistic solutions that will shape the way we work today and tomorrow.
Below are four trends coming out of NeoCon that are transforming the way we work.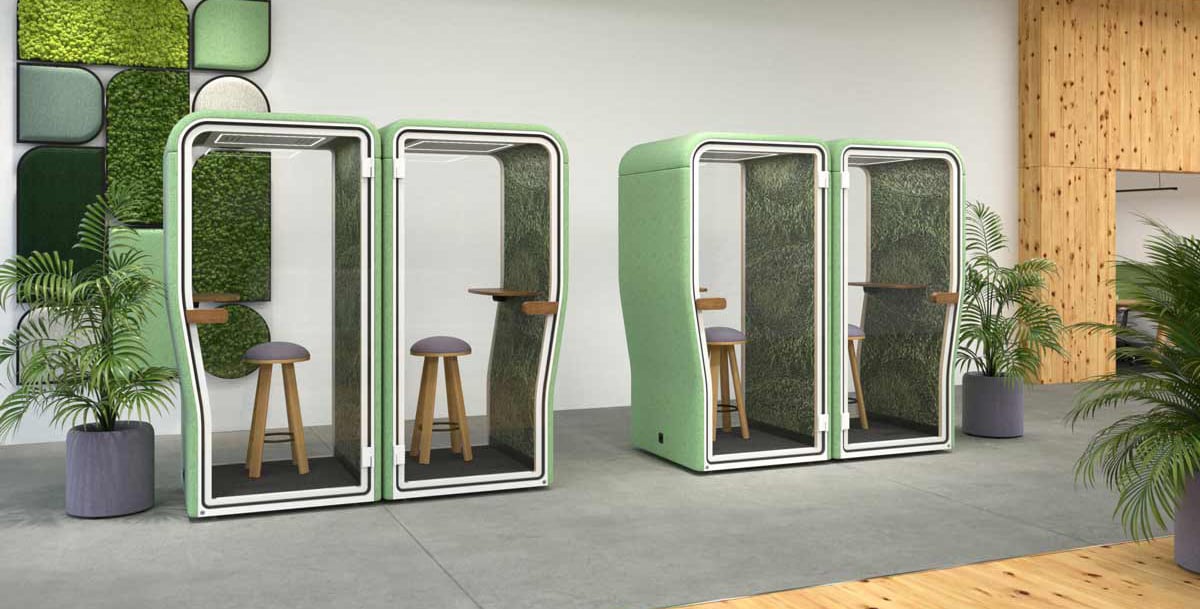 BuzziNest acoustic privacy booths provide silent workspaces anywhere
1. Technology and Smart Office
We are living in a digital age where we can connect with colleagues and coworkers on-the go, in-person, across the globe or across the room. Long gone are the days where the conference room was the only place to conduct a meeting in comfort. Today, all spaces must support a viable way to connect while supporting ergonomics.
Sound-absorbing phone booths and work pods provide private space for sensitive subjects. Integrated workstations with acoustic furniture or mobile partition walls further help with space division, creating intimate nooks when needed and open, collaborative communication when not.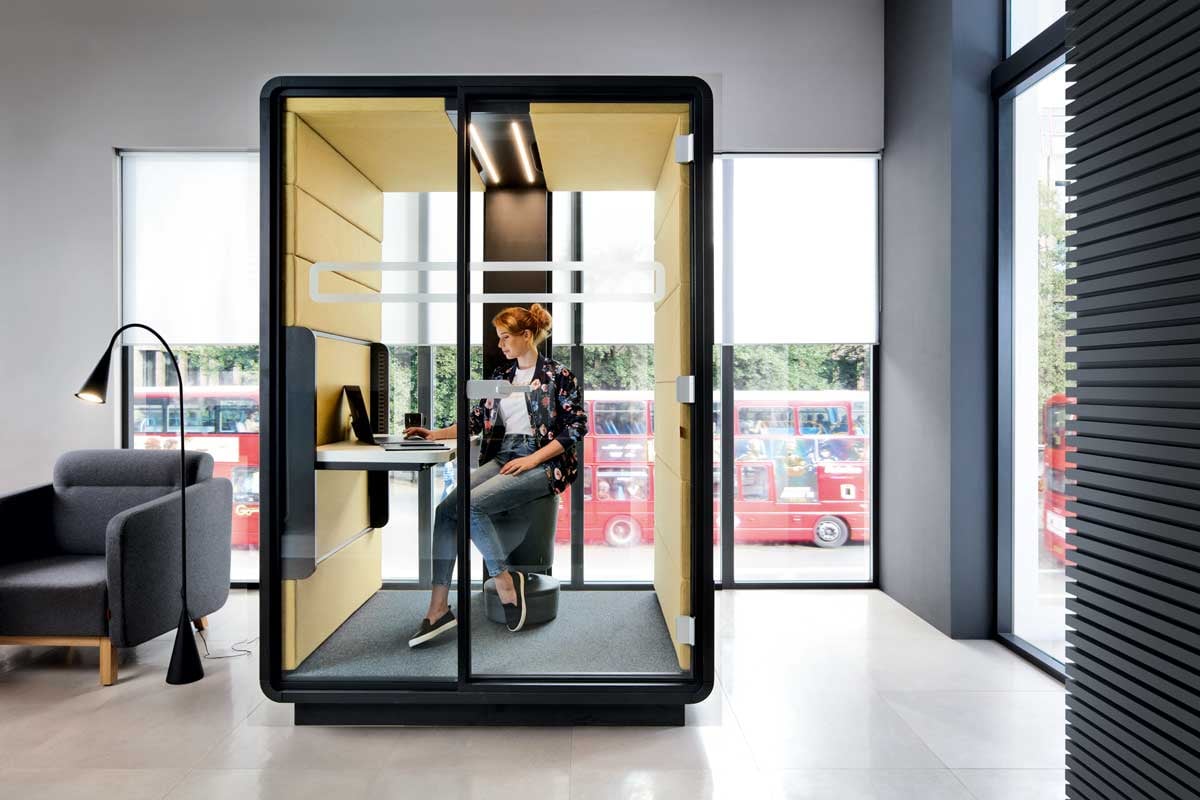 Independent spaces for solo working and meetings by Hushoffice
This trend reaches beyond technologically-superior office furniture and systems. It also encompasses occupancy sensors and workplace analytics to better understand how space is being used. With many knowledge workers adopting a hybrid work model, desk sharing versus the 1:1 desk-to-employee ratio could free up underutilized space to allow for more amenities like lounge areas and game rooms. Desk lamps embedded with occupancy sensors maximize energy efficiency while being cognizant of carbon emissions.
In essence, what NeoCon taught us is that employers need to adapt the office to reflect the the places where employees work and the values that they hold dear.
Create comfortable social spaces with Haworth Cultivate table and Janus et Cie Forest outdoor chairs
2. Making Work Feel Like Home
Making employees feel as comfortable at work as they are at home was a hot topic at NeoCon. The question that's screaming at all of us: how do you re-engage and prioritize your people while developing a hybrid strategy that works for your company?
One solution is to weave resimercial concepts, such as art, soothing colors, access to natural light, and biophilic elements into the office design. This is especially true for lobbies, lounges and reception areas. These spaces set the stage for better work, offering what a home office cannot — a collaboration hub for socializing.
As social creatures, interaction, not isolation, is what makes us thrive. And with teamwork the foundation of a company, incorporating gathering areas that marry inspiring design with the comforts of home—comfy couches, ambient lighting, soft sounds, pleasing colors—can motivate employees to come back into the office, even if it is just one or two days a week.
By establishing a sense of place, dedicated to improving the wellbeing of your team members while focused on improving the social health of the community, we can enhance the employee workplace experience.
E2 Connex from HAT Collective monitor arms allow you to build complete, individualized workspaces.
3. Collaboration and Focus
Flexibility is a key driver in workplace design. Offering spaces for collaboration and ones for focused work can improve employee wellbeing while making individuals feel part of the team. Give employees further control over their work areas by providing adjustable desks and chairs, and computer accessories to better position monitors, keyboards and mouse pads. HAT Collective E2 Connex showcased an articulating monitor arm that allows the employee to have multiple monitors in a variety of positions for flexible work.
We spied some other innovative products at NeoCon that are making it easier to design adaptable, people-first work areas. Haworth Echo a modular, mobile workplace system gives employees freedom to quickly change position, posture, and orientation to support their work, personal comfort, and well-being. Haworth also unveiled innovative chair concepts: Poppy, available with an optional tablet, and Mari, a stackable chair — both allow work areas to be easily transformed to cater to a crowd of one or of many.
For open office concepts, the Haworth Pergola, allows designers to create spaces within spaces which can be used to gather or to focus. The best of both worlds!
The products and ideas coming out of NeoCon highlight the importance of designing for collaboration and for individual work time. Now, that's a balance that we can embrace.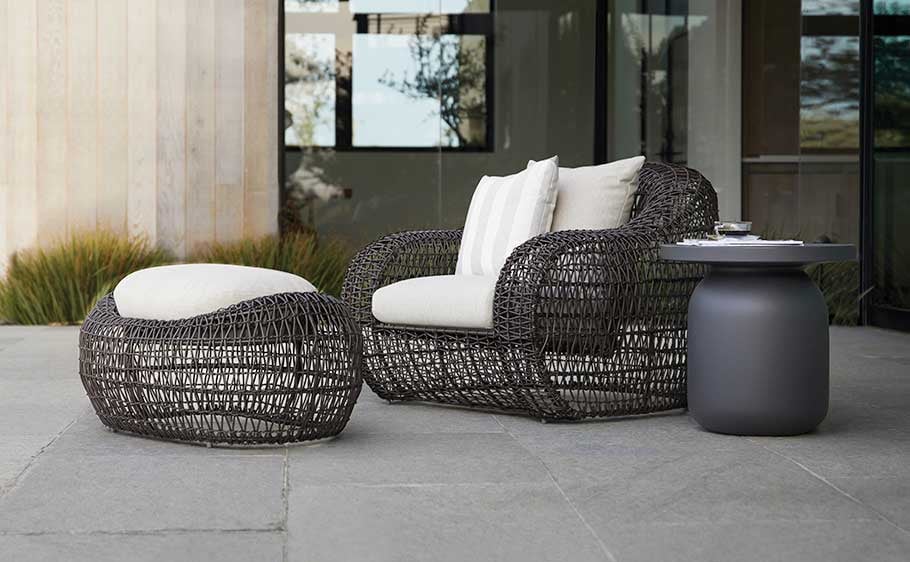 Outdoor furniture by Janus et Cie
4. Outdoor Spaces
Another trend we spotted was the desire to connect to nature. Many employers are creating outdoors spaces, offering direct access to fresh air and daylight. And manufacturers are taking notice. From outdoor furniture to outdoor fabric and options for shade, it's easier for designers to customize spaces to reflect a brand's identity and culture.
Italian manufacturer of outdoor furniture, emu, showcased a collection of foldable and stackable tables and chairs that allow for the ultimate flexibility in designing al fresco working options. Andreu World has a full line of exquisite and inspiring outdoor workplace furniture. Hightower, known for forward thinking design, has introduced some fresh and unique new outdoor items, as well.
For employers who want to personalize their outdoor spaces, Platform by Unisource Solutions offers custom solutions. Whether you want to integrate brand colors into your fabric selection or create a trellised seating area that protects from the elements, we can help turn an outdoor office area into a branded experience.
---
Let's Connect
Contact us to learn more about our how we help our clients with "people first" initiatives for healthier, more productive workplaces.